Cheers to 6 years with NoDa Brewing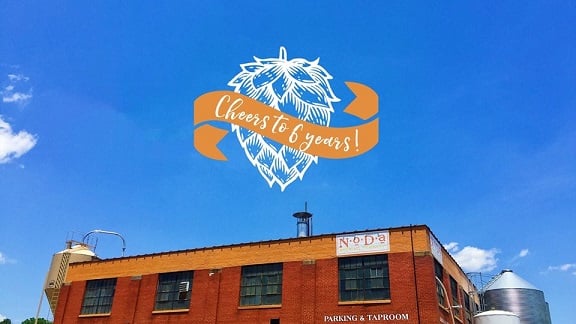 Two production facilities. Several top awards. And countless amounts of beer brewed (and consumed).
The last six years have seen NoDa Brewing Co. grow tremendously and become a must-visit for any craft beer lover in Charlotte and beyond. This week, the brewery has been celebrating its sixth anniversary with several events and it all leads up to a special anniversary ale being released Sunday.
If you plan on visiting the NorthEnd location before Sunday, you'll be treated to several special kegs that have been released as part of the celebration, including 2016 bourbon barrel-aged Between the Berries and Me (Friday), 2015 bourbon barrel-aged Olde Voyager barleywine (Saturday) and 2016 Stop, Collaborate and Glisten (Monday).
In between all of that is NoDa's Anniversary Ale, a strong ale that was aged in Heaven Hill bourbon barrels for six months. Coming in at 12.3 percent ABV, Anniversary Ale will go on sale at 11 a.m. Sunday. Bottles will be $17 each (tax included) and there is a limit of six per person up until 2 p.m. – after that, whatever is left is open to everyone with no limits.
And it won't be just about the beer this weekend at the brewery. Saturday marks "The NoDa Games," where teams will compete in contests such as bocce ball, cornhole, disc golf and hula hoop. The victorious team will win a special prize; there are still some spots available and you can go here to register your team for free.
The celebration culminates Monday with NoDa's weekly way of giving back with "You Drink, We Donate." For every draft beer sold in the taproom each Monday, $1 is given to a chosen nonprofit organization. NoDa selected SHARE Charlotte for the special anniversary YDWD. SHARE Charlotte allows you to view more than 400 local nonprofits to see where you can volunteer your time, or purchase items for their needs. It's all part of the brewery's "Lucky No. 7 Celebration," as NoDa co-owner Suzie Ford notes, "It feels so fitting to kick the next year off with giving back to the city and community we love."
NoDa's Anniversary Ale, a strong ale aged in Heaven Hill barrels, will be available Sunday at 11 a.m. as part of the brewery's sixth anniversary celebration.