Craft Freedom Continues Fight After House Bill 500 Change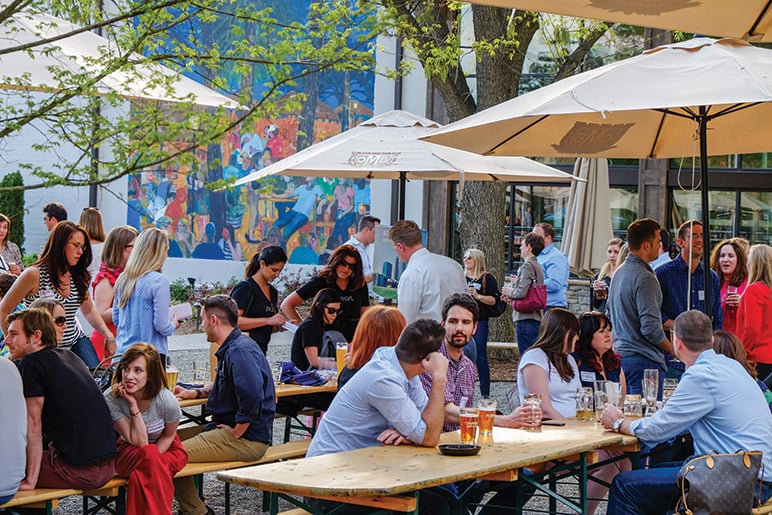 On Tuesday evening, representatives of Craft Freedom were holding a rally at Raleigh Brewing Company, continuing its quest to educate and drum up support to raise the self-distribution barrel cap in North Carolina. A vote was expected to take place in the House ABC Committee the next day on House Bill 500, which included an increase from the current 25,000 barrel limit to 200,000.
At the same time that rally was occurring however (and unbeknownst to anyone involved), lawmakers were essentially killing off what the initiative had been working so hard toward over the last year-and-a-half.
In a surprise 11th-hour move, language regarding the self-distribution limit was deleted from House Bill 500. Wednesday's ABC Committee meeting saw the revised bill presented for discussion, with no vote taken.
Craft Freedom, the initiative started by NoDa Brewing and Olde Mecklenburg Brewery, was blindsided by it all. NoDa co-owner Suzie Ford says she suspected something was going on "but until it happens you don't know."
"Last week they added another member to the ABC Committee, so it was almost like they were stacking the deck in case it did go to a vote," she added. "Unfortunately, backroom deals prevailed."
Representative Chuck McGrady (R-Henderson), a co-chair of the ABC Committee and one of the primary sponsors of House Bill 500, admitted in Wednesday's meeting that the new bill "is a shadow of its former self." But it seemed the bill as it stood did not have the votes needed to pass through committee to the next stage, which is why it was changed.
"(McGrady) is being told by leadership and higher-ups that it wouldn't be passed with the language currently in it," Ford said. "So he had two options – remove the language or watch the entire bill die. I wish that everything stayed intact but it didn't. We're extremely disappointed."
As it stands right now, the new House Bill 500 still has a number of changes to current laws such as crowler sales, tastings at breweries and homebrewing, but nothing with as big an impact as changing the state self-distribution cap (language was also removed regarding when breweries could terminate franchise agreements).
On the other side of this battle are the distributors, represented by the N.C. Beer and Wine Wholesalers Association. That group had been working hard to lobby against this bill, and also has a long history of donating money to state politicians. For instance, John Bell, the surprise member who was suddenly added to the ABC Committee last week, received campaign contributions of $4,000 from the group in 2016.
Ford says Craft Freedom representatives tried to negotiate with the distributors on a compromise to the barrel number. The Charlotte Observer reported Thursday that there was no effort to compromise but Ford wholeheartedly refuted that statement, saying she and others "reached out several times."
"That's what's really disappointing to us," she added. "We wanted to negotiate with wholesalers and they wouldn't. People often asked us 'Why did you choose 200,000?' Well, we didn't. The bill author did and it was a number we hoped to negotiate. And in negotiations, you don't start with where you want to end."
Ford says she would have been happy with a number "anywhere between 35,000 and 100,000."
"We just need breathing room," she says.
Because of an effort to "slow-grow" the brewery's production, Ford says NoDa will likely be fine for this year and possibly next year before reaching the limit. That won't be the case for Olde Mecklenburg, however, which is going to push up against the cap this year. OMB owner John Marrino previously said if the law wasn't changed he would have to "dramatically change my business plan."
What's also unknown is how all of this plays into Olde Meck's plans to expand into Cornelius. In February the brewery announced the purchase of a 24-acre site in downtown Cornelius. At the time the plans were to open a brauhaus and biergarten at the location, with hopes legislation would change that would allow OMB to also build a production facility onsite.
On Wednesday, Olde Meck marketing manager Jocelyn Ruark said the change to House Bill 500 would definitely impact the Cornelius site but was unsure to what extent, adding "We'll be exploring all avenues going forward."
So while House Bill 500 will no longer support Craft Freedom's wishes, representatives say the fight to change the barrel-cap law is far from over – with the state courts possibly as a next option.
Ford says she didn't want to disclose further steps just yet but adds everyone should expect a forthcoming announcement soon on Craft Freedom's specific next plans.
"This is not what we wanted but we certainly are not going to settle," she says. "Maybe I'm naïve but I really believed we were going to get a fair shot here. We hoped the General Assembly and lawmakers would have been allowed to hear what we have to say and make their decision (in a vote) instead of us being cut off at the knees at the last second.
"It just goes to show you what 30 years of backroom politics and deals will get you. But we're not playing the backroom game; we're stating facts. There are a lot of moving parts and we really do have a lot of options on the table – both legislative and legal – that we just need to investigate. We're very confident that one will work."