D9 Street Festival, Triple C's Big Deal Part II and Olde Meck's Fat Boy now available in bottles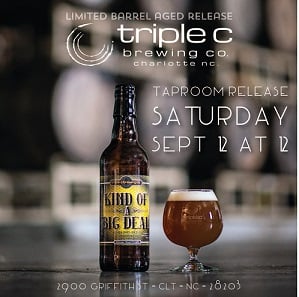 As always, fun weekend ahead in the Charlotte craft beer community, beginning with what I wrote about earlier in the week, the NoDa-area breweries/New Belgium collaboration release of "Yours and Mine," which is Saturday at NoDa Brewing Company from 2 p.m. to 5 p.m. Here are a few other events of note:
–For the craft beer fans up north, D9 Brewing Company is hosting its second annual Friday Street Festival from 6 p.m. to 10 p.m. The big news here is that D9 will be releasing its Head of the Horseman imperial pumpkin ale, one of my favorites from the Cornelius brewery, along with two other beers. Imperial Sandwich Co. and Gyro Twins Truck will be on site, and the festival will also have arts and crafts vendors and live music from Astral Lion.
–Triple C's next barrel-aged release is this Saturday, and it's a twist off their most recent bottle. You may recall Kind of a Big Deal being released in May. This was an imperial honey wheat ale aged in bourbon barrels with tart cherries added in. Now, get ready for a new version of KOABD. The base is the same, a honey wheat aged in bourbon barrels, but instead of cherries this version features peaches and comes in at 9.2 percent ABV. You can try it in the taproom and pick up a bottle or two at Triple C beginning at noon Saturday.
–Speaking of bottles, one of my favorites from Olde Mecklenburg is now available to go. OMB has bottled its Fat Boy Baltic Porter, and six-packs are now available in the taproom for $19.98. Right now these will only be sold onsite, so head on out to the brewery. Olde Mecklenburg has also announced the dates of its annual Mecktoberfest. This year's festival (going on seven years now) will take place from September 25-27, and I'll have more information on the event in a future blog post.