Dan Murrey Preps Charlotte for DNC
Dan Murrey, spine surgeon and one-term county commissioner, was handpicked for one of the city's most important jobs: getting Charlotte ready for the Democratic National Convention. No pressure, doc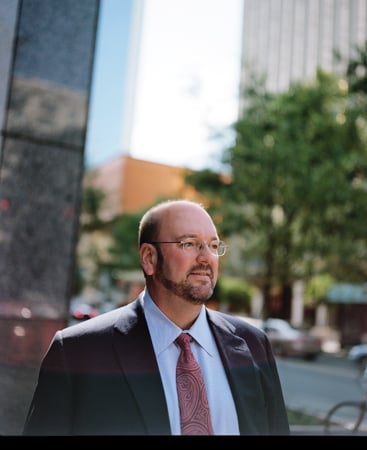 Last fall, near the end of a single two-year term, Dr. Dan Murrey ran for reelection as a Mecklenburg County commissioner—and lost. This did not exactly ruin his life. He was still an executive and spine surgeon at one of the Southeast's leading orthopedic clinics. At forty-five, Murrey figured he might hold some public position again, but for now he was fine with settling back into private life.
Three months later, Charlotte officials learned the city would host the 2012 Democratic National Convention. Three months after that, Mayor Anthony Foxx called Murrey with an offer: want to head up the city's host committee for the convention?
It'd be an extraordinarily hard and complex job. The Democratic Party has a committee to plan the actual convention, the speakers, the balloons and confetti, the seating of delegates. But the local host committee would be in charge of everything else: making sure hotels could handle the tens of thousands of guests, assembling a staff, arranging for volunteers, setting up a bid system for local vendors, constructing an official meeting space, providing security and transportation—and raising nearly $37 million, little by little, to pay for all of it.
The job's importance would be more than just tactical, though. The host committee director would be responsible for constructing the face the Queen City presented to the nation in its most visible hour. Charlotte's been itching for an opportunity like this, a chance to present itself on an international platform as a fully realized city, for decades. Now here it was, and the mayor was asking Dan Murrey to manage the production.
"It wasn't an easy decision," Murrey recalls in a conference room in an uptown skyscraper. It's a scorching weekday morning in July, and Murrey is in the early stages of hiring staff; the fifth floor is virtually deserted. "But what was compelling was a love for the city and region, and a desire to make sure that we take full advantage of this opportunity. We're going to be on a stage that's brighter than we'll ever be on again, I would wager."
He accepted Foxx's offer, of course, taking a leave of absence to run the Charlotte in 2012 Host Committee until after the convention next September. There's a reason why Foxx chose Murrey, a fellow Davidson College alumnus. Over the years, Murrey has developed a reputation among colleagues, mentors, even political opponents, as a man who can synthesize complex issues and find solutions, but above all corral people with disparate agendas and clashing egos and nudge them to work toward a common goal—and do so with minimal fuss and self-promotion.
"Dan was always rather thoughtful, even about common things. His way of figuring things out was apparent, even early on."
For all Murrey's done—his rise from a Tennessee farm to two Harvard graduate degrees, to success as a health care administrator and surgeon, to winner (and loser) of public office—this might be the ultimate test of that ability. Because for a week next September, the national reputation of his adopted hometown will rest on that
trait, too.
Even as a child growing up on a farm in Pulaski, Tennessee, Murrey was unusually pensive and intellectually curious. His older brother, Marshall Murrey, now a family doctor in Boone, relates the Dan story the family still tells most, about how their parents, Harwell and Jane Murrey, had Dan's hearing tested because he sometimes wouldn't respond to them. His hearing was fine. "He said," Marshall Murrey recalls, "that sometimes we weren't saying anything that interested him." His kid brother was five years old. "Dan was always rather thoughtful, even about common things," he says. "His way of figuring things out was apparent, even early on."
Dan Murrey earned a full merit scholarship to Davidson, where Marshall had gone. Though he majored in religion there, by the time he graduated in 1987, he'd developed an interest in the ethics of medicine, a meaningful field to the family; Harwell Murrey was a family doctor in Pulaski.
He enrolled that fall at Harvard Medical School, where after three years he'd come to understand there was far more to the practice of medicine than merely treating patients—that he needed a firm grip on the social and bureaucratic issues surrounding health care, too. So he enrolled in the public policy master's program at Harvard's John F. Kennedy School of Government, where he spent three semesters studying public health policy.
This is worth emphasizing: Dan Murrey, dissatisfied with the limitations of Harvard Medical School, decided to earn an additional Harvard graduate degree while still in med school. "I anticipated I would have some leadership role in whatever practice I ended up in," Murrey says. "I didn't pursue it with a vocation in mind. I pursued it out of intellectual interest more than anything else."
Most of the students at the Kennedy School were seeking degrees in only public policy. They were interested in medicine in terms of government health administration, as an abstraction. Murrey knew better—knew deeper, really. "Dan was one of the first students I was bowled over by," says Dr. Ronald David, who was Murrey's faculty adviser at the Kennedy School. "Just impressive." He displayed what David referred to as "a wonderful fluidity of thought" in tackling class problems his fellow students recoiled from, such as how governments and agencies might deliver health care to poor communities that still had high mortality rates despite access to doctors and clinics.
"The description that fits him best—and the top 5 percent of students I've had the pleasure of teaching—is that he has a hard head and a soft heart," David says.
Murrey earned his dual degrees from Harvard in 1992, then served his orthopedic surgery residency at Vanderbilt University Medical Center in Nashville. In 1997, he moved with his wife, musician and community volunteer Katie Oates, and young son, Sam, to Charlotte for a spine surgery fellowship at Carolinas Medical Center. (Sam is fifteen; the Murreys later had a daughter, Lucy, now twelve.)
His fellowship director was Dr. Craig Brigham, a surgeon and partner in Miller Orthopaedic Group, one of Charlotte's oldest orthopedic clinics. Brigham was impressed right away. "Dan has exceptionally good surgical hand skills, and he's also very smart, with great people skills," Brigham says. "He's the complete package."
The two men also learned they shared views on managed care and medical administration, favoring "coordination of care rather than fragmentation," Brigham says. After Murrey joined Charlotte Orthopedic Specialists, he and Brigham began discussing a merger, and when Miller Orthopaedic lost several doctors in 2004, the talks got serious. It took months of negotiations and ego stroking, but the two practices merged in 2005, forming OrthoCarolina.
Brigham says Murrey, who eventually became the practice's CEO in 2008, was the key player in steering the two staffs toward merger. "This was a big deal," Brigham says. "These were long-standing competitors, and there were some doctors with personal negative feelings toward others. Lots of people had to be persuaded and cajoled. I've heard it said in business, 'There's no such thing as mergers, just acquisitions.' Well, this was a true merger."
Even at forty, Murrey wasn't necessarily thinking about extending his leadership in medicine to the public sphere. That changed in the fall of 2005, when voters defeated a $427 million bond package that would have paid for new construction and building improvements in Charlotte-Mecklenburg Schools for the first time in more than a decade. "That, to me, was a call to action," Murrey says. He thought bond opponents' fervent support for neighborhood schools and construction in the suburbs rather than the city would hurt the overall school system and lead to "an increasing divide between the haves and the have-nots." He applied to serve on former governor Jim Martin's School Building Solutions Committee and was selected as an alternate.
The night before the committee's second meeting, Martin called. A member had dropped out. Could Murrey attend a meeting the next morning?
"Well," Murrey said, "I have to perform surgery tomorrow."
"Well," Martin replied, "I need you at this meeting." Murrey rescheduled the operation.
In his service on the school committee and in his continuing practice at OrthoCarolina, Murrey began to notice something, a relative to his insight years before about medicine and public policy—that his patients' health problems often weren't, in the strictest sense, medical. They were the product of upbringing, diet, unemployment, access to groceries, all kinds of social and economic factors he couldn't do anything about in the operating room.
He'd already acted on his interest in public education in Charlotte; now he started thinking about how local government could manage social services more thoroughly and efficiently. It happens that a particular public body oversees both.
For all his gifts as a doctor and administrator, Murrey has a few liabilities as a candidate for public office. One is his genuine interest in the finer points of governance, a trait increasingly seen in American politics as an archaic foible, if not an outright devotion to Marxism. Another is his appearance, which is profoundly ordinary. He's bald, chubby, bespectacled, not especially tall or short. When I met with him in July, he'd sprouted a sparse beard that clashed with the neatness of his dark blue suit.
None of it mattered in 2008, a good year to be a Democrat. Murrey ran for an at-large seat on the county Board of Commissioners, surviving the Democratic primary in May and racing ahead of every other commissioner candidate in raising campaign money. On Election Day in November, Murrey, who had never before run for public office, finished second in a six-candidate race for three seats. Only longtime Democratic board Chairman Jennifer Roberts won more votes.
Murrey started his term with a clear and traditionally liberal view of a public body's job: "to help those who can't help themselves, and do it in a way that is systematic, effective, approachable, and measurable." He proposed an uptown farmer's market as a way to help area farmers and spur economic development. He suggested an overhaul of the county's human services system, including more targeted and prioritized funding of social service agencies and an improved system of data sharing between agencies and the county Department of Social Services. (The county is still looking at adopting some of his suggestions.)
Liberals liked his commitment to social services. Conservatives liked his push for fiscal accountability and efficiency. Fellow board members say he also brought something less definable but just as important: reasoned calm. The Board of Commissioners can be a real zoo sometimes, with Republican bomb-dropper Bill James on the right, strident liberals Vilma Leake and George Dunlap on the left, and Roberts in the middle trying, not always successfully, to keep the animals at bay. Murrey's scholarly demeanor helped cool things off.
 Murrey grins impishly, then says, "Obviously, I'm not a very good politician."
"He's a very thoughtful person, very serious about his work, and I have the utmost respect for the way he conducted himself on the board," says Karen Bentley, a three-term Republican commissioner. "He had a unique leadership perspective, since he was used to running a large organization with a lot of moving parts. The board wasn't functional a lot of the time, and he was kind of the equalizer, because he was very levelheaded and open to listening to people with different opinions."
Murrey has a unique capacity for "seeing the broad view of how things are connected," Roberts says. In the middle of the ferocious battle last fall over public school closings and consolidations, for instance, Murrey said at a candidates' forum that closings hurt some neighborhoods more than others. It depends, he said, on whether the county had recently closed that neighborhood's recreation center or library and what access the community had to other public resources, governmental or not.
"That ability," Roberts says, "is something I really miss."
But as every public official knows, good government can walk in step with bad politics. Murrey's proposal to overhaul human services was laudable but not exactly yard-sign material. What's more, his policy prescriptions got submerged in the cascade of hard times that swamped county government during his term: a massive budget shortfall, library and rec center closings, and investigations of misspent funds at DSS and Mecklenburg County Area Mental Health.
Heading into the 2010 election, Murrey's campaign was in good financial shape, and because of the pick-three nature of the at-large commissioners' race, no one directly opposed him. Then Jim Pendergraph happened. The longtime sheriff, who'd left that job three years before for a U.S. Immigration and Customs Enforcement post, decided to leave the federal job to run for county commissioner. As a Republican. In an election year marked by low turnout, generally a boon for the GOP, and a tea party–generated antipathy for anyone with a "D" after his name.
Murrey got caught in the shellacking. He finished fourth in a seven-candidate race. Back to private life he went. "Those things happen in elections," he says, then grins impishly and adds, "Obviously, I'm not a very good politician."
Murrey appeared before Mayor Foxx and the City Council in late July to tell them where his efforts stood. He told council members about all the contractual obligations, mainly the need to raise $36.65 million in donations from individuals, not corporations, as part of the Democrats' branding of Charlotte in 2012 as "The People's Convention." But he was thinking far beyond that.
"What can this convention mean for us over the long haul?" he asked. "I like to tell people I would like the goal to be that, after this convention, I can say I'm from Charlotte and not have to add 'North Carolina.' I think we're going to achieve that. But I think we need to shoot a lot higher than that, because I think this opportunity is much greater."
In short, it's a chance to, in Murrey's words, "tell Charlotte's story."
Which is … what?
To him, it's something like this: Charlotte, as much as any large city in America, is a near-blank slate, a place largely unburdened by history and still in the early stages of deciding just what it wants to be—Potential Incorporated. It's a place where, unlike many of its Southern and Eastern counterparts, most of the residents and many of the leaders "aren't from here"—and that doesn't matter a bit.
That's part of Murrey's story, too. "In very short order," he says in the conference room, "we were not only welcomed here but basically told, 'If you have talent, a desire and will to give back to this community, we'll let you. You don't have to clear any hurdles. You don't have to ask anybody's permission. Just start pitching in.' "
And so he has, although he says he has no plans to run for public office again. But what convinced the city's leaders to trust him with running the host committee—one of the most important tasks in recent Charlotte history—is the way Murrey has gone about pitching in. "He's never once sold himself to the community as a show horse," Foxx says. "He's always addressed things logically and pragmatically … and goodness knows we need more of that at every level."
"He's never once sold himself to the community as a show horse," Foxx says. "He's always addressed things logically and pragmatically … and goodness knows we need more of that at every level."
It's what Foxx, and the city, is counting on leading up to the massive production less than a year from now. It's a potentially overwhelming task, but in talking with Murrey, you don't get the sense he's overwhelmed. It's a puzzle, and it gets solved piece by piece.
"I think it's very exciting to agree to a vision, articulate it, and keep people's eyes focused on it," he says; he's speaking in general terms but might as well be talking about the convention. Without smart planning and leadership, he says, "things are just going to happen randomly, and it's not going to be any different tomorrow than it was yesterday. I think it's really important to live intentionally, that we decide how we want things to be and see if we can find a way to get there."
By September 6, 2012, the last day of a convention that'll define Charlotte for people across the nation, we'll know whether we've gotten there, and whether the doctor from the Tennessee farm by way of Harvard was the right choice to scout the terrain.