Destination: Charlotte—The Projects That Came to Fruition, Despite COVID
COVID crippled Charlotte's economy as it did every other American city's. But artists, entrepreneurs, hoteliers, and the officials who run the city's main economic engine, the airport, got big things done even in the pandemic's shadow—and continued to build our city's reputation as a place people want to visit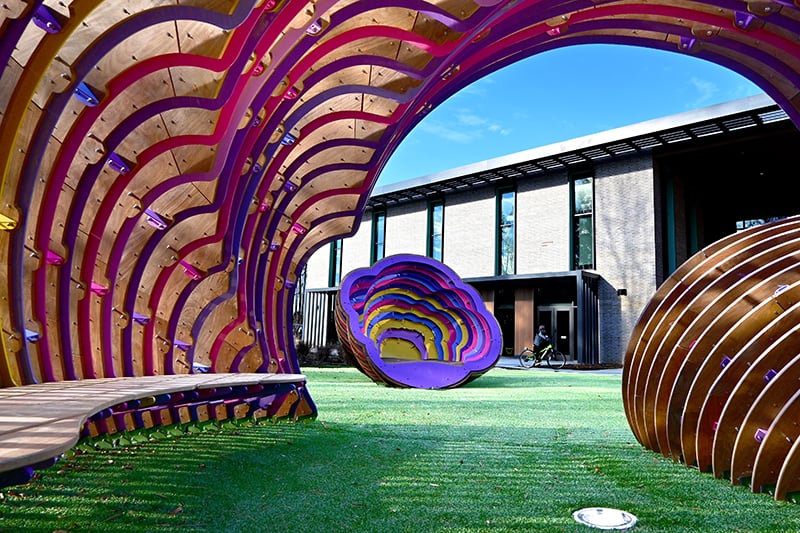 Read about Charlotte Douglas International Airport's major projects during COVID here.
---
The Room Key
In a challenging year for hospitality, three major hotels managed to open in the Charlotte area—and another is on the way. Here's what you need to know about each:
Grand Bohemian Hotel Charlotte
201 W. Trade St.
Opened August 2020
Rooms: 222
Suites: 32
Amenities include: Argentine restaurant Mico, private park, grab-and-go café The Bohemian Garden, Starbucks, rooftop lounge Búho Bar, Poseidon Spa, pet-friendly rooms, full breakfast for an extra cost, room service, and car rental.
Fun Fact: Mico's chef de cuisine, Whitney Thomas, garnishes dishes with edible flowers for an added touch of elegance and vibrancy. (Mico made our 50 Best Restaurants list in January.)
Canopy Charlotte SouthPark
4905 Barclay Downs Dr.
Opened June 2020
Rooms: 150
Suites: 4
Amenities include: Chef Daniel Wheeler-led restaurant Fine & Fettle, free local shuttle, a bar, free parking, a fitness center, pet-friendly rooms, room service, and meeting rooms.
Fun fact: Guests can use the hotel's free Canopy Bikes to explore the area and shop. You may have seen the orange bicycles buzzing around already.
Aloft Mooresville
109 Alcove Rd., Mooresville
Opened December 2020
Rooms: 128
Suites: 0
Amenities include: Indoor pool, grab-and-go eatery Re:fuel, WXYZ bar, fitness and health center, free internet, pet-friendly rooms, barber, and continental breakfast for extra charge.
Fun fact: Marriott's Aloft, a tech-forward brand with mobile key access with phones, also has locations at the EpiCentre and Charlotte Douglas International Airport and in Ballantyne. High-tech features include rainforest showers, 55-inch TVs, and sound via Marshall Speakers.
JW Marriott Charlotte
600 S. College St.
Opening in May 2021
Rooms: 347
Suites: 34
Amenities: Dean's Italian Steakhouse, Caroline's Oyster Bar, Aura rooftop bar, rooftop pool, Spa by JW, 24-hour fitness center, babysitting, car rental, limousine service, and more.
Fun fact: The hotel has 22,000 square feet of event and meeting space, including a more than 5,100-square-foot grand ballroom and 2,700-square-foot junior ballroom.
New Purpose for an Old Hotel
In December, the Charlotte nonprofit Roof Above purchased an 88-unit hotel at Clanton Road and Interstate 77 that served as an emergency shelter for families this winter. The agency plans to begin a $12 million renovation this summer to convert the old Quality Inn into permanent housing for more than 80 homeless families, with a kitchen in each unit.
Roof Above—the new name for the merged Urban Ministry Center and Men's Shelter of Charlotte—already provides more than 400 units of supportive housing in Charlotte, two year-round shelters, and a drug treatment pro- gram. Donations for the hotel project have come from the Springsteen Foundation, Duke Energy Foundation, McKibbon Family Foundation, and a city CARES Act grant. Learn more at roofabove.org.
---
Fresh Picks
A few openings shone from the gloom of a devastating 2020 for Charlotte's restaurant scene. Here's how to sample the best of the bunch in a single decadent day:
Breakfast
It's a marathon, not a sprint, so let's begin by carbing up at Easy Like Sunday(1600 E. Woodlawn Rd., Ste. 100). This relative newcomer to the Park Road area specializes in breakfast and brunch. If the fried chicken and cornmeal pancakes are a bit too heavy, go for another specialty: shrimp and grits, with Cajun shrimp, Portuguese sausage, onions, shallots, and chives, served over cheddar grits.
Lunch
Head down to South Charlotte and stop by Red Sake (8410 Rea Rd., Ste. 100) for lunch, a spot for true aficionados that's built a steady following since it opened last year. Signature roll highlights: Luke Lobster (lobster meat and spicy tuna topped with avocado, eel sauce, lemon juice, sweet potato fries, and tobiko) and Mango Pop Pop Pop (smoked salmon, escolar, and avocado topped with mango salsa, oba leaf, and tobiko).
Dinner
The team behind Bardo opened VANA, a rustic dining experience, in August at 1440 S. Tryon St., Ste. 100. Chef Michael Noll serves a blend of tapas and larger, shareable plates in this open kitchen concept, and mixologist Amanda Britton carries the wood-fired theme into her cocktails, like the Hummingbird Sour: Muddy River spiced rum, Elijah Craig bourbon, lemon, banana, pineapple, pecans, and an egg white. Tonight, enjoy the quail, with Tandoori marinade, buttermilk, and chili oil.
The Extras
Coffee
In December, Davidson-based Summit Coffee opened its first Charlotte location in NoDa (416 E. 36th St.). Get the Frozen Oat Milk Mocha if it's available, but any latte at this regional favorite is the tasty perk you're looking for.
Dessert
BW Sweets Bakery expanded its east Charlotte storefront last fall and opened an express South End satellite at Centro Railyard (1425 Winnifred St.) right after that. If it's your first visit, go decadent: the Brownie Cheesecake combines two of the bakery's best desserts.
Beer
After a stint as a pop-up, Petty Thieves Company (413 Dalton Ave., Ste. B) opened its new space in a former North End warehouse in September. As with veteran NoDa Brewing, Petty Thieves' owners started with homebrewing. Its West Coast IPA, Perpetual Enigma, hints at a broader motif of mystery. (We hear the brewery has a secret room.)
---
Now In Play
These new entertainment and recreational venues flex minds and muscles:
District 57
1526 Alleghany St., Ste. B
What's it like to open a dystopia-themed business during a pandemic?
Mylene Labrie laughs at the question. "Of course it was scary," she tells me over the phone in December. "We asked ourselves those questions: Is this going to be too dark? Will people still see this as a break from reality?"
Labrie and husband Jelani Patterson opened their latest entertainment venue in November. District 57, housed in a 20,000-square-foot building off Freedom Drive, blends escape room puzzles, bar games, and an immersive, theatrical environment akin to a Disney park. Visitors won't find any trace of the Winn-Dixie grocery store that once inhabited the space. Labrie's "very small but very creative team" created a futurescape that takes customers to the year 2095.
This business isn't new to them: The pair opened Exit Strategy, the first escape room in Charlotte, in 2014. The concept, in which teams search for clues and work through puzzles in themed spaces, is no longer exotic to the city:
As of 2021, there are 25 in the Charlotte area. Labrie and Patterson have "too many ideas" beyond escape rooms, she says, and they needed space for these projects. Over the past couple of years, they've invested $600,000 into the massive Ashley Park space, sold Exit Strategy, and, last fall, launched District 57.
As of December, they'd found an audience willing to exit this reality for their fictional one, even if the latter comes with a failed power grid and minimal resources. "Everyone's told us that they don't actually see this experience as really dark and gloomy," Labrie says. "People just enjoy coming in and taking control of the stories themselves. They forget where they are and say, 'I cannot believe I am in Charlotte. … This feels like something in Orlando.'"(That's high praise in this field.) The space's aesthetic is inspired by an immersive venue
Labrie and Patterson visited near Tokyo. Labrie and Patterson's team, which includes a former Carowinds fabricator behind the seasonal, spooky Scarowinds experience, has a particular talent for, Labrie says, making "any sheet of plywood look like old, weathered metal." That skill, plus an eye for found objects and a staff of costumed citizens of District 57, fuels the visual magic of the space.
District 57 has accommodated our present-day dystopia, too, with a robust air-circulation system, strict cleaning regimen, and 26-foot ceilings. The Grid itself is 7,000 square feet, ample room for guests to explore. Between explorations, they can amuse themselves at the game bar—with pool, arcade machines, and foosball—and order fast-casual food and beer from a 12-tap self-serve system.
The first attraction to open at the site was The Grid. The idea was to take the many puzzles found in an escape room and "deconstruct" them: The challenge course features 30 rooms, each with a single task that teams must tackle within just a few minutes. Escape rooms typically take an hour or so to solve; The Grid ramps up the intensity and is designed so that up to 20 teams can play at once.
There's still plenty of room in their 20,000-square-foot playground, so Labrie and Patterson are working on new attractions for District 57 that toy with established concepts. Instead of evolving the escape room, Bordertown will offer a twist on laser tag. You start with no ammo and use puzzle- solving skills to find caches and arm yourself.
"For us, we want District 57 to be a living organism," Labrie says. "There's always going to be something more to be added, from graffiti to new games. This thing is alive; it's not just stuck in time."
Eastway Regional Recreation Center
423 Eastway Dr.
The county's newest recreational center opens soon in east Charlotte. Here's a look at the enormous project, by the numbers:
100,000 square feet: The rec center is more than three times bigger than Mecklenburg County's next largest, Revolution Regional Sports and Learning Academy in west Charlotte. Eastway has indoor pools, basketball courts, exercise equipment, and activity rooms.
90 acres: The outdoor area has disc golf, multiple and versatile sports fields, walking trails, public art, and more.
$22-$65: The range of monthly fees for county residents, from single youths to families.
$40 million: Project cost.
---
Form and Substance
Murals dominate discussions of public art in Charlotte because of festivals like Talking Walls and, let's be honest, Instagram portraits. But community art takes many forms, and sculpture—with welcoming elements like built-in visitor seating—leads a pack of recent additions to outdoor spaces. Here are four of them:
"Pillars of Dreams" (2019) by Marc Fornes
Outside Valerie C. Woodard Center on Freedom Drive, local kids lost in their imaginations play in this cloud- like pavilion. Marc Fornes of the New York-based studio THEVERYMANY writes that it's an installation "meant to be moved through rather than appraised as an object." The porous aluminum work, 26 feet tall and 23 feet wide, takes on different qualities throughout the day: During the day, shadows underneath the structure transform as the sun sets, and at night, nearby ground-level lights illuminate it from below. The piece was commissioned by Mecklenburg County, the city Public Art Commission, and the Arts & Science Council. The studio also created the massive blue-and-green "Wanderwall" at the Stonewall Station parking garage uptown. 3205 Freedom Dr.
Nested Hive" (2020) by RE:site Studio (top of story)
Along with workout and wellness offerings, the Eastway Regional Recreation Center also added new public art to Charlotte. RE:site Studio in Houston created the "play sculpture" as a celebration of bees and other pollinating insects; visitors sit in multiple "hives" within the whimsical structure. Native wildflowers inspired the vivid colors, although one Instagram comment from the studio asks: "Ever wonder what it'd be like to be inside of a jawbreaker?" 423 Eastway Dr.
"Open Book, Open Mind" (2020) by Jim Gallucci
The Charlotte Mecklenburg Library erected a new sculpture during recent renovations at the South County Regional branch. Gallucci's tunnel of book covers includes several classics, including Ray Bradbury's Fahrenheit 451 and Alice Walker's The Color Purple. The library expects to open the renovated library during the first half of the year, but you can see the sculpture now. Residents of the neighborhood submitted and voted on names for the sculpture, while library staff then selected book titles etched into the canopy of book covers. 5801 Rea Rd.
"Santé" (2020) by Matthew Steele
Steele, a Goodyear Arts member and one-time resident, worked for nearly a year on his 20-foot-wide sculpture at Charlotte Skin & Laser. The massive, illusionary
face, made from more than 150 sheets of aluminum composite, began with an idea from business owner Dr. Elizabeth Rostan, and Steele used more than 10,000 nuts, bolts, and brackets. Hodges Taylor, the consultancy and gallery that represents the artist, calls the work "both a detailed and fractional survey of the human form." 130 Providence Rd.
Andy Smith is executive editor of this magazine.