Dimple Ajmera's 'Flashpoint' Moment
Charlotte Democrat's remarks made her life harder—and handed GOP a gift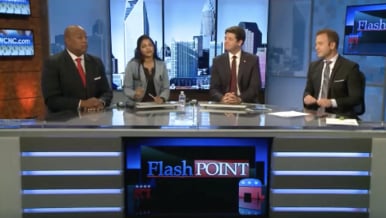 Dimple Ajmera, a 30-year-old Indian immigrant and Democrat, has spent a mostly unremarkable six months as the District 5 representative on the Charlotte City Council. Until this week, she's won attention less for what she's done than for what she is: the council's first Asian-American and first millennial.
Ajmera, who was appointed in January to fill N.C. Representative John Autry's unexpired term, appeared as a guest on WCNC's "Flashpoint," the station's Sunday morning news roundup show. Her low-profile streak ended about 15 minutes in. Toward the end of an exchange on Donald Trump Jr.'s meeting with a helpful Russian during the Presidential campaign, she said this: "Any supporters that have supported Trump and all his cronies should be voted out of our council. Look at all our Republicans who are supporting Trump. I think they should have no place on City Council whatsoever or in the mayor's race."
This came out of a distant field. She and the rest of the group—host Dave Wagner, Democratic mayoral candidate Joel Ford, and attorney and former Mecklenburg County GOP Chairman Brad Overcash—had talked about the mayor's race in the previous segment. But no one had mentioned support for the president as a local issue.
Overcash knew just what to do. "I think the viewership should pay very close attention to what was just said," he replied. "I just heard someone tell the viewers that anyone who supports Donald Trump has no place in the governance of this city. That's what I just heard, and I hope the viewership pays attention to that."
If they didn't, the county GOP made sure its Facebook followers did, via a post that afternoon. A group called the Charlotte Regional Republican Volunteer Network announced plans for a sit-in protest at the next City Council meeting July 24. You can imagine the reaction to these announcements and the video postings that accompanied them.
"First off woman you are A FRIGGIN FOOL," commented one gentleman named Michael Howell. "YOU DON'T LOOK ARE (sic) TALK LIKE AN AMERICAN … YOU NEED TO CARRY YOUR ASS BACK TO WHERE YOU CAME FROM. BYE BYE DUMBASS." The Volunteer Network followed up with a post that urged people not to post "racist" or "bigoted" comments and, this being America in 2017, accused Democrats of planting them as part of a "false flag" operation to make the group look bad. "Republicans and President Trump supporters don't believe in your hateful speech one bit!" read the post, a statement of disingenuousness and cynicism that defies parody. "We believe in love, compassion, understanding, compromising, and unity."
I spoke with Ajmera by phone Wednesday morning. "I stand by my words," she said. Her view is that Trump is the national leader of a divisive and demeaning political movement that seeks to marginalize racial and other minorities, and a growing city trying to solve problems of social mobility, income disparity, and racial tension can't afford to have members of his tribe holding public office. "It's not about Republican or Democrat," she said. "It's about this figurehead who has been so divisive and negative."
Which might be an acceptable explanation—except that she did mention "Republicans who are supporting Trump," and there's no discussing the man in a way that avoids partisanship. Ajmera's District 5 covers a broad swath of East Charlotte that fans out on either side of Central Avenue, a corridor rich with Latino and Asian immigrants who now have to live in a country with an expressly anti-immigrant President. When she spoke on "Flashpoint," she was speaking for them, and for herself.
But looking at it from a few days' distance, her comments seem like an unforced error, no matter how passionately she believes them. It'd be one thing if Ajmera were running for re-election this year to represent District 5. Instead, she's running for one of four at-large seats, elected by all of Charlotte—which means a tougher path against stiffer competition than in a district race.
More important, she handed the GOP a tidily wrapped nugget of outrage to rally and raise money around when she easily could have made the same point by saying something like, "In a growing and diverse city that overwhelmingly votes Democratic, I don't think most Charlotte voters will support anyone who stands with this President." Decreeing that Trump supporters "should have no place" on the council sounds dictatorial, and silly besides—she knows as well as anyone that the choice belongs not to her or any other elected official but the voters. (Besides, of course there's a place for Trump supporters in local government. It's called the District 6 seat on the Mecklenburg County Board of Commissioners.)
Since Sunday, Ajmera told me, she's been working on east side economic development and other initiatives while her office fields a flood of insults and some threats to her safety that have compelled her to alert police. Among the more common and milder insults: She's a hypocrite for decrying divisiveness while wanting to exclude Trump supporters from holding elected office in Charlotte. It's a version of the "so much for the tolerant left" complaint voiced so often in comments sections and subreddits; if liberals are so tolerant, the argument goes, why are they so intolerant towards the intolerant? Ajmera waves it away. "When you speak your heart," she said, "that's what happens."