#DiscussCLT: Is Charlotte a Good City For Entrepreneurs?
Latest installment in discussion series tackles the challenges of the business startup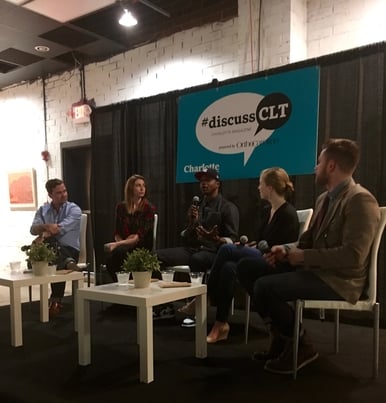 Until last week, the #DiscussCLT series of community conversations, organized by Charlotte magazine and powered by OrthoCarolina, concerned itself with large-scale civic problems such as the state of public educations, the arts, and affordable housing. The discussion Thursday at Goodyear Arts, the artists' residency startup now on North College Street in First Ward, was a different beast entirely: "How To Make Things Happen in Charlotte," meaning entrepreneurship.
So what's the secret to founding a successful startup business in the Queen City? There is none. "Keep working and keep moving forward," said panelist Stan Fraser of Anarke Jeans, a custom denim clothes manufacturer on South Cedar Street, "and it'll answer itself."
That may be the answer—for entrepreneurs, it's really the only one there could be. It's the question that's complicated. Fraser and the other panelists—Haley Bohon of the in-person learning startup SkillPop; Amy Herman, owner of Vintage Charlotte and co-director of Goodyear Arts; and Not Just Coffee co-founder James Yoder—talked mainly about the challenges of operating in a city long dominated by a financially conservative corporate sector and unused to supporting a robust entrepreneurial community. That applies especially to young women, as both Bohon and Herman observed with frustration.
Herman said she's left meetings with potential partners or investors—"old white men who have been in positions of power for a long time"—who fail to take her seriously because she's a woman in her early 30s. "I don't have a problem saying, 'That's OK, we're not going to work together—ever,'" she said. "I think it's really important to know when to say no." Bohon, with her mechanical engineering background, said she's "used to being the only woman in the room, and it still makes me angry and frustrated." Founding and running a small business, she said to applause, "doesn't make you a girl boss. It makes you a boss."
Yet it's not only women in Charlotte who have trouble finding the means to scale their businesses. Three years ago, Charlotte's city government and Foundation For the Carolinas founded the nonprofit Charlotte Regional Fund for Entrepreneurship to route grant money—private donations matched dollar-for-dollar by the city up to $500,000—to startups.
Its first project, issued in December 2015, was a study of the Charlotte area's entrepreneurial landscape, and the study found it pretty barren compared to other large and mid-sized American cities, such as Atlanta, Austin, San Antonio, and Nashville. Charlotte's per capita startup activity ranked 25th on a list of 30 "peer cities" and ranked especially low in research and development activity, seed funding, and particularly the venture capital investment critical to a small company's growth.
"Venture capital investment," the study's authors say bluntly, "is almost non-existent in Charlotte." It's a classic chicken-and-egg scenario: Charlotte startups have trouble getting off the ground without venture capital, and venture capital is reluctant to invest without a track record of success. The CRFE calls for a long-term strengthening of the area's R&D capacity through expansion of university and hospital programs. How to get there? That's another matter.
The CRFE study didn't come up on the #DiscussCLT panel, but the participants all understood very well how difficult it is to find investors and partners. Their consensus ended up echoing Fraser's initial observation: Don't waste too much time and energy chasing support; do what you do, and the support will find its way to you. "People just love to see people doing things," Fraser said toward the end of the program. No question, but do enough people love it enough to invest in it?