DiscussCLT-The Creative City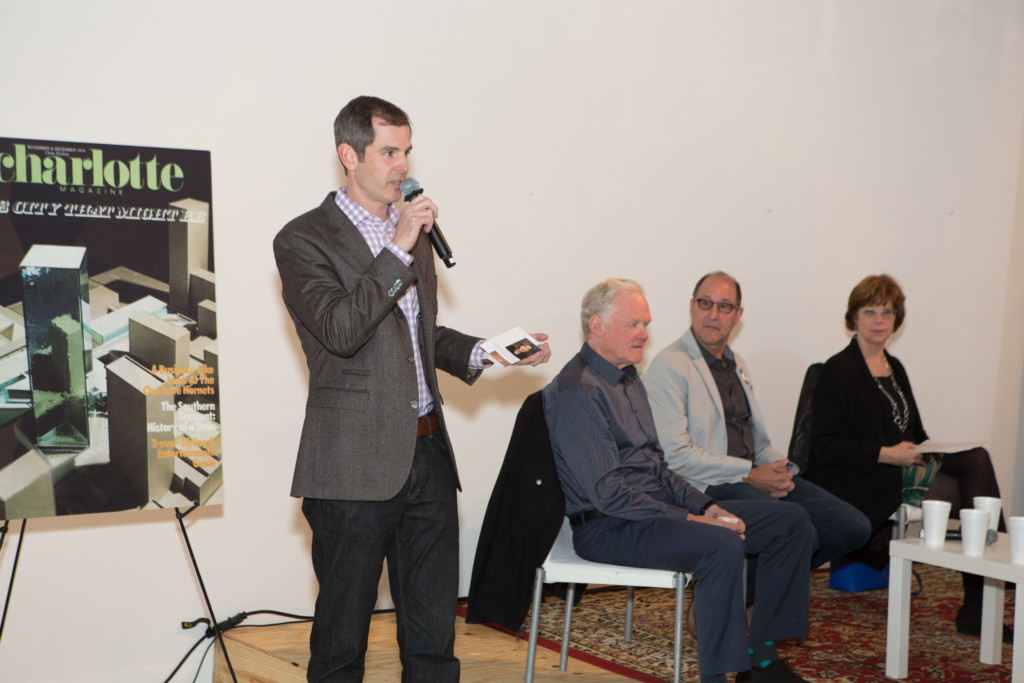 Thanks to everyone who attended!
The Creative City: How Should Charlotte Cultivate a Creative and Artistic Community?
These are turbulent times in Charlotte's cultural scene. We've said goodbye to a few beloved venues, and our top professional theater company is homeless. Yet, on any given night, hundreds of people gather for indie theater, a gallery happening, or an experimental festival. Join us as we hear from the movement-makers on how we got here, where we're going, why it matters, and what role each of us play in fostering a thriving artistic and creative community.
The full event was held on Tuesday, August 23, 2016 (5:30 p.m. – 8:30 p.m.)
at Charlotte Ballet
supported by
cultural partner:
To learn more about #DiscussCLT and our upcoming events, click here.
Upcoming #discussCLT events:
October 2016 – How to Make Things HAPPEN
QUENTIN TALLEY
Quentin Talley, acclaimed for multiple talents, is an accomplished poet, actor, director, and producer.He is the inaugural recipient of the 2012 LeadershipU Fellowship for emerging theater professionals, administered by Theater Communications Group and funded by The Andrew Mellon Foundation. Quentin is also the founder and artistic director of OnQ Performing Arts in Charlotte, NC. OnQ is a non-profit professional theater dedicated to producing classic, contemporary, and original performancework that reflect the black experience. As a solo artist, Quentin recently released a new album entitled, #FreedomDay: A Musical Reparations Mixtape by The Talented Tenth of Mr. Talley.
---
AMY BAGWELL
Amy Bagwell is a poet and mixed-media artist. She co-directs Wall Poems, Inc., which brings words by NC writers to public spaces in Charlotte, and the Goodyear Arts residency and events project uptown. She teaches English at Central Piedmont Community College. Photo credit: Taryn Rubin
---
MANOJ KESAVAN
​Manoj P. Kesavan is the founder and executive director of Que-OS, a non-profit whose mission is to "transform the way art/culture is created and shared, and how people connect to causes and community." They create platforms for artists and other creative professionals to engage and create social impact at a large scale. Que-OS organizes the Pecha Kucha Night series in Charlotte. They also present BOOM, Charlotte's first artist/community-led annual festival of experimental/contemporary performance and visual art, which was launched earlier this year and showcased 50-plus shows/programs over 3 days. Formerly an architect, urban designer and educator, Kesavan currently consults on urban design/planning projects, lectures internationally, and has been serving on the Char-Meck Public Arts Commission since 2011. Photo credit: Carl Miller
---
APRIL MARTEN
April Marten is a socially-engaged, multi-media artist whose work encompasses performance art, book arts, video and drawing. She facilitates the Charlotte Arts Chat, a community gather space for open dialogue about art and culture. Marten exhibits her work and teaches workshops locally and nationally.
---
ANDY SMITH
Andy Smith covers arts and culture for Charlotte magazine, where he also serves as digital editor. During his time with the magazine, he has written about trends in arts funding, arts education, the local music scene, and other burgeoning areas of Charlotte culture. His also writes about the arts on a national level for publications like Hi-Fructose Magazine, Back Issue, and New Noise Magazine. Photo credit: Logan Cyrus
---
MODERATOR: RICK THURMOND
Richard Thurmond is publisher of Charlotte magazine. Prior to that, he was editor for 13 years. He has written extensively about the local arts and music scene, and has long pushed for Charlotte magazine to have the smartest arts coverage in the city. Photo credit: Chris Edwards
---
OFFERING HISTORICAL CONTEXT: BRENDA TINDAL
Charlotte Native Brenda Tindal is the staff historian and Senior Vice-President of Education & Exhibits at Levine Museum of the New South. In this role, she is charged with conducting research, planning and curating major exhibits that place the city and region into historical context, developing and delivering educational programs, supporting communications, media, and community relations efforts, and supervision of the Education and Exhibits departments.
Charlotteans of the Year 2015: Skyline Artists in Residence
IN THE SPRING of 2015, Crescent Communities was trying to figure out what to do with the old Goodyear store on Stonewall Street. The development company had purchased the property, home to the auto and tire center for more than five decades, and was making plans to demolish it to make way for an office tower. In the meantime, it wanted to do something with the space. Crescent officials set up several meetings with two women named Amy, Charlotte artists who thrive on finding ways to bring people together through culture, and eventually they arrived at an answer: They would launch a monthly residency program that pays Charlotte artists to create whatever they want in a temporary space. They called it "Skyline Artists in Residence."
Leaky ceilings, musty scent and all, the Goodyear building became an arts hub. The performance art group XOXO performed pieces confronting white supremacy. Ghost Trees offered big-band jazz. A 68-foot steel sculpture was erected by Matthew Steele, and garage doors became paintings. Demolition was delayed a few times, and art projects were extended.
Read more here.