#DiscussCLT: Where To Start a Conversation About Charlotte's Future
The latest in a continuing series: How do we manage Charlotte's growth?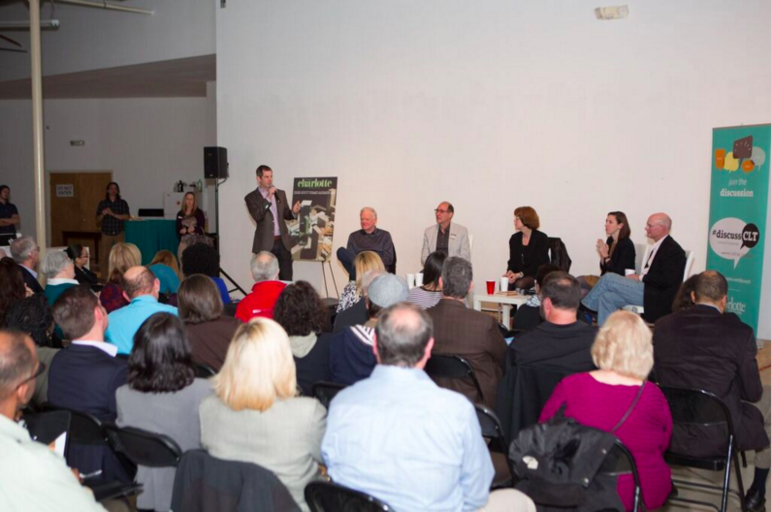 Last night, a couple of hundred people packed a modest space underneath a barrel roof in South End to talk about what they wanted their city to look like. This magazine organized the event, the third installment of the #DiscussCLT series, and provided free catering and beer from nearby Triple C Brewing Co. (Not saying the people who came don't care deeply about urban design, but sometimes you need a sweetener.) OrthoCarolina sponsored it.
For a couple of hours, half of it taken up by a panel discussion, people exchanged opinions, ideas, concerns, and business cards. The venue was C3 Lab, a classic example of a third place beloved by urban designers and young entrepreneurs, occupying land that's about to absorb the latest wave of Charlotte's growth. It represents the future of the city—one section of it, anyway.
Charlotte presumably will keep growing. The city is working on an update to its zoning code. What's the future going to look like? More jenga towers with eight-story parking garages at their bases—"cars behind bars," as panel member Tom Low calls it? Or organic blocks that mix homes, retail, and entertainment, real urban neighborhoods where people practice life?
Rather than try to recap the discussion, I'm just going to point you to some resources. If you're interested in what Charlotte's going to be putting on its land in the decades to come, these are the starting points. No beer here, sadly.
Here were the panel members and their related institutions:
If you care about what this city will look like in 10 years, or 20, or 50, take an hour or so and do some reading. Then shoot some emails off, follow people on Twitter, Facebook-friend them, bring up these issues over coffee or beer with the neighbors. Keep the conversation going. It's how the best work gets done—and if we don't talk about it, others will do the talking for us.