Divine Barrel sets opening date for March 10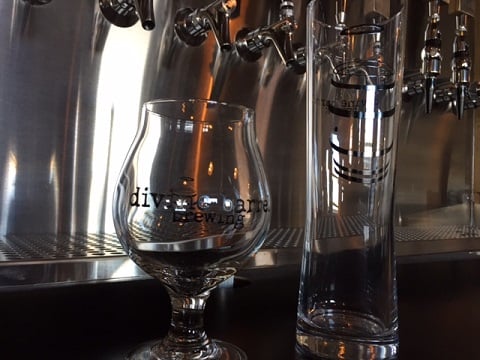 Charlotte's newest brewery now has an opening date.
Divine Barrel Brewing, located at 3701 North Davidson Street, will throw open its doors Saturday, March 10 as another addition to Charlotte's burgeoning craft beer scene. While it will feature a number of different styles, the brewery will eventually look to specialize in sours and barrel-aged beers, says co-owner and head brewer Ben Dolphens.
"We are passionate about beer in general and will definitely have a ton of beers on tap all the time that aren't sours or spent any time in wood," he says. "But the beers you drink that spend time in wood and sour over time through bacteria … man, there's just something so special about that. The fact that you're not in control anymore – you are at the mercy of those microorganisms.
"It's kind of like where we got our name. Divine is a lot of different definitions. One of them we like a lot is 'unusally lovely,' something that's awe-inspiring and kind of amazing. I've had a number of sour beers that kind of blow your mind. They're just greater than the sum of their parts due to the nurturing or care the brewer took, but also the luck, or divine intervention, from the universe that helped it become what it is."
Dolphens is opening the brewery along with co-owners Gavin Toth and Scott Davis. The three met each other over – what else? – beer.
"It was our common passion," says Toth, who previously was the general manager at Pizza Peel and Improper Pig. "Opening a brewery has been a longtime dream for all of us. When I started working for the Pizza Peel and later the Improper Pig, they asked me what my five-year plan was and I told them it was to open a brewery. And four and a half years later, here we are. I left the restaurant industry full-time because I wanted to give this as much attention as it deserved."
Dolphens started as a homebrewer almost 20 years ago and also worked as a trade brewer at MillerCoors on its craft side, Tenth and Blake.
"It was really interesting working in a corporate beer environment but I knew I always wanted my own brewery," Dolphens says. "So in summer 2015 I left and immediately started writing the business plan."
Says Toth with a laugh, "I got an invite to come over and Ben said, 'Bring some beer and your thinking cap.'"
Soo, the search for a building began. Dolphens says they honed in on Plaza Midwood and NoDa, and added it worked out perfectly being in Charlotte's art district.
"I look at brewing as an art, and once we get our sour program going and blending – it just fits," he added. "We're happy to be here, and it was kind of serendipitous to be dead center between two new light rail spots."
Divine Barrel is on the outskirts of NoDa, but in a booming development area that already includes Bold Missy Brewery caddy corner on North Davidson Street, Crown Station Coffehouse and Pub and Deejai directly across the brewery's patio.
Dolphens will operate primarily with a 10-barrel system, along with a 2-barrel system for small batches. The brewery also has a pair of foeders (which were being filled in February with a Brett saison to prepare for the opening. Currently Dolphens has six beers ready to go and is aiming for eight to 10 by the time the brewery opens in March. He's also brewed an imperial stout that is resting in four Heaven Hill barrels, with much more to come in Divine Barrel's barrel room.
Divine Barrel's first barrel-aged beer, an imperial stout, is currently resting in Heaven Hills barrels
The taproom is impressive, including a huge L-shaped corner bar where 30 taps reside behind. Numerous tables (many of which were crafted by Davis) are scattered throughout, along with a drink rail. The aforementioned patio will be dotted by barrels in the middle, tables and chairs and also features sunsails for cover.
"We knew we wanted to kind of go back to the neighborhood brewery model," Dolphens says. "We wanted to create a place that's comfortable and cool to hang out, keep people coming back.
For the opening, look for "a good mix" of beers, Dolphens says, including a West Coast IPA and double IPA, NE IPA, Gose, Berliner Weisse and potentially a variant of the stout currently resting in the barrels.
"We always want to have rotating beers in the taproom," Dolphens says. "People always ask us our flagships and what we think it'll be. We want the public to answer that, so we'll see."
Down the road, using a mobile canning unit to release beers out of the taproom is certainly on the radar. And once the barrel program gets going, look for Divine Barrel's first bottle to be released around the brewery's one-year anniversary.
"We're really excited to be a part of the Charlotte beer scene," Dolphens says. "We're trying to create our own thing here that fits into that but is also different in its own way. The barrel-aging and sour program is one way to do that; while we're certainly not the first here to do that; we might be one of the first with a long-term focus in that area."
Adds Toth, "We want to provide that good comfortable space and give great service that's also a bit of an education if people want it. Every member of our staff will be just as invested in this place as we are. We want it to be an experience for everybody; you're not just coming here to get a beer, you're coming to hang out with your friends and you're choosing us over other places. And that's great, so we want to make sure you have the best experience in the taproom and of course enjoy our beers."
Divine Barrel's grand opening March 10 will begin at noon, and plans are to shut down the entire parking lot to have room outside for beer sales as well. There will be live music and a DJ, as well as two food trucks and mobile ordering from Deejai. The brewery will also have a special commemorative glass to mark the occasion; those who purchase it will receive two beers as part of the order.
Moving forward, Divine Barrel will be open at noon each day Wednesday through Sunday. You can keep up with all of the brewery's news on Facebook and Instagram.
Divine Barrel's taproom will feature 30 taps total.