Edible Flowers You Can Plant and Plate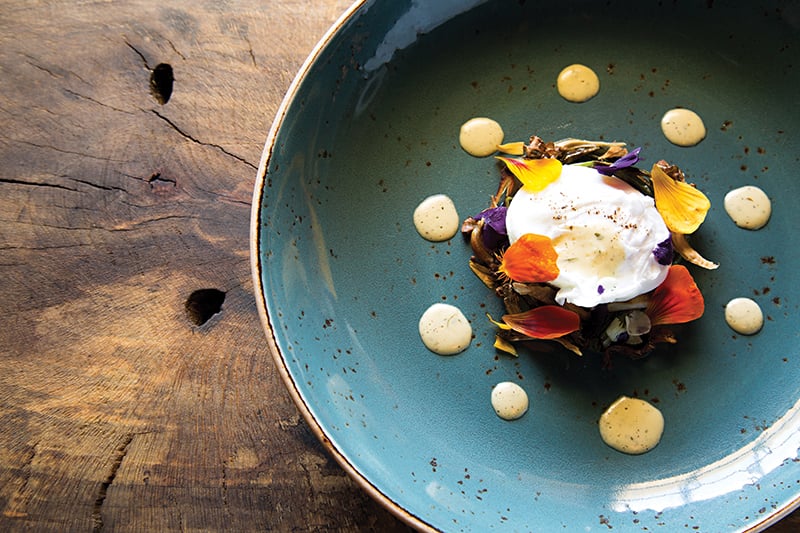 EDIBLE FLOWERS are the garnish de rigueur on the highly curated plates of today's best restaurants, adding a polished pop of color and beauty to a dish. Use these five varieties to add color to your garden while brightening your tablescape and palate.
Nasturtium
One of the most popular edible flowers, this sprawling plant grows round and bushy with vivid blossoms of bright red, orange, and yellow. The entire plant is edible; its flowers add a peppery pop to salads and an eye-catching touch of brightness. The circular, lily pad-like leaves can hold a sophisticated bite or be put in a pesto, and the seed pods are caper-like when pickled. In the garden, nasturtium is a boon for pollinators and a wonderful companion plant for homegrown vegetables. Plant in the early spring and enjoy the flowers until late summer.
Viola
This prolific perennial is a late-season stunner, giving gardens a much-needed pop of color when winter makes the landscape bare. Both the leaves and velvety flowers are edible. The blooms, ranging from deep purple to white and lilac, impart delicate floral notes to simple syrups, and add beauty when candied for dessert decor. Toss a few into a winter salad for a boost of vitamins A and C. Plant September through November. Violas are winter-hardy, durable, and will produce blooms well into the spring.
Marigold
As their name suggests, marigolds add beautiful hues of gold, orange, yellow, and deep reds to the home garden. With a distinct vegetal and citrus scent, marigolds work wonders against unwanted pests and create effective low-growing borders in a landscape. Plant them alongside tomatoes and basil and use the petals to garnish dishes or to decorate a salad.
Bachelor Button
This annual, also known as cornflower, is adorned with colorful blossoms that shoot out from its head like bursts of fireworks. The tissue-thin petals can be used as an edible confetti sprinkled over salads and desserts, but the flowers also make a lovely, rustic bouquet. Bachelor buttons are so unfussy that they are considered a pesky weed in North Carolina. Still, seeds are available at seed stores and can be planted in early spring after the last frost. They will grow all summer.
Borage
Also known as starflower, borage flowers grow long and tall with star-shaped flowers in delicate blues and purples. Young borage leaves are edible, and the flowers are sweet with a hint of cucumber taste. Use borage flowers to add beauty and refreshing flavor to a jug of water or lemonade, candy them for dessert decor, or use them for color in a salad. Plant borage after the last frost date (traditionally April 15 in North Carolina) in an area with full sun, then enjoy them all season long.
Harmony Ridge Poached Egg with Maitke Mushrooms, Seasonal Flowers, Green Onion, and Béarnaise Sauce
Prepared by Chef Clark Barlowe of Heirloom Restaurant
Makes one serving
Ingredients:
1 chicken egg
1/2 cup maitake mushrooms (Available from Urban Gourmet Farm at NODA and Atherton Mill farmers' markets)
2-3 tablespoons olive oil
Salt and pepper to taste
2 viola flowers
2 Nasturtium flowers
2 green onions
3 egg yolks
3/4 cup clarified butter
1 shallot
4 tablespoons herb vinegar
1 sprig tarragon
1. Thinly slice the shallot, then and sauté in a small pan with herb vinegar and tarragon until shallots are tender.
2. Combine shallot mixture with egg yolks in a bar blender and season liberally with black pepper. Remove sauce from blender and hold in a warm spot in the kitchen.
3. Slowly drizzle clarified butter into blender while running on medium to form Béarnaise sauce.
4. Blanch green onions for 1 minute and shock in cold water to preserve color.
5. Clean maitake mushrooms and drizzle with olive oil, then season with salt and pepper. Roast in 400 degree oven for 5-6 minutes, or until golden brown.
6. To finish the dish, poach the chicken egg in slightly acidic water to help set the egg white. This will take approximately 3 minutes in water that is slightly less than a boil. Reserve the egg for plating.
7. Lightly grill the green onion just to heat through and obtain grill marks, place the green onion on the plate arranged in a circle.
8. Arrange mushrooms on that circle and place poached egg in the center.
9. Arrange flower petals on top and around the onion.
10. Sauce the plate with the Béarnaise sauce on top and around food and serve hot. Enjoy!
Chef's note: Buy local, drink local, be local—it has always got to be NC!