Editor's Note (March 2018): Highway Thoughts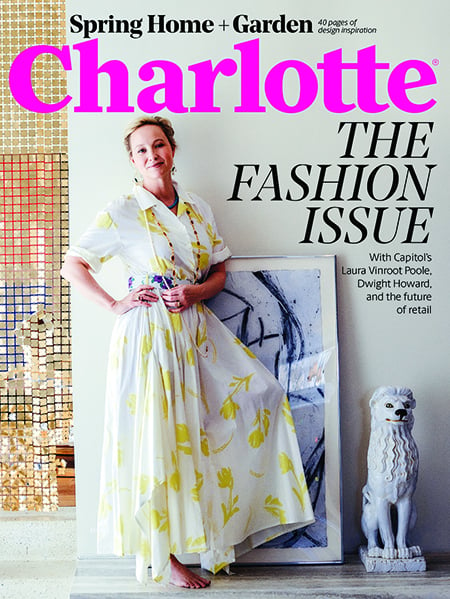 DRIVING ON I-485 to I-77 south of Charlotte, no matter my mood, I get a good laugh. Along the way, there's a telephone tower more than twice the height of the trees surrounding it. The tower's prongs are painted dark green, and the pole brown, as if it's trying to blend in to the woods around it. The absurdity of this makes it stand out even more than a regular cell tower, surrounded by gorgeous pines, with real tree trunks and real needles. I feel for that telephone tree, though.
It's daunting trying to blend in with beauty, and we have a lot of that in this magazine. Adam Rhew, our stylish senior editor who knows how to pronounce all of the designers in the collection of stories in March, has been planning our fashion issue for months. He's certainly a tree, always looking dapper and put-together while I do my best not to drop anything on my leggings and sweater, hair in a messy bun.
He traveled to New York for this issue to write a profile that captures the essence of Laura Vinroot Poole, owner of the SouthPark boutique Capitol, and interviewed Hornets center Dwight Howard on his balcony overlooking uptown. Sarah Crosland, a former editor at this magazine, captured how changing shopping habits are forcing big and small retailers to adapt. Laurie Prince, one of our contributing editors, speaks to LeMond Hart about his uptown store, a conversation that conveys a genuine goodness.
That's not to say these brilliant minds haven't felt like telephone towers trying to be trees, too. Poole describes how she felt inadequate in the wake of the legacies left by her father, Richard Vinroot, and family friends, including the McColls. It's hard to believe now, but the woman who is shaping Charlotte into the most stylish city in the South shares she felt like a misfit among her fellow freshmen at UNC. She found herself in the mountains north of Asheville, and went on to open Capitol 20 years ago.
Hart, too, struggled to find his path. After his mother's death, he needed a mentor, and found his way to his future with the help of a music teacher. Howard is one of the veteran players on the Hornets roster, but he's evolving his style to embrace his maturity, not trying to hide it.
Sometimes, I hope, I'm a tree, but I'm okay being a plain telephone tower, too. I'm an adult who feels most comfortable in shine and color, animal prints and bright lipstick—when I'm not running too behind schedule to put it on. When I embrace these quirks, I am a telephone tower: sometimes different, but not out of place. When I fight them, and I become a telephone tree.
When we try to hide who we are, we are simply confused. A telephone tower painted like a metal tree, towering above the real ones, trying to fit in but standing out instead.