Eight local breweries will compete at Duckworth's annual cask festival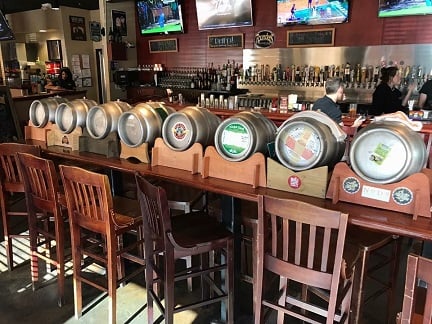 One of Duckworth's most popular events is back – albeit a little late this year. Usually the taproom and restaurant's annual cask festival is held in March as part of Charlotte Craft Beer Week, but renovations to the Park Road location pushed it to May this year.
Duckworth's eighth annual Battle of the Casks will take place this Saturday from 1 p.m. to 5 p.m. Eight local breweries will be bringing a different cask beer, where you'll have the chance to crown the champion.
For those unfamiliar, a cask-conditioned beer is carbonated naturally and unfiltered. Each beer featured will present itself as tasting differently than you would come to expect. And as is the case every year, participating breweries have added different ingredients to a particular beer (some are year-round while others are created specifically for this event. The result is always interesting to see what kind of intricate profile the breweries present with their beers.
Below are the breweries for Saturday's event, along with the beers each will be bringing:
Birdsong Brewing: Sunshine Gose with lemons and strawberries
Bold Missy Brewing:This We'll Defend (chocolate porter with black currants)
Catawba Brewing: Blood Moon Rising (grisette with blood orange and spruce tips
Good Road Ciderworks: Rum Barrel-Aged Cranberry cider with brown sugar
Legion Brewing: Juicy Jay IPA with blueberries and experimental hops
Lenny Boy Brewing: Blackberry Booty Call (double IPA with blackberries)
NoDa Brewing: Gose with pineapples and limes
Olde Hickory: Hefeweizen with orange peel, tangerines and vanilla
Tickets for the Battle of the Casks can be purchased either in person at the Park Road Duckworth's or by calling (704) 527-5783. Each ticket is $25 and includes a special event glass. Your ticket will include a pour of each beer, and the winner of the event will be decided on votes from attendees.