Essay: A Tree Grows
My late wife brought Fiona, a fiddle-leaf fig, into our new home and nurtured her to the end. Through emptiness, doubt, and pain, I cared for Fiona, too, and learned a thing or two about life and regeneration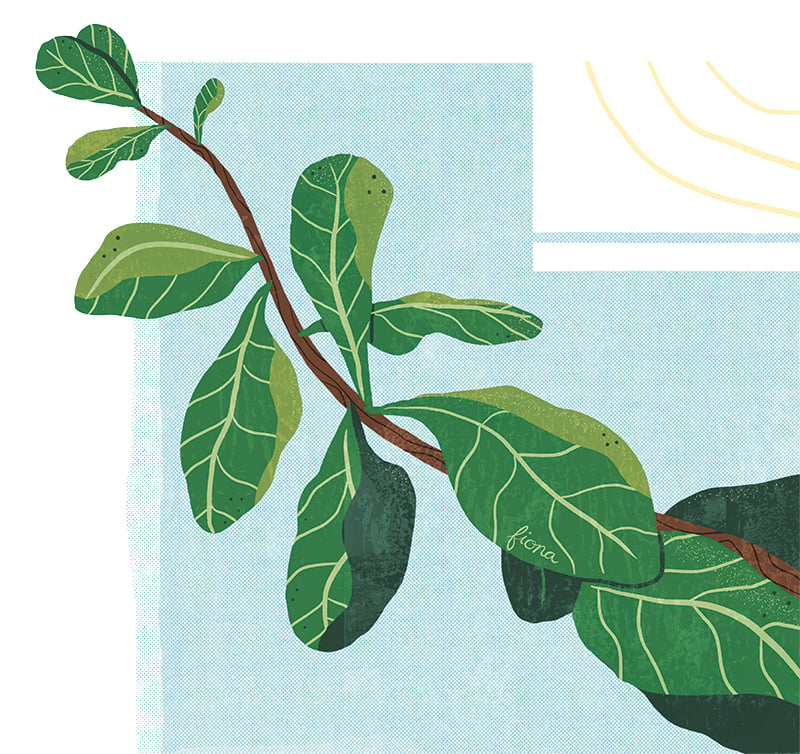 When Taylor and I moved into the blue bungalow in NoDa, she had fought her cancer for more than two years. The disease had already taken her uterus, ovaries, and pieces of her small intestine but not her dream of a future that included a home with pictures of us on the walls, a fenced-in backyard for our 4-year-old dog, Cali, and blank spaces she saw as canvases to make her own.
Taylor brought Fiona, a fiddle-leaf fig, home from a local nursery to fill one of those blank spaces in a front corner of our living room. Two stems in a V shape sat on a three-legged wooden stool from World Market. Fiona became a fixture in our two-person, one-animal family, and soon enough, as she did what she could to keep herself alive, Taylor did the same for Fiona.
"I just dusted a plant…#fiddleleaffig #obsessed #newhome," she excitedly posted to Instagram on August 25, 2016. She was astonished that Fiona's leaves were large enough to collect dust.
When Taylor died a little more than three months later, I became a 30-year-old widower uncertain about the future, lost without my best friend, and a single parent of this three-foot-tall fiddle-leaf fig.
Care for Fiona was an afterthought when my life after Taylor began. Questions about other things took up my mental real estate: Which of our two cars should I sell? What should I do with her clothes? Will I ever love again? I passed Fiona dozens of times every day, but I didn't think about the watering or dusting she needed to survive. Fiddle-leaf figs are known to be difficult to care for, even with constant attention.
Fiona didn't wilt. She took advantage of her prominent spot between two sets of windows and basked in the sunlight that moved from the back of the house to the front, day after day.
She held steady until I took notice again a few months later, in the spring. By then, I had canceled Taylor's credit cards, slid off my wedding band, and figured out how she fit all the towels and linens in the cabinet above the dryer. I spread some of her ashes outside the Los Angeles restaurant where we got engaged; sold my car, a blue 2004 Jeep Liberty, and kept hers, a white 2010 Toyota Prius; and changed our cellphone plan from two phones back to one.
I filled a pint glass with water and slowly, in circles, poured the water into Fiona's soil, letting the earth absorb it. I took a damp paper towel and gently wiped each leaf clean of a dust layer that had blocked some of the sunlight. I turned Fiona 180 degrees to make sure light hit leaves that hadn't faced the sun in months. I knew how to do these things because Taylor had done them.
Single for the first time in nine years, I started dating again. To say the landscape had changed from when I was 22 would be akin to likening Woodstock to an open mic night at your local coffee shop. It took me five months to kiss someone new, six months to go on a date, and seven months to sleep with someone who wasn't my wife for the first time in almost a decade.
Fiddle-Leaf Fridays became a weekly routine: One pint of water. Slowly, in circles. Rotate 180 degrees. Open the blinds and angle them to guide light toward Fiona. I dusted less frequently as the plant grew taller and the top leaves became harder to reach. Every once in a while, I noticed that Fiona had sprouted a new leaf. Then I remembered that most of the leaves on her two stems didn't exist when Taylor had brought her home.
A year after Taylor died, I met Katie by chance in a recently opened café. She was a local business reporter, and I recognized her from her newspaper headshot, which doubled as her Twitter avatar. Buoyed by a fresh haircut and an unseasonably warm November day, I introduced myself in the sandwich line, then retreated to the back to contemplate the chicken salad or the turkey and why I hadn't asked for her number.
Instead, I did something I, as a previously married man, never thought I'd do: I slid into her DMs. Impatient and unable to play it cool, I sent her a note on Twitter a few hours later, before the chicken salad had even settled, and learned she had enjoyed her lunch wrap, wanted to travel to New Zealand, and was available to go out for a drink once she got home from Thanksgiving break.
I was attracted to her dimples, her intellect, and the way she laughed long after a joke had concluded. But it had been only a year, and I was still dealing with the agony of Taylor's cancer battle and death, so the thought of reinvesting my emotions in another person terrified me.
But what kind of existence was I sentencing myself to if I let that pain and fear dictate the rest of my days? In one of the final episodes of The Wire, the character Bubbles says, "Ain't no shame in holding onto grief as long as you make room for other things, too."
From soil to summit, Fiona is now about six feet tall, nine if you include the pot and that three-legged wooden stool. I stand on the couch to dust the top leaves. The gap of the V shape broadens as the weight of new leaves pulls the two stems' tops apart. I still slowly pour a pint of water into the soil every Friday, but the 180-degree rotation gets harder as the expanding plant brushes against the two walls that form the corner. I ask myself if I should replant Fiona in a bigger pot. But she's spent more than four years in her soil, and I figure she's content in her home.
As she grows, one of three things will happen.
Fiona could wither and die. Her leaves could slowly brown and fall to the hardwood floor. I'm prepared for this. It would be difficult to watch another physical connection to Taylor disappear. But I know, despite my engendering of Fiona and referring to a shrub as "her" instead of "it," that she is, in fact, just a plant.
I could move. An opportunity could pull me away from Charlotte, and I'd have to transport a six-foot tall tree in its soil to Los Angeles or New York or Chicago. Are there specialty moving companies for plants? Or will I just buckle her into the back seat as I drive to a new home?
Fiona could keep growing. The weekly water and rotations and periodic dusting will enable her to grow new leaves and taller stems, and I'll have to decide whether to buy a shorter stool or go without one, or renovate the living room to accommodate her rising presence. In this scenario, with steady nurturing, Fiona one day will touch the ceiling. That's not something Taylor or I ever imagined. I think about how happy and proud that would have made her.
Whatever Fiona's future, she is now not just my responsibility but Katie's. One morning about a year ago, before COVID kept us home, I was late for work, so I asked her to take care of Fiona. We'd lived together for more than a year, and she knew the Fiddle-Leaf Friday ritual.
I may never answer all the questions I asked myself after Taylor's death. But the one that scared me most was: Will I ever love again?
That morning, I detoured from my route to the door to kiss Katie goodbye. She finished pouring the water and turned toward me as the engagement ring on her left hand reflected the light.
Jesse Soloff works as an account director at GMR Marketing in Charlotte. His essay about Taylor Soloff's cancer and death—"Our Last Home," published in the April 2017 issue—won first place in the Essays/Commentary/Criticism category of the 2018 City and Regional Magazine Association awards. He and Katie Peralta were married in the presence of their immediate families on September 5 in Black Mountain, and they continue to live with Fiona the fiddle-leaf fig and Cali the dog in the blue bungalow.