Our Last Home
A blue bungalow, a big backyard, and a future that was all too short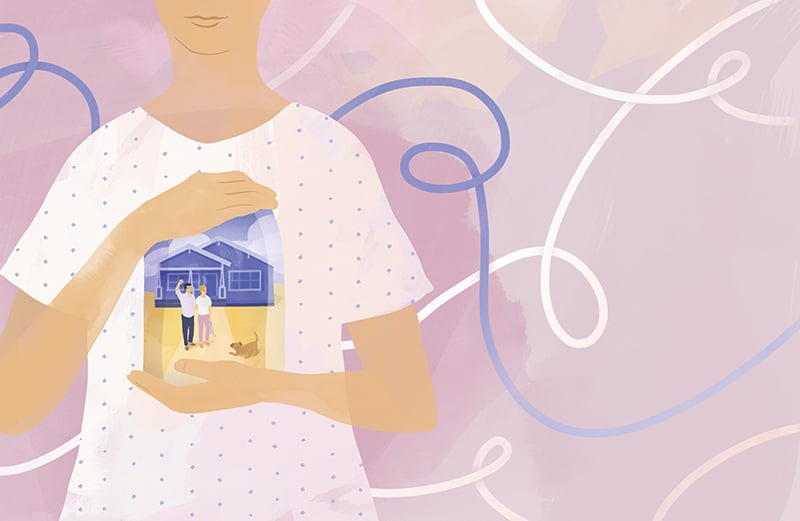 TWO HOURS after my wife died, I was eating a burrito at our dining room table.
It was dinnertime, I was hungry, and what are you supposed to do right after losing the love of your life when you're 30 years old?
We bought our first home, in NoDa, five months earlier, in the spring of 2016, knowing that it would likely be our last. Not because we would spend the rest of our lives there, but because that's where Taylor would spend the rest of hers.
As I ate, I heard the low hum of the furnace and the rustle of to-go wrappers and paper napkins. My mom sat quietly across the table. She had flown up from Miami to be with me. The scene and the feeling were familiar; her husband and my dad, Bruce, died 19 days earlier after his own bout with cancer.
Our house was built in the 1940s in Elizabeth, a few miles away. As new construction came into the neighborhood around 2007, the house was set to be demolished. Instead, a builder picked up the home, drove it to NoDa, put it on a new foundation, and gave it new life.
Sitting in the dining room with the steak burrito, I could see into most of the other rooms of the small, blue bungalow. I sat opposite our gallery wall, with a collage of photographs and art and other items we had hung. I stared past my mom at the reminders of what life was and what it should have been. A picture of Taylor and me after a surfing lesson at Cannon Beach in Oregon. One of our engagement pictures that we had also used for our wedding save-the-date announcement. A photo Taylor had taken of the Blue Mosque in Istanbul during our honeymoon. A portrait of our dog, Cali, named after the state where I proposed to Taylor five summers earlier.
I thought about that moment, the night I proposed to Taylor in a dark sushi restaurant in Los Angeles. I knelt in front of her and told her I loved her more than anything, that she was my best friend, and that I wanted us to spend the rest of our lives together. And then I stood up and everybody in the entire room shouted, "Taylor, will you marry me?"
Taylor had chosen the frames for those pictures—some black, others varying shades of brown, a gold one for the dog—and carefully spaced out the items. There was balance and composition and beauty. It reminded me of her attention to detail, her patience, and that I wasn't ready to face the world without her.
Two hours earlier, I was coaching her through her final breaths.
I love you.
It's OK to let go.
We'll be alright.
I love you.
You've fought so hard for so long.
We'll miss you.
I love you.
***
WHEN WE MET, the timing couldn't have been worse. We'd each spent three years walking around the campus of UNC Chapel Hill, but we didn't find each other until March of our senior year, when we were in the Bahamas for spring break. She had a beautiful smile, two oceans for eyes, and a laugh that sounded even better when it was in response to a joke I made. I ran up to her as she boarded the plane back to North Carolina and asked her if we could go out when we got back to school. We quickly realized how much we wished we had met sooner. She headed east to Raleigh for a year of graduate school to become a registered dietitian, and I went west to Charlotte to work at a sports marketing agency. The three-hour distance between us was relatively small, but it was still too far. We made the trips back and forth as like turned to love.
It was a gradual love. I spent the first eight months of the relationship calling her my "lady friend," which, a friend would later joke, meant that I knew she was the one but wasn't ready to admit it yet. When I told her I loved her on New Year's Eve as 2008 became 2009, she told me she loved me, too, but wanted me to say it again in the morning when I was sober. "I love you" was the first thing out of my mouth the next day.
Taylor was diagnosed with ovarian cancer five years later, on January 17, 2014. Low-grade serous carcinoma of the peritoneum, if we're being exact. Her gynecologist was operating on what we thought was a benign cyst that ended up being one of multiple cancerous tumors in Taylor's abdomen. There was a brief pause in between "We found a tumor" and when I began to sob. No "Are you sure?" No stunned silence.
It took Taylor about an hour to become reoriented from the anesthesia after the operation. I grabbed her hand. "They found cancer," I told her.
But it wasn't until the car ride home that she really understood what I had said. "I don't want to die," she cried from the passenger seat. I lied and told her she wouldn't.
In the years in between that night and Taylor's last, I watched as the cancer physically tortured my wife. The surgeries, the chemotherapy treatments, the immunotherapy trials, the side effects, the bowel obstructions, the kidney stents. The operations left her without an appendix, uterus, ovaries, and pieces of her small bowel. She was forced to use an ostomy bag, placed six inches under her left breast. As if a 30-year-old woman shitting through her abdomen wasn't enough, the doctors placed a venting peg in her stomach, so she could more easily drain food that wasn't able to make it through the tumor-pinched-garden-hose that had become her digestive tract.
She hardly complained. Instead, she worked to feel as comfortable as possible so she could enjoy whatever days she had left.
Every day, I would pray, not to anything or anyone in particular, but just a cry for help from whoever or whatever would listen, always repeating the same thing: "Please, let us get good news from the next CT scan. Please, let the tumors have shrunk in size or disappeared. Please, let our current treatment put us on a path to remission and eventually let Taylor become cancer-free. Please, let Taylor live a long and happy life. Please, let us live a long and happy life together."
I'd been saying this to myself during the day, at night, on airplanes, at work, at restaurants, on walks to the car, on drives home. I'd say it so often in so many places, hoping that I had somehow stumbled near a tear in the space-time continuum where my words could find their way to the cosmos.
Her last three days were almost unbearable. She died on a Friday night in November, but Taylor had started the process of dying sometime late Tuesday night or early Wednesday morning, when she fell asleep as a result of her body shutting down. Our doctor assured us she wasn't in pain or discomfort, but to watch your wife in such a state was heartbreak manifested. After years of fighting with unmatched bravery and unshakable resiliency, her body didn't know how to give up.
Sitting in the hospital room earlier that night, though, the last thing I wanted was for this to go a night longer. It's not what Taylor deserved. None of it was.
That Wednesday, with her eyes closed, we had our final shared moment. My mom hadn't yet arrived from Florida, and Taylor's parents had gone out to get lunch. The two of us were alone for what I thought could be the last time, and sensing she could still hear me, I sang our wedding song to her. "Tupelo Honey" by Van Morrison, all seven minutes' worth. By the time I reached the end, a repeating of "She's alright, she's alright, she's an angel," a tear fell down her left cheek and let me know she was still there.
***
TO THE LEFT of the gallery wall was the entrance to our bedroom. This is where she was supposed to die. In the comfort of her own gray sheets, with her head atop her own white pillow, covered by her own striped blanket, with me sleeping on the left, her on the right, and Cali at our feet, as we had done on a nightly basis since we moved in.
Instead, she died on the seventh floor of Carolinas Medical Center in room 7924. A fake rose was taped to the front of the hospital door, which, I assumed, was a symbol for those entering that hope was lost.
I chewed my burrito and looked to my right through a pair of French doors. Our living room was where we had spent most our days together. It was spacious, but like the rest of the house tonight, felt bigger than usual. Her dad and I had mounted the TV over the fireplace, in perfect view of our sectional couch. Taylor and I would lie head to head there, our bodies contouring to the L-shape while we watched Game of Thrones or The West Wing. Neither of us brought up the fact that Taylor would probably never find out who ended up on the Iron Throne or whether Josh and Donna would finally wind up together.
I finished my dinner and walked out the door in the back of our kitchen to our backyard. One of the main reasons we bought a house was to have a yard for Cali. It made her happy to run around without a leash. The joy that brought Taylor was worth the price of the place, even when the future was anything but certain.
The house isn't far from train tracks, so you can sometimes hear a soft rumble in the distance. But that night, at least in that moment, the air was still and quiet. I looked past the fence to the trees, and followed them skyward toward a cloudy November night with stars trying to break through.
I had plenty of questions that needed answers, but only one I could focus on in the moment: "Where are you?"
For almost three years, the feeling that kept me up at night was wanting the worst to be over but knowing what that meant.
I love you.
It's OK to let go.
We'll be alright.
I love you.
You've fought so hard for so long.
We'll miss you.
I love you.
And then it was.
I climbed the stairs back to the house and walked to my bedroom. I lay down on the bed and fell asleep. On the left side, with Cali at my feet.
JESSE SOLOFF is a first-time contributor to Charlotte magazine. He works in sports marketing in Charlotte. Reach him at jsoloff@gmail.com or on Twitter: @JesseSoloff. His favorite beverage is Yoo-hoo. You can read more about Taylor's journey at takesoncancer.tumblr.com.