F3: Fitness, Fellowship, Faith
The F3 craze started on a Saturday morning in Charlotte with 35 men. Four years later, thousands of participants in multiple states meet in schoolyards and parks for predawn workouts designed to build better men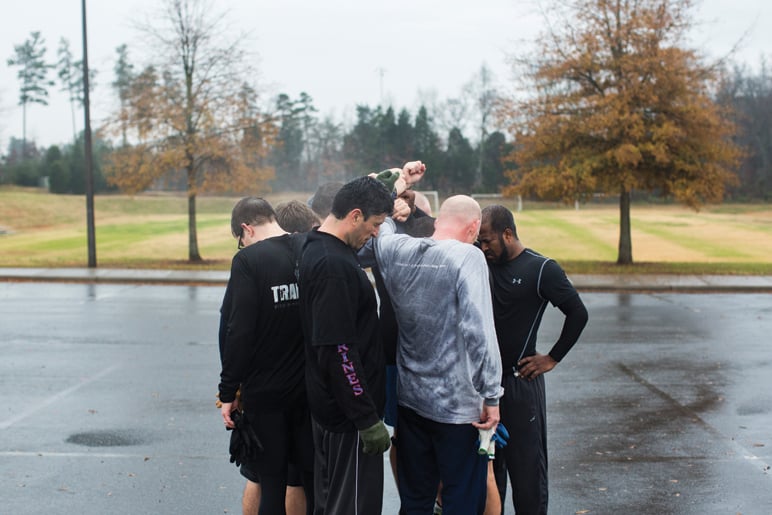 DAVID REDDING is the chief evangelist of F3, and when he gets to preaching the F3 gospel, it's best to sit back and listen. His pulpit today is a common area at Founders Hall in uptown Charlotte. Redding, a 51-year-old lawyer, is wearing a suit and tie. He has short, dark hair and the slightly weathered face you'd expect of a former Green Beret who exercises outside every day before sunrise. As he speaks, the coffee-seeking masses navigate around the table. Three times, fellow F3 members walk by and say hello. He greets them by their F3 nicknames.
Then he returns to his message. His friend and F3 cofounder Tim Whitmire, 44, sits beside him. One of the strengths of their three-part exercise regimen based on fitness, fellowship, and faith is the requirement that participants lead workouts.
Instead of an overbuffed personal trainer holding a clipboard and counting your push-ups, you get a guy just like you. He counts. But he also huffs and puffs right next to you. When it's your day to lead, you do the same with him. Those leadership skills then spill into the rest of your life. You're not only in better shape, but you're also a better leader. At least that's the idea. Another hallmark of F3 is that each man gets out of it what he puts in. And more people are investing in the program every day. From its birth with 35 men on January 1, 2011, F3 has grown to include roughly 3,000 regular participants in daily, early morning workouts in parks and parking lots across North Carolina and South Carolina. F3 also has outposts in another nine states and the District of Columbia and has plans to expand throughout the Southeast.
"We hope to have the whole world F3ized by 2017," Redding says, and he's only half-joking.
***
REDDING AND WHITMIRE attended Christ Episcopal Church together for years. They didn't know each other until they joined the same workout program called The Campos, which was held every Saturday at Freedom Park. By the summer of 2010, the workout group routinely drew 25 men. It got large enough that organizers stopped letting newcomers join.
Redding and Whitmire decided to start a new workout to swallow The Campos' overflow. They emailed about 80 men, including those The Campos turned away and others they thought might be interested, and invited them to a workout on January 1, 2011.
They hoped 10 would show up and that they could build it to 20 by the summer. When 35 men attended the first workout at Charlotte's Alexander Graham Middle School, they automatically needed a second group. They spent the winter and spring planning and organizing. By the time they were ready to split up, they had enough men to make three groups instead of two.
The growth hasn't stopped since.
F3 has no gyms or paid instructors—and an ethos that disdains both. Participation is free. It remains an underground movement, albeit one with T-shirts, bumper stickers, and a polished website (f3nation.com). The vehicle driving the growth is what participants call "emotional headlocking," the word-of-mouth process where one man talks another into joining. It's like evangelism, but instead of getting saved you get ripped.
***
IT'S 5:20 ON A CHILLY October morning. For many people, the only reason to be outside this early is because you're still out from last night. The sun shows no hints of rising. Sixteen men stretch in the parking lot of Highland Creek Elementary School. All of them wear shorts even though the temperature isn't nearly high enough for that.
The workout starts promptly at 5:30 with a warm-up jog across the parking lot. A "late" straggler arrives to bring the total number to 17. The preferred F3 workout size is no more than 18. Jumping jacks, push-ups, and squats, all with military-style counting, complete the warm-up.
The "mean, mean stride" principle of F3 means the men in this group take turns leading.
"Mean, mean stride" comes from a lyric in the song "Tom Sawyer" by Rush. The lyric alludes to the scene in Mark Twain's book where Sawyer convinces his friends to paint a fence for him. In the same way, F3 teaches men to lead their workouts.
"We found it's a huge component of it," Redding says. "In the end of that chapter, Tom Sawyer found out … it's hard things that are fun. It's easy things that are work. It's the opposite of what we think. If you make it hard, people will come."
Today that leadership responsibility falls to James Drescher. He created this workout and dubbed it Return of the Weightgloom. After a five-minute warm-up, he tells the men to break up into pairs and directs them to a line of equipment, including curling bars, kettle bells, and weight plates.
Drescher places a piece of paper next to each piece of equipment that tells the men what to do at each station. Half of the men stay on the weight line and perform various exercises, such as lunges, shrugs, and squats. The other half run 30 yards to another line, where they lie on the asphalt and do ab exercises.
For 40 minutes, they run back and forth between the two exercise stations. There are no breathers; the only rest is the time each man steals for himself. By design, Return of the Weightgloom, and every other F3 workout, is as hard or as easy as each participant makes it. The early morning silence is interrupted only by the cadence of counting, brief explanations of the next ab exercise, and friendly jabs the men hurl at each other.
A young female teacher arrives hours early for school. She walks through the parking lot and around the workout to a modular classroom. An F3er along the weight line, Andrew Birch, offers to carry her books. His fellow members immediately question his sincerity. F3ers show their love for each other through merciless teasing. This time Birch is the target. "Believe me, he'd do anything to get out of this," one man yells.
***
WHILE THE WORKOUTS vary from day to day and place to place, they always end the same. The men at Highland Creek Elementary gather in a "circle of trust," and each one states his name, his nickname, and his age. It's like the end of a Rotary Club meeting if Rotarians met outside in the dark and ended up soaked in sweat.
Redding and Whitmire believe the circles of trust are a vital part of F3's growth. They first noticed F3's emotional value in the strong friendship they formed with each other. Soon they recognized the same thing was happening throughout F3. Men tore their bodies apart together and then bared their souls to each other.
Redding and Whitmire discovered F3 offered a solution to two problems—a lack of deep relationships among men and the abdication of leadership roles by men—that they weren't initially looking to solve.
"My adult life, from the time I left the Army (1994) until we started doing this, was just a series of double-howdy conversations—change-jingling, pen-stroking, porcupine-dancing conversations, without that radical fellowship of men living in brotherhood together," Redding says.
More than getting men in shape or spreading the program nationwide, this fellowship quality satisfies Redding the most. F3 releases men from what he calls "sad-clown bondage," happy on the outside and sad on the inside. Redding and Whitmire now see reinvigorating male relationships and teaching leadership skills as core goals of F3. The deepening fellowship the men experience with each other has led to an awakened awareness of faith within the group.
"Whereas you used to run around thinking about yourself primarily, you get in that circle, you're fit, you're friended, and you look around and go, 'I want another guy to have this,'" Redding says. "Once a man's mind does that, turns outward, welcome to faith.
"It's the belief in something you cannot see. Once a man has crossed that bridge, he's never coming back. Then these guys go out like crazy, screaming legions of F3 maniacs and are 'headlocking' left and right. It's like a conspiracy for good."
After the circle of trust, the men huddle together, join hands above their heads, and close with a "shout-out." At the end of the Highland Creek workout, the shout-out is a Christian prayer. The prayer is at the discretion of the participants, and most participants are Christians. But F3 cares about the presence of faith more than the object of it.
"You're free to proclaim whatever it is you believe in," Redding says. "Another guy is free to say, 'I don't believe it; here's why.'"
***
REDDING CALLS the first few years of F3's growth "the Johnny Appleseed phase," where workouts grew organically. That phase is over. Redding and Whitmire envision F3's expansion continuing along two fronts. One is by local "regions" planting more regions in concentric circles, with each region comprising several workout locations. The other mode of growth, which is more difficult because of financial burdens and time constraints, takes F3 national, one city at a time.
"We get stuff over the website all the time: Hey, I want you to bring this to Wichita. I want you to bring this to Omaha. I want you to bring this to L.A. or San Francisco," Whitmire says. "OK, great. We (had) no way of doing that."
Whitmire and others devised a comprehensive and condensed teaching model that they take on the road. So far, they have traveled to Richmond, Virginia; Nashville, Tennessee; and New Orleans.
Whitmire flew to New Orleans for a three-day F3 planting visit in October. When he first stood in front of the group of soon-to-be F3ers, he wrote a simple message on a dry-erase board: "Nobody owns this."
"I am here to give this to you," he told the gathered men. "My charge to you is to do with it what you can within the guardrails, make of it what you want, and then give it away to another man."
Matt Crossman is a freelance writer based in Charlotte. Read his portfolio at mattcrossman.com, or follow him on Twitter: @MattCrossman_.
F3 Fast Facts
1. All workouts are free and held outside in public places, such as school parking lots and parks.
2. Workouts take place seven days a week, rain or shine, hot or cold. Anyone interested in showing up can do so. Schedules and locations are available at f3nation.com.
3. Workouts start whenever group members want. On weekdays, the usual start time is 5:30 a.m., and the workouts last 45 minutes; on weekends, it's 5:45 a.m. for an hour.
4. The schedules provide a general indication of each workout's format, and participants are welcome to attend any workout at any location. The best way to stay up to date on daily activities is to follow the Twitter feeds maintained by most F3 regions.
5. A women's version of F3, called FiA (Females in Action) launched in January 2013. More information is available at fianation.com.
6. F3 has no plans to turn the workouts into a business. But F3 has licensing deals, sells merchandise, and has published a book, Freed to Lead: F3 and the Unshackling of the Modern-day Warrior.
7. F3 workouts have few rules. An F3 workout must apply to men of varying fitness levels and leave nobody behind.
8. Most workouts are either runs or boot-camp style. But there are also yoga, skiing, and skating workouts. A swim version failed, probably because men had their faces in the water most of the time.
9. Redding, a former Green Beret, based much of the boot-camp-style workouts and F3's quirky language on his military experience.
10. Everybody gets a nickname, and F3 has an entire page on its website devoted to defining terms in its lexicon.