Father's Day Charlotte craft beer roundup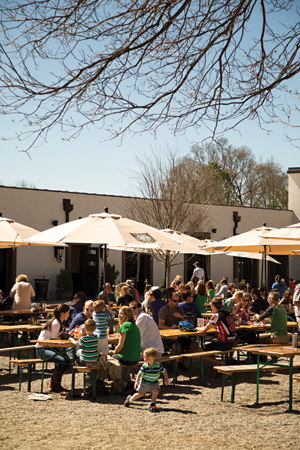 This Sunday, if you don't know, is Father's Day. There's no feeling quite in the world like being a father, and the joys your children bring to everyday life.
And while one of the most tired and drawn-out subjects in this city revolves around kids and breweries, don't believe the naysayers. Look how these breweries are constructed. Also, many of the breweries owners and/or brewers are parents themselves.
Need more proof? Check out these local craft beer events curated especially for Father's Day:
–It's a full weekend for the fathers at Olde Mecklenburg Brewery, with events going on Saturday and Sunday. First up is a dad and kid-friendly setting as Discovery Place is bringing some dinosaur-themed exhibits to the brewery. From 11 a.m. to 3 p.m. Saturday, you can dig for fossils, show off your art skills and also get temporary T-Rex tattoos.
Sunday is devoted to a good cause and most importantly, the health of dads. Pints for Prostates will be on hand all day at OMB to provide free health screenings for all men. Everyone who gets a free screening will also be entered for a chance to win a five-night beer adventure sponsored by the national charity.
During both events, Olde Mecklenburg's kitchen will have specials just for the dads and, of course, its complete lineup of beers – including the most recent release, Munzler's Vienna Lager. Both days will also feature live music as well.
–Sycamore is throwing a special Father's Day brunch on Sunday from 10 a.m. to 2 p.m. The brewery will feature a full taplist (along with wine and Sycamore's own Wild Blossom cider), while TIN Kitchen is providing the brunch menu. There will also be live music and featured vendors at the brunch if you need a last-minute gift, including Charlotte Grill Company and Glory Days Apparel.
–Legion will celebrate all fathers with Dad's Day Out, taking place Saturday from 3:30 p.m. to 8 p.m. The brewery is closing down its parking lot for this event, which will be headlined by the Toleman Randall Band. As a special treat, Legion will also be releasing a unique version of their flagship beer, Juicy Jay IPA. This one is brewed with mangoes and is available only at this event.
–NoDa wants to keep fathers fit while also enjoying a few beers (nothing wrong with that in the least). This Sunday at noon, the brewery's run club is hosting the Dapper Dad Run in lieu of its normal run. The route is still the same: everyone runs the first mile, and then you can run three miles or five miles if that's your liking. And if you want to get a full day of exercise, head to the brewery early at 10:45 a.m. for NoDa Hop Yoga ($5, which includes a beer).
–Finally, fathers can enjoy bluegrass and brunch at the aptly named Brunchin' Bluegrass at Triple C Brewing. This weekly event has become a hit in SouthEnd since it began a couple months ago. Each Sunday is highlighted by a different food truck and band. For Father's Day, Greek Eats will be serving up a full brunch menu while Hashbrown Belly Boys are the featured bluegrass act. Triple C opens at noon on Sunday.