First Look Inside Salud Cerveceria, Opening June 3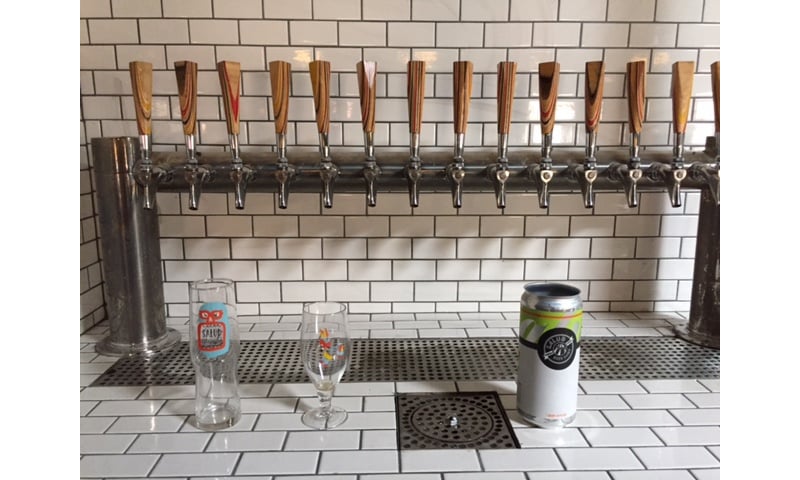 To say Salud Cerveceria is one of the more unique breweries to open in recent years is a pretty large understatement.
For one, it sits atop a bottle shop – not out of the ordinary as several shops in North Carolina have decided to open breweries – but how many features a coffee shop as well? Or a shuffleboard table complete with an upcoming league? Or an art gallery?
In fact, community is such a huge part of Salud Cerveceria, which will officially open June 3, that co-owner Jason Glunt says it's just fine if you come and don't drink a beer.
"What I want everyone to understand is we're not trying to shove beer down your throat or make you come spend a bunch of money," he says. "We just wanted to create a hangout spot where people explore new things that maybe they wouldn't at a normal place. And if they come in and drink water – that's fine. I don't care; you could come up and read a book. I just want everyone to leave with a great experience and wanting to come back – feeling totally relaxed like they are at home with friends."
Of course, many will be coming for the beer, and head brewer Adam Glover has been hard at work putting together a unique lineup. Glover has been contract brewing at Heist Brewery and already some of Salud Cerveceria's beers have been tapped at Salud Bottle Shop, including Loseta, a mosaic IPA.
"We've gone through a couple batches of that, so it's been exciting to see how people have responded to it," Glover says.
Glover's approaches to his beers are twofold: Don't be afraid to take risks, yet also don't get too risky.
"We want to be super unique but also stay within the theme of what people are accustomed to," he says. "So we don't want to play comfortable but at the same time won't be going too far out of our zone. I really hope people drink a few of our beers, find a favorite and then hopefully request it again. That's what we want this space to be – creativity where people come together and tell us what they like."
When Salud opens in two weeks, also look for an easy-drinking Belgian single, Mesa Para Uno ("table for one") complete with variants, an unnamed stout aged on Defiant Whiskey spirals, a passionfruit IPA and several collaborations, including the already well-received Mo Citra Mo Problems that was created with Heist's brewers.
Glunt and Glover have been hard at work over the last month, along with fellow co-owners Dairelyn Guzman-Glunt and Jamie Jollie. The finishing touches are being put on as we speak in order to be open in two weeks, and the overall layout and design is nothing short of visually spectacular and unique.
No matter which way you come in, either through the front at North Davidson Street or via the side coming through Salud Beer Shop, prepare to be wowed. Lining the stairs at the front are pages upon pages from old Spanish dictionaries, while local artist Nico Amortegui's murals that run up the side entrance are mesmerizing.
Once up into the taproom, you're greeted by another mural, this one the backdrop of Salud Cerveceria's stage done by another local artist, Brett Toukatly, that features two luchadores greeting each other in friendship. This stage will play host to a number of musical acts over the next few months, including two DJs during the brewery's grand opening June 3.
There are several large booths along with rail seating in the middle of the taproom, and the bar's base features more than 1,200 blocks that were separately cut, stained and then put together. The wood of Salud Cerveceria's tap handles are made from old skateboards, and the signage outside was done by famed local crew Ink Floyd.
"Of course Salud has its own identity; it's funky and has its own vibe," Glunt says. "But now we'll have a space right above it that will look different but you'll still be able to tell you're part of the same family."
For the entire work put in however, it almost all went up in smoke – literally – about a month ago. It was just after midnight when Glunt got the call that smoke was billowing out of Salud Cerveceria – "one of the worst feelings of my life."
"The whole street was blocked off and when I arrived there were five fire trucks," he says. "I was thinking to myself, 'Dude, no way.' It just looked like a massive fire. You're so helpless at that time."
Luckily, it looked from the outside a lot worse than what was going on inside. The damage (caused from an issue with a shop-vac) was minimal. There was some water and cosmetic cleanup that pushed the brewery's opening back about two weeks.
Even when Salud Cerveceria opens, the overall Salud footprint will still be a work-in-progress for about a month. Still to come is a wall put in just beyond Fūd at Salud's counter; that space will serve as the production area which will eventually hold two 15-barrel foeders along with fermenters, a chiller and an experimental one-barrel system. The front space of that area will be removed to put in a garage door so people can view the brew process, with a window on Fūd's side.
Another new addition to the setup is the aforementioned coffee shop, Trade and Lore. You'll be able to get coffee, tea and baked goods in the morning and, if you are so bold, a pint or crowler of Salud Cerveceria's beer.
Speaking of which, due to the expected large initial crowd, crowlers likely won't be available until the second week of operation (bottles and cans are in future plans as well).
Salud Cerveceria's hours will stay on par with the bottle shop, opening at noon six days a week (11 a.m. on Saturdays) and closing at 10 p.m. on weekdays, midnight on Fridays and Saturdays and 7 p.m. on Sundays.
Glunt says he's excited for the public to experience the hard work he and everyone else has put in for not only Salud Cerveceria, but the Salud family as a whole.
"I know we're getting to where we want to be as a business," he says. "In five years we have grown like crazy. We started with nothing. I saw a picture recently of Salud when it opened and I was like 'How the hell did we make it?' We had hardly any beer on shelves, just four taps … we didn't know what the hell we were doing.
"But it's amazing and it's pretty fucking cool how far we've gotten and where we're at. It's rewarding and awesome all at the same time."