Get to Know: Jamie Turner, The Asbury's Head Pastry Chef
She recently nabbed a statewide honor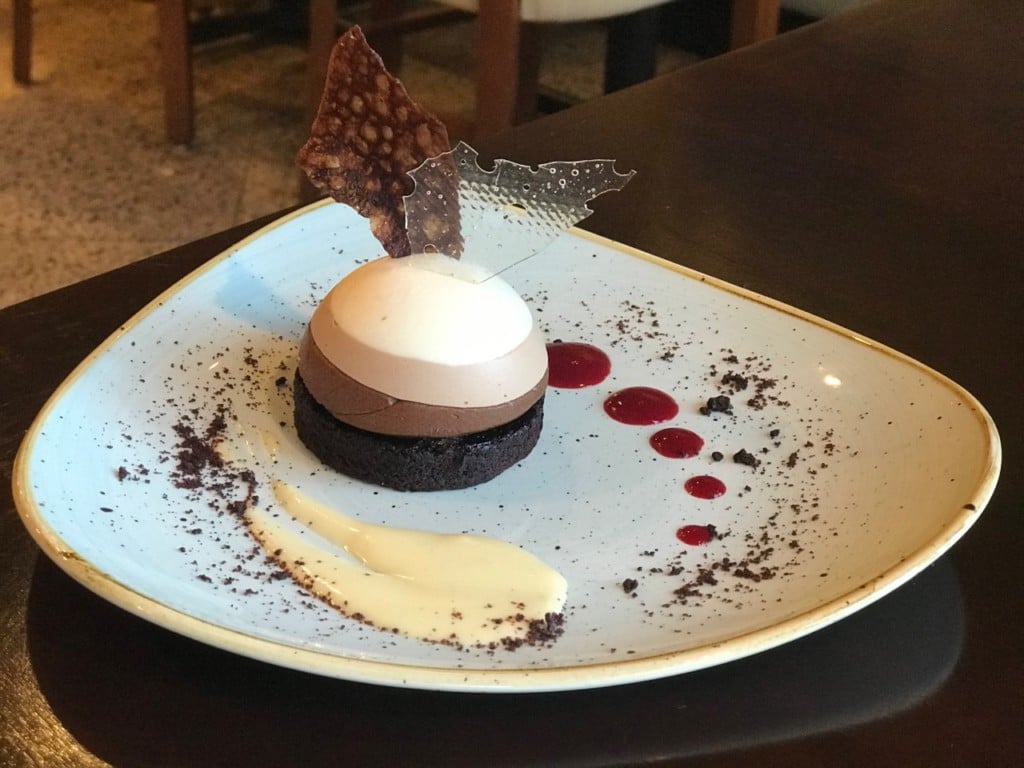 Last September, Jamie Turner and her fellow Soul Food Sessions members took their dinner series to the James Beard House. That same month, she won the coveted title of Pastry Chef of the Year at the North Carolina Restaurant & Lodging Association (NCRLA) Chef Showdown. In November, The Asbury named her head pastry chef. We caught up with the woman who perfected the apple and pear brown butter bun to find out how she manages it all, and what we can expect from her in this new role.
You may know her from: She's the former pastry chef at Earl's Grocery, and she's a member of the Soul Food Sessions pop-up dinner series
Age: 38
Relationship status: Married since 2018
Hometown: Linden, New Jersey
Currently lives: Eastside
Currently reading: The Cooking Gene by Michael Twitty
Tell me about how this opportunity at the Asbury came to you.
I'd been at Earl's (Grocery) for about a year and a half, so I wasn't really looking. Mike Long reached out when they were looking for a new pastry chef. I said I'd put my ear to the ground, and started reaching out to friends. It was my Soul Food Sessions friends who were like, 'Duh. How about you?'
How would you describe your approach to baking?
It's comfort food with a twist. I want to bring the person eating my dessert back to their childhood. I started at age 12, with my Easy-Bake Oven and a science kit. The first cookies I made were from my Mickey Mouse Cookbook that I got at a book fair—it was a brown butter chocolate chip cookie. I still use things I worked with when I was super young. Even at the Beard House this year, I did a brown butter cake.
Tell me about that famous dessert.
It's an apple and Asian pear brown butter bun, filled with ginger cream pecan orange honey tuile, cider pickled apples, sweet corn ice cream, white chocolate popcorn shoot crumble, and pear gastrique.
So brown butter is where the magic happens for you?
Haha, yeah. I'm hooked on it. I can't help but think it was a mistake. Someone burned butter and put in in a baked dessert, and thought, 'wow, this tastes good.'
What pastries and desserts can we expect from you at the Asbury?
I'm so excited to do my award winning dessert here. It's a plated dessert, which didn't work at Earl's Grocery, but now I get to bake them fresh daily and plate them perfectly. It'll be a signature dessert, and that's really cool. I open breakfast service too, so I make cinnamon rolls, apple turnovers, and sweet and savory scones. It's a pop-in breakfast where people can just grab a pastry and go, so it's not plated or sit down.
What's one recipe you nail every single time?
My fudge cake is one of my favorites and been with me for a long time. I make it with chocolate buttercream and chocolate ganache.
What's your favorite dessert to eat?
My fudge cake. That's what I choose to eat in my down time. For my husband, it's peach and basil galette. That's his barometer for everything. He even liked it better than my James Beard dessert.
What's the most surprising thing about you?
That I don't cook. (laughs) At home, it's ground beef with seasoning out of a package. Cutting up a chicken? I don't know how to do that.
What's one ingredient you always have in your arsenal?
The highest quality vanilla. It really makes a difference—it takes any dessert to the next level. There's even vanilla in my chocolate cake.
What's the most unexpected ingredient you use?
Mace. In my teens, I read the back of an animal cracker box, and mace and nutmeg were in the ingredients. (Mace) is in my winning dessert. It has an awesome flavor profile that many can't recognize. I think it smells like grandma's house.
Does baking energize or exhaust you?
Energize. I feel like (dessert) is a gift that makes other people smile. When I tell people what I do, they always smile and want to hear more.
What would you choose as your last meal?
Breaded pork chops with Stove Top stuffing, mashed potatoes, and corn. It's a lot of carbs on one plate, but it was my mom's thing. And chocolate cake for dessert.
What's one food you won't touch?
Grapefruit. To me it tastes like regurgitation.
What shoes do you wear in the kitchen?
Black Chucks, always.
Any rules to live by in the kitchen?
Always say "behind," and work as a team.
Now, the tough stuff:
Chocolate or cheese? Chocolate
Coffee or tea? Coffee all day long
Beer or wine? Sweet wine
Hot dog or taco? Taco
Coke or Pepsi? Coke
Cake or pie? Cake
Ketchup or mustard? Ketchup
Comedy or drama? Comedy
Reality or fiction? Reality
More money or more free time? Free time, on a beach
Facebook or Instagram? Instagram.