Getting Schooled
Charter schools are a booming business, and North Carolina has opened the floodgates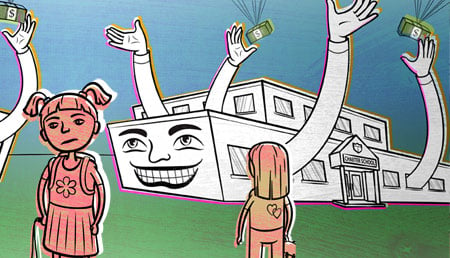 Kindergarten orientation day at Queen's Grant Community School is full of the usual squirming and fussing. A dad swings his fidgeting toddler over a shoulder and sidles out of the gym. A pixie-haired girl, no more than three or four years old, stomps up the bleachers so loudly that heads turn. In the back row, a baby wails.
In the center of the gym, wearing a blue church-lady dress, Principal Christy Morrin is unfazed. There is carpooling to discuss. Traffic patterns. Pickup times. Essential information for a school with 750 students and no buses. "It's gonna be bad," Morrin tells the bleachers full of bleary-eyed parents. But she promises it will get better.
It's an ordinary back-to-school scene, with a few exceptions: along with the lack of buses, there is no cafeteria at this publicly funded, privately run K-8 charter school. Students line up to buy lunch and then eat it in their classrooms. Every morning, they also attend assemblies on whatever "virtue" is part of the lesson plan that month—subjects such as respect, gratitude, self-control. That's part of Queen's Grant's "moral focus" curriculum. And if parents are upset with the school's leadership, their complaints don't go to Charlotte-Mecklenburg Schools. They go to the school's owner, National Heritage Academies, a for-profit company in Michigan.
Schools like Queen's Grant are at the heart of a national debate over the growth of charter schools—a debate that is just arriving in North Carolina thanks to the General Assembly's decision last year to lift the cap on the number of charters in the state. As public schools slash budgets and lay off teachers, critics worry about private companies profiting from taxpayer-funded charters. Supporters argue that private competition is key to improving public education. As Robert Landry, chairman of the North Carolina Alliance for Public Charter Schools, said in July: "We are [at] the beginning of a whole new way of looking at education in North Carolina."
When the modern charter movement gained steam in the mid-1990s, it was touted as an effort to improve education through competition, allowing schools to experiment with innovative teaching methods without being constrained by district rules. In exchange for this freedom, charters were to be held strictly accountable for their results. They are publicly funded and their students must take state standardized tests, but they have flexibility in hiring and designing curriculum.
Today charters benefit from a large, influential lobbying effort, including groups such as Jeb Bush's Foundation for Excellence in Education. In the last few years, advocates have pushed Republican-led state legislatures to remove caps on charter schools and provide incentives for more to open. The Obama administration devoted millions of dollars to the schools with its Race to the Top initiative, which also encouraged states to lift their charter caps. Politicians on both sides of the aisle have insisted the new schools will help solve some of public education's most intractable problems.
But the schools' bipartisan popularity has prompted a backlash. An increasing number of critics accuse charters of catering to wealthier, white children, excluding needier kids, and profiting off the public dime. In states without tight caps on the number of charter schools, the industry has grown into a multimillion-dollar business with questionable academic success. And since school tax dollars follow students, every new charter diverts funds from traditional public schools.
In Mecklenburg County, each of the eleven charter schools is vastly different from the next. Most are run by local groups and located in suburbs or in neighborhoods south of uptown. Queen's Grant is the only one managed by a for-profit company. Some aim to help at-risk kids, while others concentrate on gifted children.
Parents upset by academic struggles and growing class sizes in CMS see charters as a free alternative to private schools. Nearly 8,300 students from Mecklenburg County enrolled in charters last year—more than any other county in the state (Wake is a distant second with 5,800 charter students). Five new Mecklenburg charters have been recommended for approval by the state Board of Education for next year, and one existing private school converted to a charter in August. If all the new charters are approved, the county's total will reach seventeen schools. Two more would be located in Cabarrus and Iredell counties and could serve CMS students. (In September, after this story went to press, all seven of the new charters that could serve CMS students next year were approved.)
North Carolina has so far limited schools run by for-profit companies to a tiny slice of the charter pie. But now that the cap has been lifted, the state Board of Education could face political pressure to reverse that trend. A new council designed to advise the board is stacked with charter advocates, and they have already voted to approve six new schools managed by for-profit companies. Some observers fear quality will be sacrificed in the push to approve new schools. "For me, there aren't good charters," says Carol Sawyer of Mecklenburg ACTS, a local citizens group that advocates improving public schools. "It's taking unproven and sometimes failed approaches and applying them to our most vulnerable children—for profit."
On a projection screen in the Queen's Grant gym, Principal Morrin displays a color-coded disciplinary chart that teachers use to keep a daily log of how often a child misbehaves. If the troublemaking passes the "mild to moderate" green stage, a school dean explains, it can lead to suspension. The dress code is also strict: girls must wear tights under their skirts. No hats or headscarves allowed.
Unbiased Oversight?
After state legislators lifted the 100–school cap on charters, they also created the North Carolina Public Charter Schools Advisory Council to help oversee the schools and make recommendations to the Board of Education. Fifteen panelists were appointed by Governor Bev Perdue, Republican legislators, and State Superintendent June Atkinson. Eleven of the council members are either charter advocates or have helped run charter schools. One council member is president of the board of a National Heritage school in Greensboro.
Mint Hill Mayor Ted Biggers Jr., who is president of the school's board, says the town's residents like these behavioral rules and what National Heritage calls its "moral focus" curriculum. "We thought it was very important—as well as the dress code and the discipline policy," he says.
Queen's Grant is now the second largest charter school in Mecklenburg and is an institution the town worked hard to create. Its history illustrates the pattern followed by charter schools in suburban communities throughout the country.
In 1999, a group of parents were upset that their kids were getting shuffled around within CMS schools, Biggers says. At the time, the school district was still busing children to comply with court-ordered desegregation. But while a legal battle raged over the busing policy, CMS school boundaries were in flux. Parents complained that when their child adjusted to a teacher and community, they would be assigned to a new school.
"There were very few choices that parents had other than to home school or send their child to private school across town," Biggers says. (Clear Creek, Bain, Crown Point, and Lebanon elementary schools, as well as Northeast and Mint Hill middle schools now serve the area.)
So Biggers, a U.S. Airways pilot and father of three who had just been elected mayor, teamed up with the parents to search for a charter school operator. They found National Heritage Academies, which agreed to acquire land and build a K-8 school on Matthews-Mint Hill Road. (Queen's Grant also has a high school next door, but it is run by a separate principal and not managed by National Heritage Academies.) Morrin moved from Michigan, where she was working at another National Heritage school, to become principal in Mint Hill.
National Heritage got into the charter business early, taking advantage of a 1994 Michigan law that allowed tax dollars to fund schools run by for-profit companies. In the late 1990s, the company's recruiting slogan was "A private school education for the masses." Wealthy entrepreneur J.C. Huizenga—cousin of Wayne Huizenga, who founded Waste Management and Blockbuster Video—had long donated to religious schools and decided to give charters a shot. He grew up attending Christian schools, and the "moral focus" curriculum became a hallmark of National Heritage Academies. In the early years, National Heritage policy was to teach both creationism and Darwinism as theories, according to the Wall Street Journal. In 1998, the ACLU of Michigan sued the company in federal court for promoting religion. Plaintiffs alleged that mothers held weekly prayer meetings at one Grand Rapids school, and a teacher read from the Bible in class. The suit was dismissed; Principal Morrin says Queen's Grant does not teach religion.
Today National Heritage is one of the largest charter school operators in the country, running seventy-one schools in nine states, including five schools in North Carolina. J.C. Huizenga rewards politicians that help spur this growth. He's been a major campaign donor to George W. Bush and Mitt Romney; this year he donated $30,800 to the Republican National Committee.
Charters receive money on a per-pupil basis—more students, the more funding a school receives. For Queen's Grant, National Heritage's central office in Michigan collects all the state, federal, and local tax funds allocated to the school and uses them to pay expenses such as teacher salaries, curriculum, and maintenance of the school building. National Heritage handles the school's accounting, hires the principal, and dictates the general curriculum. It saves money by not building a cafeteria or providing bus service. Whatever revenue it doesn't spend operating schools, the company keeps as compensation.
A volunteer board of Mint Hill citizens, headed by Biggers, keeps tabs on Queen's Grant's operations, tracking the budget throughout the year. National Heritage also gives the board $35,000 of the school's revenue annually to spend at its discretion. Like many other charter schools, Queen's Grant teachers are not unionized. They begin with lower salaries than teachers at CMS, Principal Morrin says, and their raises are based on merit, rather than seniority. To get a pay increase, they are evaluated on their students' academic progress on test scores, a supervisor's observation of their classrooms, and parent surveys.
All children are eligible to attend Queen's Grant; they fill out application forms and are selected via lottery. Last year, Queen's Grant reported spending roughly $6,200 per student, which was lower than all the other charter schools in the county. Susan Beans, National Heritage chief financial officer, says that number did not include expenses covered by county tax dollars and school fundraising. When those funds are included in the estimate next year, she says, per-pupil spending "will look more comparable" to CMS's $8,000 per-pupil spending.
Critics accuse charters of catering to wealthier, white children, excluding needier kids, and profiting off the public dime.
Beans would only agree to answer questions about finances via e-mail. She said the Queen's Grant board reviews the school's actual and planned expenses throughout the year, and those budgets are public record. As for compensation, she wrote: "NHA's fee for management of the K through 8 school, as documented in the services agreement, is 100 percent of the revenue for the school, less Board Funds. In exchange for that fee, NHA provides a complete educational program including all staff, curriculum, assessment, school quality, accounting, compliance, reporting, etc., and the school facility."
In states with historically higher caps on charter schools, such as Michigan and Ohio, charters are a thriving business. Florida, where there is no cap at all, had 462 charter schools last year, and a third of them were operated by for-profit companies, according to the National Education Policy Center at the University of Colorado. A 2011 Miami Herald investigation called charter schools a $400 million-a-year industry.
For years, North Carolina escaped much of this frenzy by limiting the total number of charters to one hundred. Last year, there were at least seven charter schools run by for-profit companies in the state.
But in 2010, Republican state legislators campaigned on promises to lift the cap. Last year, when both houses of the General Assembly had a Republican majority for the first time in more than a century, they made good on that promise. Now, the state has been flooded with requests for new charters. Individuals and companies that want to open a school must submit detailed applications. This year, the state gave "fast-track" approval to eight schools that were slated to open this fall. At least sixty-one more applications came from charters hoping to open next year. The newly formed North Carolina Public Charter Schools Advisory Council recommended twenty-five applicants for approval by the State Board of Education—including six charters managed by for-profit companies.
Gary Miron, an education professor at Western Michigan University, conducts annual studies on the growth and academic progress of nonprofit and for-profit charter schools. He warns against allowing charters to grow exponentially now that North Carolina's cap has been lifted. "The states with a high concentration of for-profit companies performed less well [academically]. And the states with the most charter schools performed less well," Miron says.
In his view, it's up to state legislators to hold charter operators accountable. "If we're gonna bring them into the education marketplace, then we need to regulate them … so they will work in the public's best interests rather than their stockholders' interest."
But regulators may not be eager to crack down on charter operators. Eleven of the fifteen members of the state's new Public Charter Schools Advisory Council are charter advocates or have helped run charter schools. Landry, a retired Davie County Schools superintendent, was appointed to the charter schools advisory council last year by State Superintendent June Atkinson, a Democrat. This April, Landry also became chairman of the board of the nonprofit North Carolina Alliance for Public Charter Schools. Asked if he had any concerns about out-of-town companies running charter schools here, he said, "I personally, professionally do not."
Of the seven local charter schools that received state approval to open next year, two plan to hire a for-profit management company. Cabarrus Charter Academy and Langtree Charter Academy—in Cabarrus and Iredell counties—will be run by Charter Schools USA, which is based in Fort Lauderdale.
For now, though, most Mecklenburg charters remain local and nonprofit. Socrates Academy in Matthews, for kindergarten through seventh grade, emphasizes the study of foreign languages. Crossroads Charter High School off North Tryon Street aims to help students who are at high risk of dropping out. KIPP: Charlotte is part of a national, nonprofit chain that targets struggling students in fifth through eighth grade, requiring parental participation and pushing kids to attend college.
Some of these schools have found great success; others have struggled. Metrolina Regional Scholars' Academy, which only enrolls gifted students, was designated an Honor School of Excellence last year—meaning 90 percent of its students performed at grade level and achieved "adequate yearly progress" according to federal standards. The Community School of Davidson earned that same accolade, as did Socrates Academy.
But according to statistics compiled by the nonprofit group Meck Ed, those schools all serve student populations that are more than 80 percent white or Asian. Meanwhile, schools with majority black populations that serve at-risk kids—Crossroads Charter and Kennedy Charter—have been ranked "priority schools" by the state because only 50 to 60 percent of their students are performing at grade level.
Sawyer, of Mecklenburg ACTS, says charters are on average more segregated than other public schools, and many serve wealthier kids. "They have a skimming effect," she says.
"Is it the best thing for our public schools as a whole? It's about the private return. The private interest."
These disparities bother Meck Ed executive director Bill Anderson. He points out that charters are not required to bus kids or give lunch to those who can't afford it. "You're basically able to close your doors to those students who can't provide transportation or free lunch," says Anderson, who is a former principal of Myers Park High School. "And that seems inherently unfair to me."
Miron studied the academic achievements of National Heritage schools extensively and concluded they were influenced by the wealth of their student body. "Given the high socioeconomic background status of the students enrolled in NHA schools, the fact that they perform at or above state averages is not surprising," he wrote in a 2007 report. Controlling for demographics, he adds, the charters would be "similar, [or] slightly worse" than public schools.
Biggers says Queen's Grant's popularity is testament to its quality. According to National Heritage, the school has 1,692 students on its waiting list. "If the school was not doing well we would not have that demand," Biggers says.
Data from the North Carolina Department of Public Instruction shows that Queen's Grant students perform above the state average on reading and math tests, and it is a "school of distinction," meaning 80 to 90 percent of its students perform at grade level on the state's ABCs tests. However, the student body is also 87 percent white, and just 19 percent of all the students qualify for free or reduced-price lunch. (Despite the lack of a cafeteria, free hot lunch is provided to those who order it, Morrin says.)
Given these statistics, Miron argues that what's good for one group of kids and parents does not necessarily benefit all children, or all taxpayers. "Is it the best thing for our public schools as a whole? It's about the private return. The private interest," he says.
Back in Mint Hill, the entryway to Queen's Grant is decorated with a wall-sized, hand-painted tree with sprawling brown branches. A plaque in the center of the trunk bears one word: integrity. This is the Tree of Integrity, Principal Morrin explains. It's part of the moral focus curriculum. Whenever students exhibit the coveted virtue, their names are put on paper leaves and displayed on the tree branches.
"For us it's kind of a way of life," Morrin says. "It's important to educate the heart as well as the mind."