Guide: Winter Beer Releases in Charlotte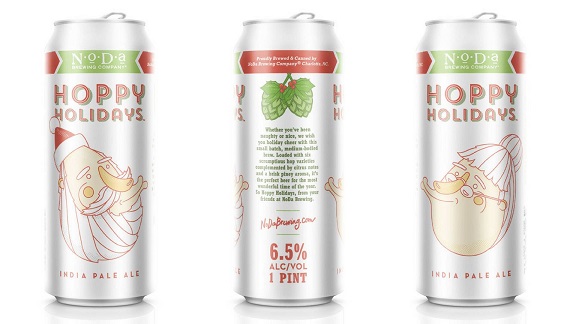 Is winter the best season for beer releases in Charlotte? It's a strong argument to be made, as some of the Queen City's top craft beers (at least in this writer's opinion) come out between the months of November to February. And it's not just stouts – the beer most associated with winter seasonals – as there are numerous styles available to pleasure your winter palate.
Here's a rundown of some of Charlotte's top winter seasonals to get your hands on:
Birdsong Brewing Co.
Aside from its Jalapeno Pale Ale, my favorite Birdsong beer is MexiCali Stout. Head brewer Conor Robinson has created a masterpiece with a perfect blend of spices and two local ingredients: coffee from Central Coffee Co. and fresh serrano chiles. The heat from the peppers is subtle, and intertwines with the chocolate and coffee notes to form a unique and dynamic stout.
Find it: MexiCali Stout is available at Birdsong's taproom on draft and in 4-pack cans ($10, a great deal), as well as local stores and bottle shops.
Bonus: For a Turkey Day pairing, you can't go wrong with Birdsong's St. Tuber Abbey Ale or, if you need an extra push to get through family time, the bourbon barrel-aged version – which you can get in cans at the taproom or area shops.
Legion Brewing
Like many local breweries, Legion's taplist is ever-changing but currently there are a few winter beers on tap, including Grizzly Adams, a brown ale; I Ain't Afraid of No Gose, a dark Gose; Path to the Dark Side, an oatmeal stout and Winter is Beer, the brewery's imperial porter.
Find it: You'll only be able to get these beers at Legion's taproom, but the good news is the brewery now has crowlers to go.
NoDa Brewing Co.
If stouts aren't your thing, NoDa's Hoppy Holidays is another strong winter recommendation. Featuring six different hop varieties, this winter IPA's special ingredient is the spruce tips used in the brew process, giving the beer a piney tinge with terrific citrus notes. NoDa also has a second winter beer, Santa Baby. This Christmas spiced ale features coriander, clove, ginger, orange peel and vanilla in the brew process and at just 4.5 percent ABV, it's a perfect beer to enjoy two or three of while wrapping presents.
Find it: Hoppy Holidays will be released Friday, Nov. 24 at noon in NoDa's taproom. You can get it on draft or in 4-packs to go. Also look for cans to start hitting local bottle shops and stores the following week. Santa Baby's release is a week later in the taproom (Dec. 1 at 4 p.m.) and is available on draft only at the brewery, but you can now get crowlers at NoDa to go.
Olde Mecklenburg Brewery
True to Olde Mecklenburg's German roots, each year the brewery releases a "Weihnachtsbock," or Christmas Bock. OMB's Yule Bock is a traditional German holiday beer that boasts European malts and hops for a smooth yet warming finish. Simply put, Olde Mecklenburgs' lagers are dynamic, and this is yet another feather in the brewery's cap regarding this style.
Find it: Yule Bock will be released Dec. 1 at 11 a.m. at OMB's taproom, available on draft and 6-pack bottles. That day will also see a special visit to the brewery by Santa Claus and the beginning of Olde Mecklenburg's annual Christmas market, Weihnachtsmarkt, which will feature local vendors and take place every Friday and Saturday at the brewery leading up to Christmas.
Sycamore Brewing
One of Sycamore's top seasonals will be available for the first time in cans this year. Christmas Cookie is as tasty as it sounds and features sugar cookies in the mash to provide a sweet flavor and seasonal aroma. The brewery also recently released a new winter ale, Naughty Bear, which was brewed with vanilla and both local honey (Cloister Farms) and spices (Savory Spice Shop), making this a not-to-miss winter warmer.
Find it: Christmas Cookie will be released Wednesday, Nov. 22 at Sycamore's taproom at 2 p.m. There are a limited number of 4-pack cans available and these will only be sold at the brewery. If you miss out on the cans, the kegs should last a little bit longer, with some expected to be distributed to local accounts. Naughty Bear is out now on draft and in cans, at both Sycamore's taproom and local bottle shops and stores.
Triple C Brewing
The first beer Triple C ever bottled continues to be one of the most popular ones. Up All Night is a breakfast porter brewed with local honey and coffee and given its dark characteristics, this beer is one of those best enjoyed outside near a warm fire. If you're looking for a lighter, spiced ale, Triple C has you covered there too with its White Blaze Winter Ale, which features hints of cinnamon, cloves and vanilla.
Find it: Up All Night will be released in Triple C's taproom Friday, Nov. 24 at noon as part of the brewery's Black Friday beer release day (Triple C has four other draft-only releases that day). You can get Up All Night on draft or in 22-ounce bombers to go, with local distribution expected the following week to area accounts. White Blaze is out now and available in cans and on draft at both Triple C and local bottle shops and stores.
Unknown Brewing
Unknown's seasonal stout, Venture (formerly Silverback) is a bit different than your normal stout (in true Unknown fashion). Venture features all West Coast hops and produces a "hoppier" flavor than you'll find in a traditional stout, but still possesses the chocolate notes and roasted malts for a smooth, warm and drinkable beer. This beer also recently took home a silver medal in the 2017 New York International Beer Competition.
Find it: Venture Stout will be released in cans and on draft in Unknown's taproom the week of Nov. 27 (an exact date had yet to be announced, check the brewery's social media feed for the latest updates).
Final note: Many breweries still have winter releases to come (Heist's Cataclysm IV, Sugar Creek's Mocha Java-**UPDATED**-Now available at Sugar Creek!) while others are smaller batches and draft-only in the taproom (Lenny Boy's Magellan, a spiced brown ale and Resident Culture's Tin Can Annie, an unfiltered lager). Your best bet is to check with each brewery's website or social media to get the current offerings; it's often ever-changing with a few surprises for the season sprinkled in.