Head brewer Eric Mitchell leaving Heist Brewing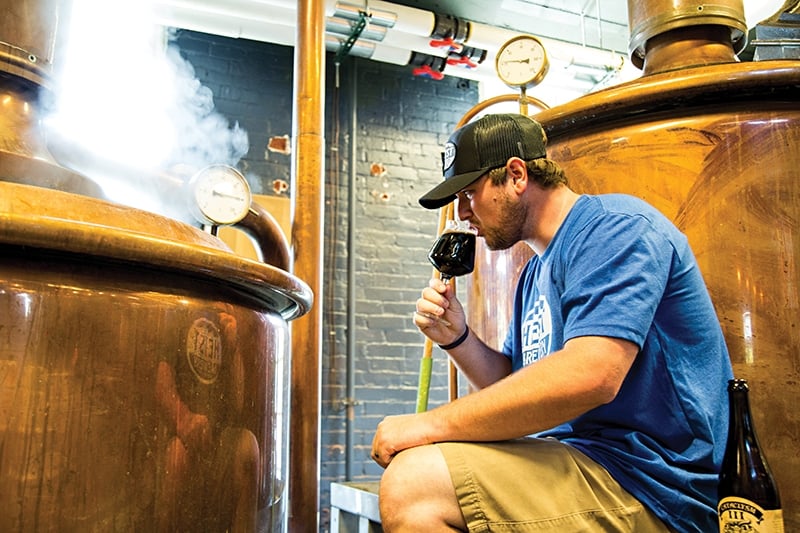 Another one of Charlotte's head brewers has made the decision to depart the Queen City.
Charlotte Magazine has confirmed that Heist's Eric Mitchell will leave the brewpub next month to head up brewing operations at a new brewery in Pinehurst. The news was first announced on the most recent Cheers Charlotte broadcast.
"This was a really unique opportunity for me," he says. "Everything they're doing sounds awesome … I've been here for a little over five years. I'm not burned out; at the end of the day you've got to do what's best for your family. My wife and I went up there to spend a weekend and loved it. Really, we're small town people."
He'll be joining a brewery/restaurant concept in the Village of Pinehurst (currently the working title is Pinehurst Brewing) scheduled to open in September. It will be located at the Village's original steam plant and feature a 10-barrel system.
A similar system (8.5 barrels) is what Mitchell began on when he arrived at Heist in 2013, originally as a pilot brewer. His unique recipes and impressive beers got him a promotion to the head spot within six months. Since then, Heist has risen to extreme popularity in Charlotte and beyond, highlighted by its juicy NE-style IPAs and the highly-acclaimed Cataclysm stout. The brewpub also won a bronze medal at the 2016 World Beer Cup for Brockwell, an English mild ale.
In January, Mitchell and his brew staff began work at Heist's second facility, Heist Brewing and Barrel Arts in North End. With a much larger system (30 barrels), the brewpub has been cranking out cans of its popular IPAs on an almost-weekly basis, many of which sell out within days.
"Heist will always be the place I reflect on for what we accomplished and how far we've come," Mitchell says. "I'll forever be grateful to (owner) Kurt (Hogan) for the opportunity he gave me. That's what made this such a hard decision; it literally brought tears to my eyes when I told Kurt."
Mitchell's last day at Heist will be July 31. Scott Worthington, currently the assistant brewer at Heist, will now take over the head spot at the brewpub. Mitchell will also remain as a consultant for Heist to help out over the next year.
This is the second departure of a head brewer from Charlotte, as in April Legion Brewing's Alexa Long announced she was leaving. Long previously was the assistant brewer at Heist before taking the head position at Legion in 2015.
Mitchell says Heist "won't miss a beat" upon his departure, and fans can expect the same beers from the brewpub they've grown to know and love. He'll have a little more creativity in his new role on a smaller system but doesn't expect to stray too far from what he's currently doing.
"I am who I am – the beers I like to drink are the ones I like to make," he says. "So I'm not going to take something like Citraquench'l and exactly replicate it, but yes, you can expect somewhat similar styles (at Pinehurst)."
And while Mitchell says he's looking forward to his new opportunity, he also can't help but look back on what he'll remember the most – the people in Charlotte's craft beer scene.
"Honestly, all the rankings we've had and awards we've won pale in comparison to the relationships I've been able to build here," he says.