Health Care Access Tackled at HackathonCLT
UNCC, Health Department, hackers take aim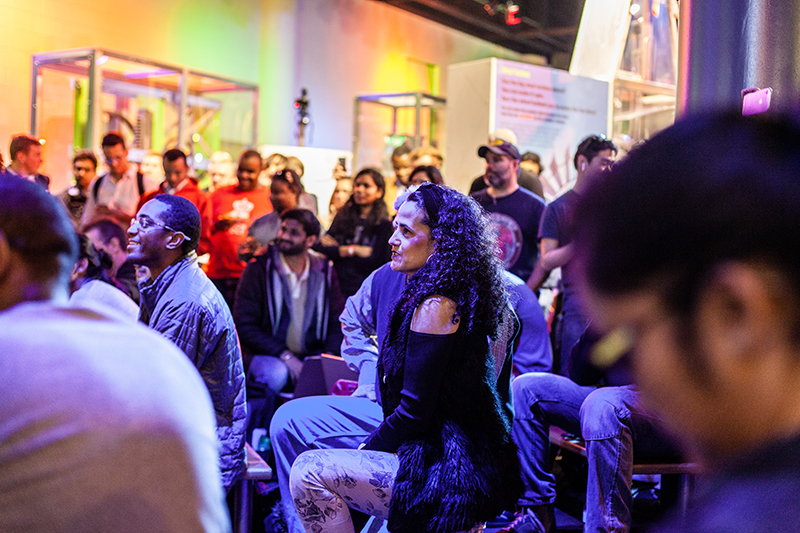 OUTSIDE DISCOVERY PLACE on a sunny Friday evening, young people with book bags and laptops wait anxiously in line for someone to open the door. "Let's do this," one of them says. At 5 p.m., the door opens, and the group pours in. A few hours later, teams of them get to work on their all-night data project, presented for the seventh annual installment of hackathonCLT: Find a technological way to improve Mecklenburg County residents' access to health care.
When people lack health care access, it often means they don't have health insurance. But the problem encompasses the lack of transportation options, education, ability to get off work, and plain poverty, too. Of the 800,000 adults in the county, about 176,000—22 percent—have no regular source of care, according to the county's 2017-18 Community Health Assessment. So it was a good mountain for hackathonCLT's more than 800 participants to try to scale.
Hackathons—overnight gatherings of coders, programmers, and tech entrepreneurs who try to solve problems through data—are popular throughout the country. But starting in 2015, the founder of hackathonCLT, Abhishek Mehta of the software development firm Tresata, decided to concentrate on social rather than technological issues. The 2018 edition focused on the affordable housing crisis. This year, a team of three won the $15,000 first prize to develop "heat maps" of health clinics throughout the county by using data on where patients live and where the highest concentrations of incidents of various diseases are.
The team's members—Chang Hsin Lee, Kurt Dowswell, and Stephen Welch—plan to develop their project over the next year with the Academy for Population Health Innovation (APHI) at UNC Charlotte, a partnership with the county Health Department to meet the area's most pressing health needs. The public sometimes doesn't understand that health care entails more than just doctor's visits and prescriptions, says Michael Dulin, APHI's director and a professor of public health sciences. What Dulin and the county health assessment call "social determinants of health"—income and education levels, for example, or access to transportation and parks—can be as important in their way as diagnoses and dosage levels.
"The overall goal is really to try to use the academic resources—students, access to technology—and apply them to the most pressing public health issues in the community," he says.
"There's a lot of opportunity in public health to use data and really understand in-depth what the challenges in our community are. It needs to be done more frequently. But in public health, it's just not there yet."