Holler & Dash to Bring Hip, Southern Eats to Charlotte
Cracker Barrel's cooler, younger sister is coming to Charlotte with a focus on local ingredients and inventive Southern dishes.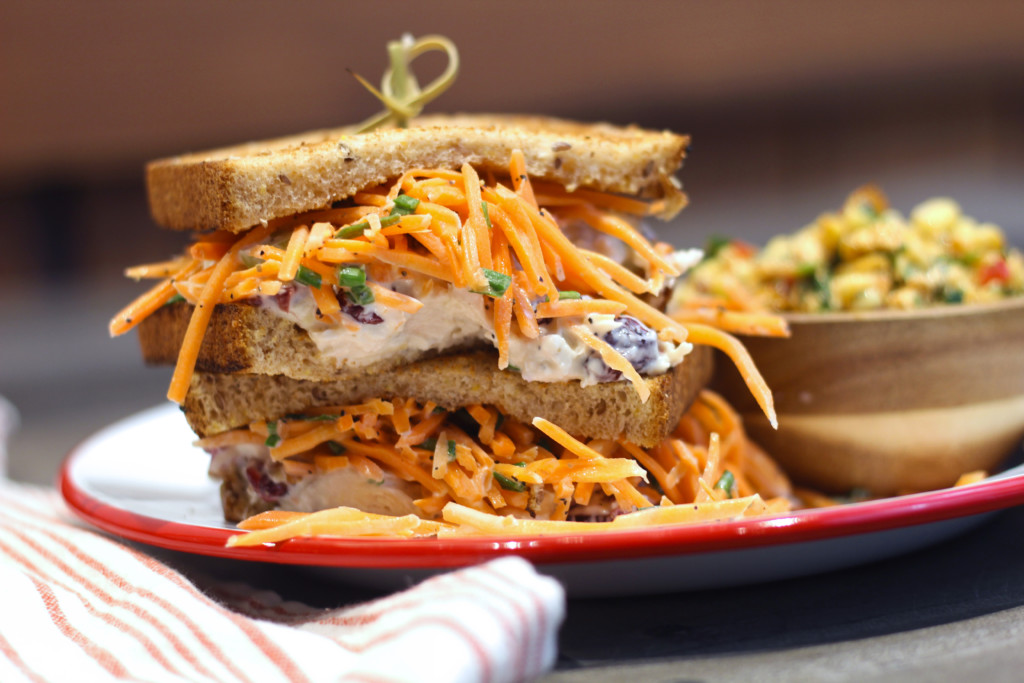 "THE BEST THING about living in the South is a great damn chicken biscuit," Holler & Dash Culinary Director Brandon Frohne begins.
"I was raised on biscuits," the Tennessee native says. "I've been making biscuits since I was like 14 years old."
According to Frohne, Holler & Dash Biscuit House is striving for "biscuit perfection." They make their biscuits fresh from scratch every day, which is just a peek into the seriousness with which the locally-focused franchise takes Southern fare.
Cracker Barrel's Hip, Younger Sister
Using buttery, layered biscuits as serving receptacles for even more tasty toppings, this restaurant doesn't skimp on portions. That's the one thing Holler & Dash has in common with its parent company, Cracker Barrel. Well, that, and the Southern hospitality, of course.
But, let it be known: This is not a Cracker Barrel.
Though Holler & Dash Biscuit House is a brand beneath the country store with a cult following, the restaurant is a fresh departure from the down-home vibes of Cracker Barrel. The design is hip and modern, and though there is a retail store, there will be no antiques. Opening on March 13 at 2725 South Boulevard (near Hex Coffee) at 9 a.m., Holler & Dash promises to bring unique biscuit sandwiches to Charlotte, along with other modern takes on Southern food favorites. The Charlotte location will be Holler & Dash's seventh, with others in Tuscaloosa, Nashville, and Atlanta, to name a few.
Frohne, an esteemed chef who competed on Chopped in 2014, expands on the reasoning behind choosing Charlotte for the newest location: "When our team visited Charlotte, we immediately felt like it was a perfect spot. It was a city with deep Southern roots and also has a modern feel. It's always fun to become a part of a community that feels like home."
In addition, Frohne detailed Charlotte's community as "live and thriving." Noting that "restaurants were popping up all over the place."
He's not wrong. It seems that every other day, there's a new restaurant to scope out in the Queen City.
"From a food perspective," the chef says, "Charlotte seems it already has a really good Southern food culture… It seems it's a city that's on the verge of gaining their identity with food."
Again, he's not wrong. As Charlotte begins to climb the ladder in the restaurant world, one can't help but wonder if a "chain" such as Holler & Dash is really a positive addition. What makes Holler & Dash different than just another, say, Chili's? (Sorry, Chili's.)
The focus for Frohne is local ingredients.
North Carolina Flair
Frohne has partnered with regional food and drink mainstays to create sophisticated, small-batch cuisines that speak to modern Southern culture. Holler & Dash will be offering a Pure Intentions espresso program as well as Red Clay Gourmet smoked pimento cheese (out of Winston-Salem). In the retail section, expect to see Chapel Hill Toffee, Dewey's Bakery banana pudding cookies (Winston-Salem), and Salem Baking Company cheese straws.
The restaurant has also applied for its alcohol license and plans to carry up to five Charlotte breweries as well as mimosas—it is open every day from 7 a.m. to 2 p.m., so it's all-systems-go for brunch as soon as that alcohol license pulls through. Of course, nostalgic sips such as Cheerwine and Mexican Coke also grace the menu, in addition to seasonal house-made agua frescas. Holler & Dash is a fast-casual concept, and they claim to be able to get you out the door within seven minutes if you wish.
But what about the food? Isn't that what we all care about?
Well, for starters, the price-range is palatable. Signature Biscuits range from $8 to $9.50 and include a side (think roasted sweet potato, charred corn, grits, and fried green tomatoes). A chicken biscuit is only $5, and Avocado Smash Toast is $5.50, featuring watermelon radish, lemon dijon, and paprika.
If your eyebrows raised at the avocado toast details (in a good, curious way), you're going to enjoy the rest of the menu, which was shared exclusively with Charlotte magazine.
H&D specifically added sandwiches and bowls to the Charlotte location's menu, which means these items are debuting in the South End spot. The Pig in the Garden ($9.50) is a Southern play on the BLT, Frohne says, combining smoked bacon, sweet gem lettuce, fried green tomatoes, pimento cheese, and green goddess dressing between two toasted slices of sourdough bread. The Everyday I'm Brusslin' bowl is a healthy mix of shaved brussels sprouts, sun-dried cranberries, apples, pecorino cheese, and a lemon dijon vinaigrette for $7. A couple of New Orleans-inspired dishes also appear on the menu: Beignets ($5) and the Andouille Hustle ($7.50), which is a Cajun-style take on biscuits and gravy.
Using antibiotic-free chicken and pouring organic fair-trade teas, H&D will be a hipster's paradise without the elevated price tag. Plus, there will be a patio, which means, yes—you can bring your dog.
Holler & Dash Biscuit House will open on March 13 at 9 a.m. at 2725 South Boulevard. The restaurant will serve breakfast, lunch, and brunch every day from 7 a.m. to 2 p.m. You can view the full Charlotte menu here.