How Charlotte's Economy Has Grown Alongside Its Airport
A look at the past 40 years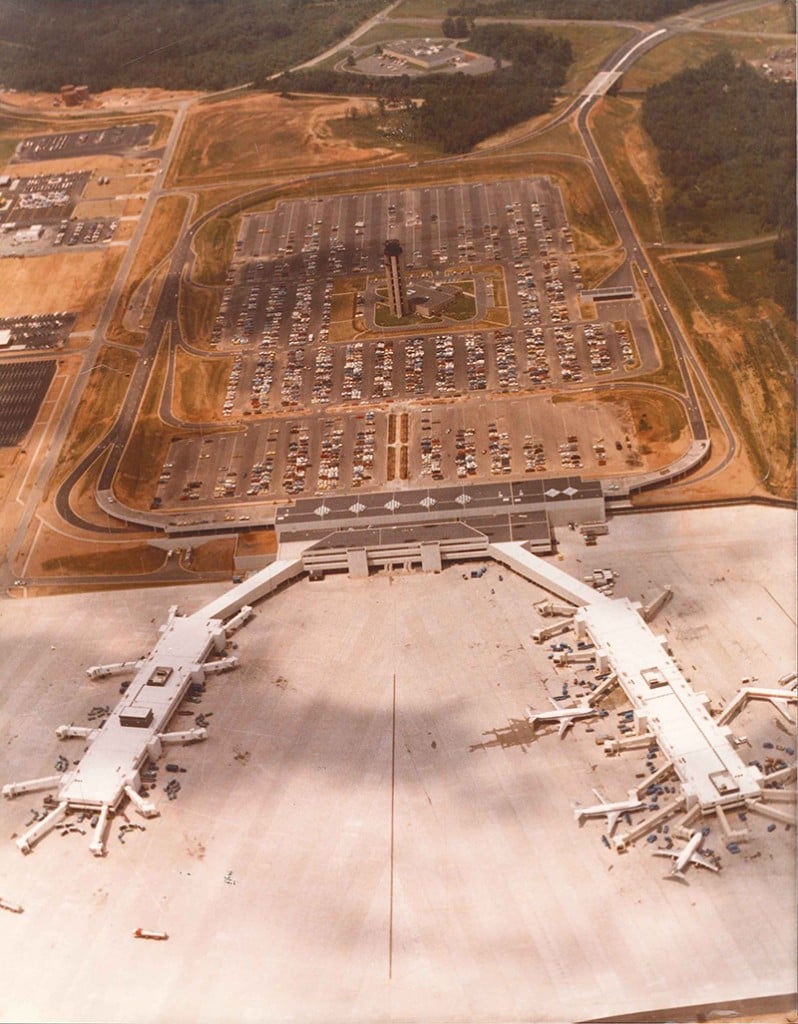 It's easy to ogle Charlotte's shimmering skyline, sip high-powered local beers, and marvel—or despair—at the houses and office complexes that seem to shoot from its ground like missiles and forget one of the main reasons any of it exists: Charlotte Douglas International Airport.
Charlotte is a city built on banking, but bankers and other businesspeople understand that commerce grows with transportation.
For nearly four decades—since 1982, when the airport opened the current terminal, now in the midst of a $600 million expansion—CLT has been the city's economic driveshaft, what enables the rest of the economy to move.
It started humbly, of course, and stayed that way for a while, then exploded under the leadership of Jerry Orr, CLT's director from 1989 until 2013. (During his tenure, local media wags sometimes referred to the airport as "Orrville.")
Orr emphasized high traffic, low costs, and minimal oversight—or interference, as the prickly, bureaucracy-averse Orr thought of it—from the city government that owned it. Even after his departure, the airport has continued to flourish; CLT ranks sixth in the nation and seventh in the world in operations (the number of arrivals and departures) and 11th in the nation in passenger traffic, according to the global airport operators' trade organization Airports Council International.
Despite its prominence, there are some semi-random facts and peculiarities about Charlotte Douglas that you might not know—about its history, its operations, and its continuing development. Here's a modest carry-on bag of them:
FACTS ON THE FLY
→ Averages about 700 flights per day to more than 175 destinations around the world.
→ Served a record 50.2 million passengers in 2019. "Every day," says
Chief Operating Officer Jack Christine, "we serve more people than Disney World."
→ Has an operating budget of $184.1 million for the 2021 fiscal year.
The airport operates as a city "enterprise fund," sustained entirely through revenue from operations, not tax dollars.
→ Contributed $24.6 billion to North Carolina's economy in 2019, according to the state Department of Transportation's Aviation Division.
→ Is American Airlines' second-largest hub, trailing only DFW (Dallas-Fort Worth) International Airport.
→ Employs about 650—although about 20,000 work at the airport, for the array of businesses there.
→ Hosts operations unrelated to airport: a 170-acre Norfolk Southern "intermodal yard" for rail and other traffic that opened in 2014; a unit of the N.C. Air National Guard, based in Charlotte since 1948; and the Carolinas Aviation Museum, filled with artifacts that include the famous Charlotte-bound "Miracle on the Hudson" plane that Capt. Chesley Sullenberger guided into the water in New York in 2009.
HISTORY
→ What was then called Charlotte Municipal Airport began commercial service in 1938. The airport was a Depression-era Works Progress Administration project to replace a small dirt airstrip, used by barnstormers and air mail services, that pilots complained wasn't big enough.
→ The airport was renamed Morris Field and used to train bomber pilots during World War II.
→ It was renamed again, to Douglas Municipal Airport—in honor of former Mayor Ben Douglas, who led the effort to bring commercial aviation to the city—in the early 1950s. A new terminal opened in 1954.
→ The airport was a hub for Eastern Airlines in the 1960s, then Winston-Salem-based Piedmont until USAir acquired the airline in 1989.
→ The current terminal opened in 1982. The airport's ongoing $2.5 billion Destination CLT upgrade is the largest and most expensive project in airport history.
Sources: City of Charlotte; Airports Council International; PBS Charlotte "Trail of History" episode, Dec. 18, 2018