In Police-Community Relations, Which Color Matters More—Black or Blue?
When police use lethal force against people of color, is it solely because of racism?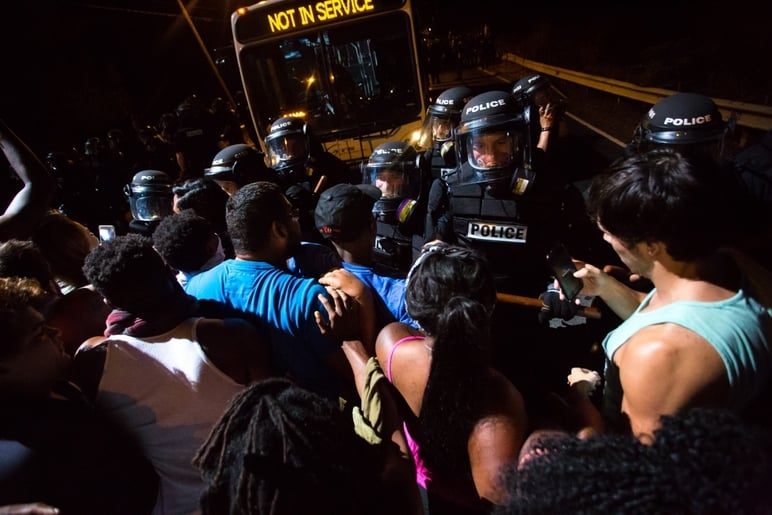 LaWana Mayfield, the Charlotte City Council member who represents the bulk of the mostly African-American west side, has been holding public forums on police relationships with communities of color since the budget-season backlash to a March tweet of hers that said some cops are "homegrown terrorist (sic) wearing blue uniforms." The first was in late June. The second was last week at the same place, Mayfield Missionary Baptist Church on Sugar Creek Road, a stone's throw from the Hidden Valley neighborhood. (The "Mayfield" connection between church and council member is coincidental.)
As before, a diverse crowd of about 50 heard from a panel moderated by Willie Ratchford, who directs the city's Community Relations Committee, and including Charlotte-Mecklenburg Police Assistant Chief Vicki Foster, a black woman, and Robert Dawkins and Meko McCarthy of the police accountability organization SAFE Coalition NC. "I love our CMPD, but like with any organization, there are bad actors," Mayfield said at the beginning. "We cannot have a generation of children afraid of law enforcement."
We're approaching the two-year anniversary of the Keith Lamont Scott demonstrations that shocked our city, left broken windows and damaged buildings in uptown, and resulted in a man shot dead a block from Trade and Tryon. Mayfield's forums on police-community relations are a subset of the larger argument Charlotte's had with itself since those days—whether police, and CMPD in particular, are more punitive and aggressive toward racial minorities, and what and how much the department is willing to accept that idea and work to get better.
On some fronts, CMPD is clearly doing both. Chief Kerr Putney, a black man, has initiated a series of programs, including partnerships with minority-led community organizations and implicit bias training for officers, designed to help officers confront and conquer whatever prejudices they might have. The central idea is that when cops confront their biases, they'll act with more understanding and empathy toward the people and communities they police, and that lays a foundation of trust that can ease hostility and, no small thing, lead more community members to come forward as witnesses to crime.
It's not a bad idea, but repairing the police-community breach is a matter of far more than additional police training, something too often viewed as an amulet that can spirit away the residue of generations. "We're trying to change the hearts of people," Foster said, referring to officers' unconscious biases. "That's a whole different level of change."
And it raises a whole different series of questions. One that particularly nags: Is police mistreatment of minorities solely the product of racism?
There's little doubt it's the main factor, and it doesn't land only on the poor. Members of the panel and audience referred to Janelle Bynum, a black woman and Oregon state representative stopped by a sheriff's deputy after a white woman had called 911 to report a "suspicious" person. Bynum was campaigning in her district. (The incident led to the hashtag #CampaigningWhileBlack.) That reference touched a nerve or two during the forum: Ratchford related a story about a white woman recently denying him entrance to a Costco if he didn't show his membership card—when he had a receipt for gasoline he couldn't have bought without the card. U.S. Rep. Alma Adams, who attended, recounted a story from her days in the legislature when an officer pulled her over for having a "suspicious" license plate that turned out to be her official General Assembly tag.
But there may be more to it, namely a natural—and maybe unavoidable—power imbalance between a cop, any cop, and racial minorities. Recent academic research, led by the black dean of the School of Public Affairs and Administration at Rutgers University–Newark, shows that "although minority suspects are disproportionately killed by police, white officers appear to be no more likely to use lethal force against minorities than non-white officers." In other words, as the left-wing California magazine Pacific Standard put it in a headline last month, "Black Cops Are Just As Likely As White Cops To Kill Black Suspects." It's an indication, the magazine's article said, that "the bias that can serve as a catalyst for killings is more institutional than individual."
On some level, this shouldn't be a surprise, all of us having some knowledge of or experience with the "thin blue line" and, more recently, #BlueLivesMatter, invoked as if uniform color was tantamount to skin color. It's not—but tribal allegiance is a powerful thing. If that allegiance makes the difference between life and death for a cop on a call, it's not hard to see why they'd think of blue, not black or white, as the primary color. The society we live in, by law and custom, affords law enforcement officers unusual power that separates them from the rest of us. There are good and valid reasons for that. But the assumption that implicit bias or any other kind of training can make cops see the world around them as the rest of us do might well be fool's gold.