Inside Men's Boutique The House of LeMond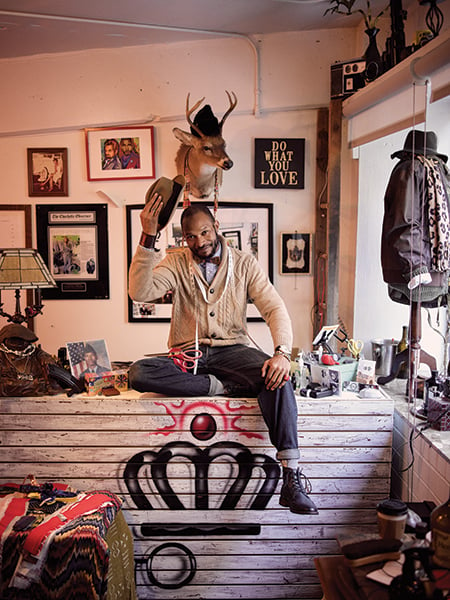 A HUNDRED YEARS AGO, Charlotte's downtown was a shopping destination anchored by large department stores: Belk, Efird's, and Ivey's. Today, restaurants and bars take up most of the shrunken retail space, a drawback for attracting residents. When LeMond Hart agreed to move his men's boutique from Monroe Road to 4th Street last July, as part of a program to beef up locally owned shops in uptown, The House of LeMond quickly attracted a diverse clientele, from politicians and pro athletes to curious out-of-towners. Quartered in a small space with low ceilings, the shop is filled with vintage finds, custom clothing, and local products such as leather knife cases for chefs and beard oil fragranced by coffee beans. More like a home than a boutique, it reflects Hart's background as a stylist. Friendliness prevails, and strangers may be greeted by, "Hello, love."
Hart grew up in Charlotte, experiencing tragedy at an early age when his mother was murdered in 1985. He credits a band teacher with changing his life's trajectory during middle school and high school. A sharp dresser who understands the importance of presentation, he has created décor and displays for Pottery Barn and Abercrombie & Fitch.
At his shop, he's on a mission to help men look their best, no matter their resources. He may be designing a made-to-measure suit for a business executive in the morning and helping a former prisoner dress for an interview in the afternoon (he works with Oprah Winfrey's television show, Released). All are welcome, he says.
He's turned his small space into a shopping destination, which is just what the city needs. That, and heart, amidst the glass facades.
---
Charlotte magazine: The House of LeMond has a classic, old-school ring to it. How did you come up with the name?
LeMond Hart: The definition of my (first) name means 'the world' in French. Growing up, I thought my mom thought the world of me. Everyone's welcome in The House of 'the World.' And my name is LeMond Hart, so it's like the world's heart.
CM: Who are your regular customers?
LH: Influencers. However, our aim is everyday gentlemen, to give them that chance to feel like kings.
CM: Your logo has been spotted in a number of places, including on Mayor Vi Lyles' socks at the National League of Cities conference, held in Charlotte last November. How did you come up with the design?
LH: It all started from a tattoo. When we first started in 2013, Creative Loafing named us best independent (men's) retailer. As a native Charlottean, I (decided to) get this tattoo, the Charlotte crown. I got it in red, basically to honor my mother, because it was my mother's favorite color. So when I did that, I was like, well, how can I make that mine? Or relative to what I do? The monocle and the mustache are symbols of being a dandy—someone who appreciates finer things, someone who dresses well—that's me.
CM: You have so many products here. What is the last thing a man will buy?
LH: The services. (Alpha Male, a men's nail salon, is in the back of the store). I have a lot of different questions on social media—'Oh, my God, why would guys get their feet done?' And my reply is, 'How are you going to have on those $200 or $300 shoes with $3 feet?' A lot of guys will put all the money into the shoes that could end up in a dump within six to 12 months, but those feet are going to carry you for the rest of your life. So if you've got ingrown toenails or stank feet, it really doesn't matter what kind of leather you put on them; they're still going to hurt. We encourage them to start from the bottom.
CM: You'll send customers to a competitor, such as Nyoni Couture or William Wilson, if you can't provide what they need. That's unusual.
LH: Collaboration over competition is the hashtag I came up with my last semester in school. I saw that the fashion community here in Charlotte wasn't cohesive, wasn't together, so I felt like collaboration over competition would change the paradigm. It gets rid of that negative crab-in-a-barrel mentality and provides an opportunity for us to work together. The best way that we can move forward is together.
LAURIE PRINCE is a freelance writer and editor in Charlotte. A former Charlotte magazine editor, she has won national and regional awards for her essays.