Inside the Changing Retail Landscape of Charlotte
From its iconic department store to temporary boutiques, Charlotte's scene is evolving—fast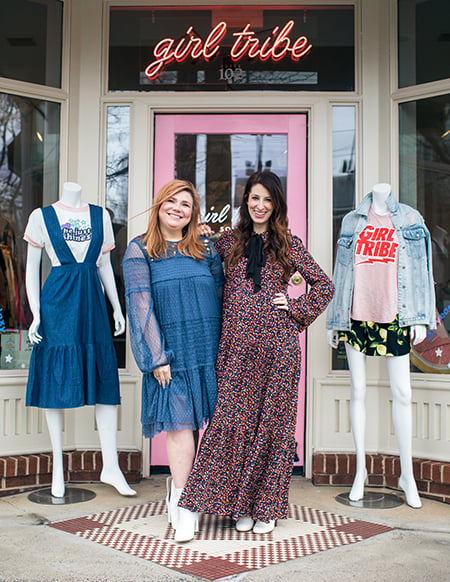 A WREATH HANGS on the bright pink front door of the Girl Tribe Co. shop in South End, and inside the sunny space, a few days before Christmas, women shop for holiday gifts on shelves filled with humorous cards and locally made jewelry. A petite brunette tries on a pink ball cap with the letters CLT stitched across its front. "What do you think?" she asks, turning to her friend. The hats are the item for which Girl Tribe Co. is most well-known. The shop's co-founders, Carrie Barker and Sarah Baucom, say they sold close to 5,000 in 2017.
"I think," says her friend, "you look like a real Charlottean now."
These women—young and relatively new to town—reflect the people Baucom says have been the shop's biggest patrons since its November opening. "There's a huge population in South End who are so pumped for the shop because it's something new," she says.
In many ways, Baucom's own career epitomizes the shifting retail scene. The daughter of a mall toy store owner, Baucom grew up helping out in the Charlotte shop. Then, in her 20s, she launched her first solo retail venture, Social Dress Shop, an online site selling American-made dresses. But keeping up with the speed of online retail was exhausting and in 2014, she closed the shop. "You're just not going to ever be able to compete with Amazon," Baucom says.
In late 2014, Baucom launched Pink Social (now Girl Tribe Co.) with Barker. What was a playful graphic T-shirt business quickly grew into an online presence supporting women-owned businesses and then a series of successful pop-up markets (Girl Tribe Pop Up) around the Carolinas. Last November, the duo opened Girl Tribe Co. in South End, and what was supposed to be a pop-up venture through the holidays has since been extended. Baucom and Barker are now officially running a brick and mortar business.
While the success of online retailers such as Amazon have led to much speculation about the end of brick and mortar, the success of Girl Tribe Co.'s pop-up shop actually reflects what the data continue to show: Americans still prefer shopping in the real world. According to the Census Bureau, e-commerce sales still total less than 10 percent of all retail sales nationwide. But that number is growing quickly, and many of those sales are on our phones—which means retailers, from more nimble shop owners like Baucom to Charlotte's historically larger players like Belk, must constantly consider the latest ways to lure the city's shoppers.
Baucom and Barker's story is something Chris Hemans, the director of retail for Charlotte Center City Partners, hopes to replicate across the urban core. His job, which was created in 2014, is to bring new retail into uptown and South End, an area with a mixed history when it comes to its shopping and shoppers.
"This is the place where people used to shop," Hemans says. "Through the early 1900s and into the 1960s, this was where you traveled to shop. Then we started to build single-use buildings in uptown and saw the growth of malls and suburbs, and things changed. Now, though, there's a resurgence and renewed interest in urban areas."
According to Charlotte Center City Partners, uptown and South End have more than 26,000 residents with 6,000 more on the way by the end of the decade. Hemans says that we're seeing growth in culture, entertainment, and restaurants, but the field where we're lagging is what Hemans calls "soft goods," meaning apparel stores.
"To effectively recruit retail, you have to have the space," Hemans says. He has high hopes for new construction projects, such as the heavy development along Stonewall Street—including the soon-to-open Whole Foods grocery store. "Whole Foods is a validation of uptown as a place for retail," he says.
Hemans notes, though, that in a town with a history like Charlotte's, some of the urban spaces must be adapted in order to include retail. He points to the recent $20 million renovation of one of the city's most iconic buildings, Bank of America Plaza. Its redesign has turned what was a street level constructed of black, reflective glass into a more pedestrian-friendly entrance featuring four new retail spaces. "We're seeing a significant number of lobby conversions throughout uptown," he says. "Once an owner sees the success of another owner adding retail as an amenity, it encourages them to make the same investment."
However, as in many urban centers, retailers face challenges when it comes to the price of real estate. "How do you afford to have soft goods in an area where the rents are high?" asks Hemans.
Amy Herman has found a loophole in this challenge. For six years, the artist and entrepreneur has been hosting her VTGCLT pop-up markets at venues such as The Fillmore Charlotte and Camp North End. And for three years, she has hosted VTGCLT Pop, which are pop-up shops located in empty spaces in uptown. The temporary shops (VTGCLT Market is a one-day event, and Herman's Pop locations last around two weeks) draw customers looking for something fresh and fun when it comes to their shopping experience.
"Retail is really hard," Herman says. "To me, what's exciting about my business is more the event side of it—hyping up the event. I like bringing in everyone to celebrate, rather than trying to sustain that business over the course of a year."
Herman is following what has become an international trend in retail: shopping as an entertainment experience. Nordstrom has launched mini stores that feature juice bars and spa services. London-based retailer Topshop features cupcake cafés and areas designed for Instagram photographs. Urban Outfitters even purchased a popular pizza chain in which to sell its merchandise.
"One thing that's been so important for me is trying to ensure I'm bringing the right combination of partners together," Herman says. "How can I get a local brewery involved? Which food trucks make the most sense? Do I have someone creating something sweet and savory? And, of course, always making sure there's an element of, 'Wow, this is really beautiful.' I try to think of the events really holistically."
The city's more traditional retail outlets are trying their own methods of shifting to this new kind of shopper mindset. Belk's SouthPark location recently hired a personal shopper, Ernest Hernandez, who works to style store guests and personalize their experiences. On a Saturday afternoon during holiday season, Belk is packed with people shopping—but also indulging in store experiences, including free makeovers and wine tastings.
"In this busy retail environment, the customer experience has to be worth leaving the comforts of shopping from your couch," says Tyler Hampton, Belk's public relations manager. "If you stop by SouthPark on a weekend, you'll likely see a DJ and maybe some bubbly for what we hope is a memorable shopping experience."
Champagne and DJs aside, department stores such as Belk are at the epicenter of the shifting retail scene. The chain, which first opened shop in Monroe in 1888, has reigned as one of Charlotte's most iconic businesses for 130 years. From 1910 until 1988, its flagship store stood in the center of town at the corner of Trade and
Tryon Streets.
But factors such as growing competition from e-commerce led to loss of profits. After a 7.8 percent dip in earnings announced in early 2015 for the previous fiscal year, the company put itself up for sale and was purchased by a New York-based private equity firm. While it may be focused on in-store experiences—Belk invested $40 million last year in new stores, remodels, and capital improvements—the company is also seeking innovative ways to tackle e-commerce.
Belk is testing a "buy online, pick up in store" program in the Charlotte region, and Hampton says the results have been positive. This is the kind of shopping that Hemans, the Center City Partners retail director, thinks we'll begin to see more of in places such as uptown and South End.
"With urban markets, you don't need to have a big department store," Hemans says. "You're starting to see national retailers moving to a smaller footprint and less inventory—more of a showroom where you can buy it online and pick it up in the store."
That idea made its way to one of Charlotte's most successful retail ventures in recent years, Twine & Twig. The natural jewelry and accessories line, which sisters Elizabeth Stafford White and Jacquelyn Stafford Buckner launched in 2013, garnered a fast following through Instagram. Today, the sisters run their business from a Charlotte studio, where they offer local pickup for online orders in town.
The line is available in boutiques around the country and internationally, but most of Twine & Twig's sales are via their online shop and prompted by social media. "We've seen a huge trend in sales moving online," Buckner says. "I think that people like looking at images on social media to see how items are styled, and then being able to instantly purchase it."
In the age of Amazon, companies like Twine & Twig have to get creative—and personal—when it comes to promoting their brand. Instagram offers them the chance to connect with their customers, personally responding to comments and curating the line to meet customer demand. It also now offers an ease of shopping on par with the e-commerce giants. "With the new feature on Instagram to add items you want to your cart, you can check out in just a minute or two," Buckner says. "As a retailer with 80 percent of our sales on mobile, we want to make shopping on our website as convenient as possible."
Baucom and Barker of Girl Tribe Co. have also focused heavily on online promotion. The pair have finessed their brand through a popular Facebook page that promotes women-owned businesses and has more than 11,000 followers. But Baucom stresses that the crux of today's retail market, online or otherwise, isn't in simply promoting yourself online. It's in sharing your story and getting people passionate about your brand. "You can spend all the money you want on Facebook ads," she says. "But if people don't buy who you are, then you're just giving your money to Zuckerberg."
Baucom and Barker continue to find new ways to tell the story of their brand to new audiences. This year, in addition to their new South End shop, they have plans to expand their Girl Tribe Pop Up markets beyond the Carolinas and even into cities such as Nashville and Austin.
But the two are especially excited about the promise that Charlotte holds. Inside Girl Tribe Co. on this busy afternoon before the holidays, the brunette shopper puts down the brand's signature CLT hat, declaring that she's only shopping for gifts today. "You can always borrow mine," her friend says. "It's Carolina blue."
Baucom and Barker understand these shoppers, who are part of the fast-growing population of Charlotte's new arrivals. And in an ever-shifting retail scene, their brand and shop are thriving because they're ultimately selling them much more than ball caps and playful shirts. In many ways, they're selling the story of a modern Charlotte in which they can take pride. "They love the new thing," Baucom says. "They're on the light rail, and they like walking to restaurants and retail. They were promised the Charlotte of tomorrow."
Sarah Crosland is a Charlotte-based writer and the author of books about the city, including 100 Things to do in Charlotte Before You Die.