Inside UNCC Security's Preparation, Quick Response to Shooting
The target-hardening was extensive and expensive, the response exemplary. Two still died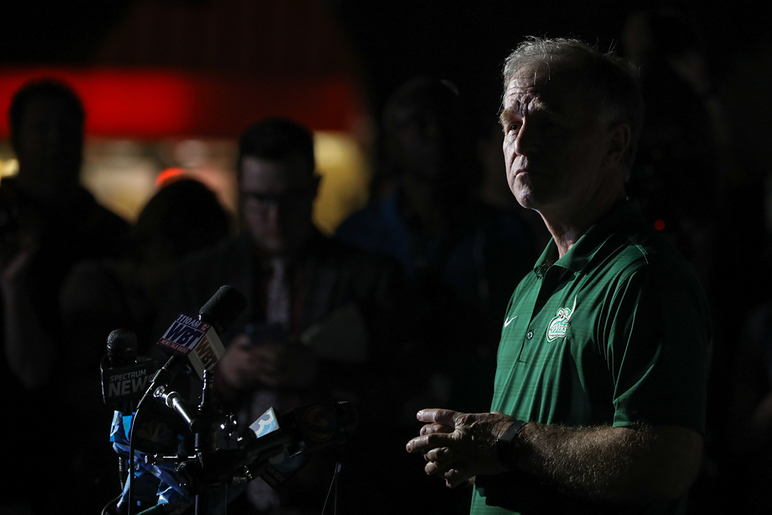 After the mass shooting at Virginia Tech in 2007 left 33 dead, UNC Charlotte—like hundreds of colleges and universities around the country—began to examine its approach to campus safety. University Chancellor Philip Dubois served on a state Campus Safety Task Force that issued recommendations in 2008 to then-Attorney General Roy Cooper. Later that year, UNCC convened a Campus Safety and Security Committee of staff, faculty, and students to assess the 1,000-acre property for weak points that a gunman or rapist or thief might exploit: unlit areas between buildings, limited transportation options, gaps in UNCC police's ability to communicate quickly in an emergency.
Since then, UNCC has spent "millions" on safety measures, says university Police & Public Safety Lieutenant Sarah Smyre, an alumna who joined the department eight years ago. They include a smartphone app that enables users to report crimes and emergencies by phone or text, and a remote lockdown system that allows campus police dispatch to lock the exterior doors in all of UNCC's 85 buildings with the touch of a button. "What we're trying to do is contain them," Smyre tells me, referring to hypothetical threats. "They're not going to have free rein, where they're gonna be running into and out of 10-story buildings."
When we spoke this week, Smyre had spent a week assessing how well the network of alerts, procedures, training, and execution had functioned when the threat turned genuine. She was the second campus police officer, after Sergeant Rick Gundacker, to arrive at the Kennedy Building on April 30. That afternoon, authorities say, a 22-year-old former student opened fire in a classroom, killed two students, and wounded four, three of them critically. (The shooter appeared to have targeted a specific table in the room, according to a search warrant affidavit in the case, the Observer reported Thursday.)
UNCC police dispatch received the first 911 call at 5:42 p.m. Gundacker and Smyre arrived at Kennedy at 5:44. "They acted exactly as trained," campus Police Chief Jeff Baker said during a news conference the next day. With the help of student Riley Howell, who tackled Terrell and was killed in the process, the officers quickly disarmed Terrell and took him into custody. Faculty, students, and staff were notified almost immediately over the campus mobile alert system and in-classroom television and projection screens. Other law enforcement agencies, mainly Charlotte-Mecklenburg police, quickly went building to building to secure the campus. By all accounts and under the circumstances, the preparation and response from law enforcement and the university community could hardly have gone better.
Yet Smyre and everyone else at UNCC are still left with a distressing reality: This is what a triumph of logistics and preparation—of "hardening the target," as security experts put it—looks like in an age of mass shootings. It minimizes, but does not prevent, violent death.
"It sounds callous to say that," says Greg Crane, a former law enforcement officer and security consultant who founded the ALICE Training Institute (Alert, Lockdown, Inform, Counter, Evacuate) after the 1999 Columbine massacre. The Ohio-based organization has helped train staff at more than 1,000 colleges and universities, including UNCC. "But purely from a statistical basis … through the actions of individuals and police, we saw a totally different outcome than we had at Virginia Tech. It's still a tragedy, but it's a win." Crane says the immediacy of the UNCC police response time is "almost unheard of."
But in recent years, Crane and other security experts have emphasized the importance of not depending on law enforcement response alone. UNCC trains everyone in the campus community on the "Run, Hide, Fight" model, says Smyre, who recently finished a three-year term as chair of the UNCC Security Committee. The model, popularized in 2012 by the City of Houston, is now standard for many workplaces and schools. It prioritizes citizen reactions to an ongoing active shooter incident: first, flee if you can. If you can't flee, find a safe place to hide, turn off the lights, and turn off your device. As a last resort, ambush the shooter by rushing him or using anything at hand as a weapon—the route chosen by Howell and, on Tuesday, 18-year-old Kendrick Castillo during a shooting at a STEM school in Colorado.
The university has spread information about the tactics as widely as possible in the last several years as it's adopted other measures, such as an expanded on-campus shuttle system, card-swipe access to buildings, and additional outdoor lights. "It needed to be an entire culture shift, and we needed buy-in from the entire university—students, faculty, and staff," Smyre says. "It doesn't do us much good to have all these procedures in place if nobody knows what they are."
The university has also encouraged everyone on campus to download the free LiveSafe app, which, among other features, allows people to communicate around the clock with law enforcement by call or text—an active shooter situation is "not an opportune moment for a phone call," Smyre says. The app carries NinerAlerts, the emergency notification system that pushes messages over campus email, by text, on social media, on the UNCC website, and over the university's more than 8,400 computer and TV screens.
"I think we've done everything possible," Chancellor Dubois said during the May 1 news conference, then acknowledged the practical limits of preparation on a large campus: "I don't think you can stop a determined assailant and still have an open campus, and we've chosen to have an open campus."
Smyre, who earned her bachelor's degree in 2003 and her master's in 2007, can remember her own student days at UNCC, when campus security was considerably looser. Now, as a campus police lieutenant, she struggles emotionally with the new reality—the seeming concession that at least some deaths may be inevitable in a mass shooting, the push-pull of sadness over two deaths and relief that the two weren't 20, or 33.
"I've definitely spent a lot of time over the past week reflecting, probably more than I should," she tells me. "I wish we could eradicate evil. It's just the reality we live in."