IPA Day happenings in Charlotte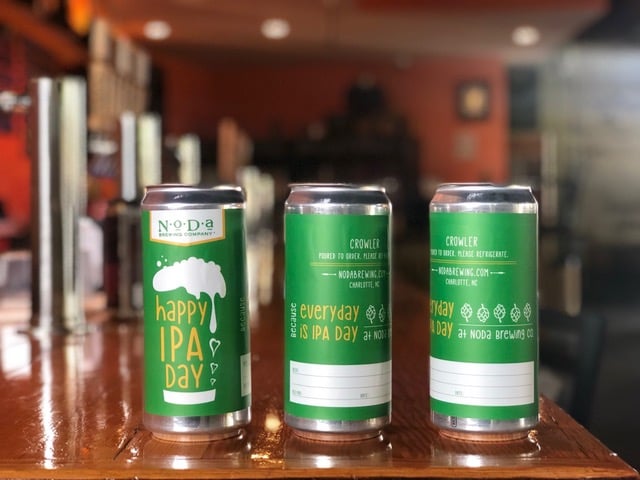 Today is National IPA Day. I first wrote about the argument over this topic five (!!) years ago. The simple conclusion: celebrate if you want and if you choose not to, no biggie. For those in the former camp, there's a few things going on today and over the weekend you'll want to check out:
–Sycamore is celebrating the day with a full lineup of the brewery's IPAs including the introduction of two new ones. Two favorites, Mountain Candy IPA and Countryside IPA will be on tap of course, along with new versions of Big Fat Juicy IPA. Both are "milkshake" (brewed with milk sugar and a ton of different hops) double IPAs, one with mangoes and the other with peaches. All IPAs will be $3 a pint when Sycamore opens at 2 p.m., and the first 200 people will get a free IPA Day pint glass (there will also be T-shirt for sale as well).
The brewery will also have cans of both Big Fat Juicy beers on sale Saturday beginning at noon. There is a limited amount of cans and it will be first come, first serve on the 4-packs of cans.
–NoDa Brewing is bringing back a fan favorite for IPA Day today beginning at 4 p.m. Double Whirlpool IPA was first released in January, and the brewery used two vessels for its whirlpooling (which is the last tank in the brewing process), which creates double the flavor and aroma of the beer.
The brewery has special pint glasses and crowlers as part of IPA Day, and you can get a 16-ounce pour and keep the glass for $12. It will be $6 for a snifter pour of Double Whirlpool IPA, and $8 for just the glass.
–The latest can at Birdsong won't be available until Saturday, but this New England-style double IPA bears mentioning here. The beer is actually called Bear Necessities (cue Baloo!), and was brewed with El Dorado and Cascade hops, along with Idaho 7. Expect a lot of juiciness out of this beer, which comes in at 8.5 percent ABV.
Cans of Bear Necessities (and draft) will be available at Birdsong's taproom beginning at noon Saturday, and the brewery also exclusively collaborated with Lowes Foods on this one, so the grocery store will be carrying the beer as well.