Latest releases from D9, Heist, Red Clay, Sycamore, Triple C and Unknown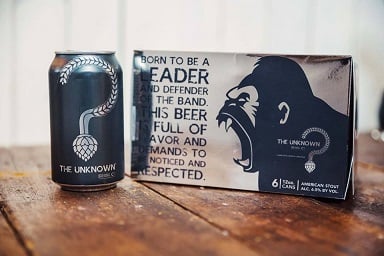 Earlier this week I wrote about Heist's first-ever bottle release, Barrel-Aged Cataclysm II, which will take place on Saturday. And there are plenty of other beers – and an incredible-sounding cider – being released over the next several days as well. Here's a look:
–Unknown's Silverback Stout has grown in popularity, from a taproom-only release two years ago to now one of the brewery's most demanded beers. Unknown first canned Silverback last year and it's now back in the taproom, with distribution to local shops soon to follow.
Silverback Stout features West Coast hops and notes of coffee and chocolate. At 6.5 percent ABV, it's a solid American stout that's perfect for whenever Charlotte weather decides to turn to winter (not that I'm complaining). Bonus points to the incredible silver metallic packaging that's back this year as well.
–Red Clay Ciderworks is set to release its first barrel-aged cider, beginning Thursday at 4 p.m. This cider has been aging in Heaven Hill bourbon barrels for four months, and is described by Red Clay as a "complex high-gravity cider that has hints of vanilla and oak, coupled with a smooth robust bourbon flavor that will impress even the most sophisticated palate." This is taproom-only and is a small batch limited release, so get to Red Clay sooner rather than later if you want to try it.
–This past Valentine's Day, South End neighbors Sycamore and Triple C became the first Charlotte breweries to collaborate with one another when they released The Boozehound. The reception was fantastic, and a second version of this beer is returning beginning this Friday at 6 p.m.. Described as a "hophead's dream," this double IPA is brewed with numerous hops, including Amarillo, Mosaic and Warrior.
Both Sycamore and Triple C will have The Boozehound on tap, and once again some of the proceeds from each pint sold will go to The Humane Society of Charlotte.
–D9's latest release is a scotch ale, Saint Martin's Cross, with bottles available beginning this Saturday. For this beer, D9 used several different kinds of malts along with Fuggle hops, and then aged it on Talisker single-malt scotch and oak. Saint Martin's Cross, which is 10 percent ABV, is named after the famed Roman soldier who later became bishop of Tours.
To celebrate the release, D9 will have a Scottish-inspired brunch Saturday at 11 a.m. Tickets, which are $25, include brunch and a 22-ounce bottle of Saint Martin's Cross. The brunch menu will be beer-infused and feature Scottish pickled eggs with "beer-naise" sauce, beer- and bacon-braised cabbage, Applewood-smoked beer-brined pork shoulder and a chocolate bread pudding with a spiced Scotch ale whipped cream. Click here for tickets, which must be purchased in advance. If you don't want the brunch option, the public bottle release will be at noon Saturday.
–You may have heard about a certain movie franchise being revived from a galaxy far, far away, which has cause fandom geeking out across the globe. To coincide with "The Force Awakens" being released in cinemas on December 18, Triple C will be releasing its bourbon barrel-aged The Force this Saturday (Dec. 12) at the taproom.
The Force is Triple C's Belgian Tripel, which has been aging in bourbon barrels for several months. Last year's version was outstanding, and I expect nothing less from head brewer Scott Kimball, who has been doing wonders with Triple C's BA program. Bottles of The Force will be available Saturday beginning at noon for $14 each, with a limit of 6 per person.