Laura Vinroot Poole on 20 Years Fashioning a City
As her SouthPark boutique Capitol marks two decades, she puts her coveted seal of approval on her hometown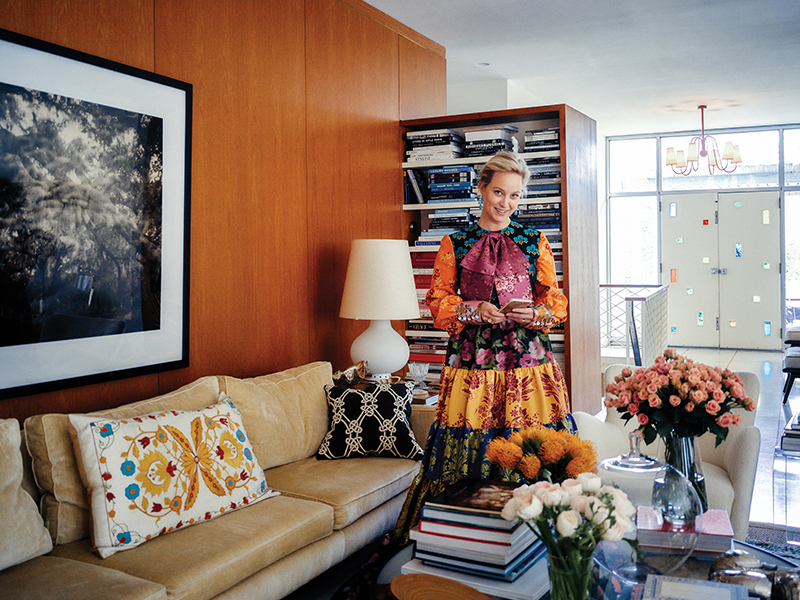 ON A HUMID MORNING last September, Laura Vinroot Poole strides through the doorway of a New York coffee shop in black shearling-lined sandals, footwear thoughtfully chosen for a day of appointments in the city's garment district.
This week is known in the fashion industry as spring market, when buyers from around the world come to preview designers' lines for the upcoming season. Poole is a portrait of calm amid frenzied Manhattan commuters as she floats toward the counter to order. She's agreed to let me tag along as she hunts for styles to bring back to Capitol, her luxury SouthPark store. In April, Capitol's customers, and some of the designers whose clothing and accessories they buy, will fete the store's 20th anniversary with a weekend-long party.
Poole and Rachelle Williams, an energetic 26-year-old buyer, will visit 15 to 20 designers today, a blistering (and blister-inducing) pace they'll keep for about a week. Poole makes similar visits to Paris, London, Milan, and elsewhere throughout the year. It's more glamorous than, say, staring at spreadsheets in a beige cubicle—but it is not play. They hustle from place to place by subway and on foot; no chauffeured Town Cars or lunches sudsy with Champagne.
"I've always thought of it as importing and exporting of culture," Poole tells me. "Every appointment is about selling us and selling Charlotte and saying why it's important to be in Charlotte." Brands don't want their products gathering dust; they want to be in stores that know how to sell. For Europeans, Poole makes an imaginary map of the United States in the air: New York is here and Miami is here and Charlotte is right here, in between.
It would be tempting to call her a tastemaker, but that would radically simplify Poole, a native Charlottean who also owns a more relaxed boutique called Poole Shop and a men's store, Tabor. She has built a powerful, if unassuming, presence in the fashion world, known for her discerning eye, gracious hospitality, and devotion to her clients. Designers want her to carry their lines, and cohorts of affluent Charlotte women regularly spend thousands of dollars on clothing and accessories that Poole selected—often with a specific person in mind—on buying trips such as this one.
But Poole is also an entrepreneur who sends her 30-some employees to annual leadership classes and a bit of a free spirit who unapologetically curses. She is someone who grew up among people who thought about Charlotte's potential and the legacy they would create here.
"If this was just going to be about clothes, it was going to be really boring for me," she says as we sip our cappuccinos. "I realized I wanted to influence women. I wanted to create a place that matters. I want this little army of women that are kick-ass."
As she says this, Williams looks on, not quite in adulation, but with visible respect. "It's heaven on earth working there," Williams says, nodding toward her boss. "She's not like 'It's my Capitol.' It belongs to everyone." The women have to get along well—they spend too much time together on buying trips not to—but it's quickly apparent that their relationship is built on something deeper than the designer clothes in their closets.
Today, Williams wears a beaded Dries Van Noten top with Citizens of Humanity jeans; Poole has chosen a Gucci denim jacket over a Chloé dress. And the sandals. "They're fur-lined," she says with a laugh, "but they're still Birkenstocks."
We finish our coffees and set out for the first appointment, a showroom for the German designer Dorothee Schumacher. As we turn the corner onto 11th Avenue, Poole surges ahead. I realize the need for comfortable shoes.
"Prepare to walk fast," Williams says. "Laura moves with a purpose."
***
MOST OF THE SHOWROOMS look the same: bare white walls, bright lights, racks of clothes. There are cheek kisses and offers of water. The woman in charge at Schumacher wants to know if we would like to see items presented as runway looks or styled how someone would wear the clothes out.
"Yeah, like a normal person," Poole responds. No one would wear a runway look to the SouthPark Whole Foods. She likes to dispense with the pretense and insecurity fashion often breeds, an attitude that sets her apart from many of her peers. Earlier, at the coffee shop, she told me, "You have to tune out all that bullshit and think about your clients and what works in Charlotte."
Since walking into this showroom two minutes ago, Poole and Williams have been in constant motion. It's graceful, not frenetic, but they quickly begin to evaluate the clothing that falls from wooden hangers on metal racks. They have their own language, clipped phrases and nods that indicate approval or not. Often, they'll reference a customer by first name, as in, "This is totally a Linda."
Two tall, thin models begin to try on the clothes, pausing for Williams to snap photos with her phone or for Poole to step closer and examine a detail. Williams arranges the items they like on a separate rack, in the order she would want to see them displayed at Capitol or Poole Shop. The salesperson takes notes about colors and styles, which she'll confirm with the staff in Charlotte before placing an order in two weeks. Buyers order based on what they think they can sell—sometimes that means they'll ask for four or five of the same dress; other times they'll get just one.
Occasionally, the sales rep will point out a piece, usually something that has been popular with other stores, suggesting Capitol carry it, too. Poole predicted this earlier in the morning, that salespeople would try to push styles onto her without any understanding of what Southerners wear, the types of events they attend. When it happens, Poole declines politely but firmly. There is no vacillation, just a quick, "No," and a smile.
Within 20 minutes, Poole and Williams have a well-rounded collection: three skirts, a dozen or so tops, a few dresses. They thank the models, exchange pleasantries with the sales staff—one woman shares that she's never been to Charlotte, but does know someone who works for a bank there—and then they're off, Birkenstocks padding toward the elevator.
This happens at the next showroom, and the next, and the next. Poole and Williams select dozens of items, maybe 15 or 20 at each stop—a pink satin suit by Gabriela Hearst, beaded moccasins from Figue, cotton lemlem dresses. I'm shocked by the pace of it all, and in many cases, so are the sales reps. Often, there are multiple appointments running at once. I notice other buyers, who are less decisive than Poole, still lingering when we breeze past en route to the next stop.
At the space for Novis, a New York-based line designed by Jordana Warmflash, Poole sits back into a distressed leather sofa. The mood is noticeably more relaxed than at previous visits; Poole and Williams have a deep relationship with this brand. Warmflash herself is here, and spends a few minutes asking for recommendations for an upcoming trip to Asheville before showing us her spring line.
Later, Warmflash tells me that Poole is different from other store owners. "She's made such an effort to help us grow our business. Not just at her own store, but at others, as well," she says. Like dozens of other designers, Warmflash is creating a design for a special collaboration in honor of Capitol's 20th anniversary this spring. "(Poole) encourages me to create clothing that is beautiful and that women really want to wear," she says. "Getting into Capitol is very much like a seal of approval."
***
POOLE OPENED Capitol in 1998 after she and her husband, Perry, moved from Raleigh to Charlotte, where he would study architecture. The couple had eloped the previous year, when she was 25.
The 800-square-foot store, then at Phillips Place, carried Calvin Klein and Marc Jacobs, among other designers. "We didn't have any money," she recalls. "My parents didn't give me any money. We charmed the bank and got a very small loan. Did the floors ourselves, painted it ourselves, made it up as we went along."
Born in 1972 at Presbyterian Hospital, she grew up along with the city. Her father, Richard Vinroot, was a city councilman, two-term mayor, and Republican candidate for governor; the family's Eastover neighbors were prominent Charlotte families such as the McColls and Daltons and Robinsons. "I grew up with this idea—people make fun of it today—that whole idea of the world-class city," she says. "I believe that. You know what? This is an incredible place to live."
Those early years instilled in her a defensiveness about Charlotte, a desire to protect its character while building its culture, that Poole still carries. It also created a nagging fear that she had fallen short of her family's expectations. "I always felt like I wasn't doing my part, that I wasn't doing enough for Charlotte," she says. "Like they were the do-gooders and I was just the artsy person."
For a while, perhaps, that was the case.
Her freshman year at UNC Chapel Hill was an uncomfortable transition from the Massachusetts boarding school she attended for high school. Lachlan Murdoch, the son of media mogul Rupert, was one of her classmates there. Her roommate was from Hong Kong; one of her best friends was Swiss. So early in that first semester in Chapel Hill, she came to understand that the sorority and basketball and rah-rah-Carolina life wasn't what she envisioned for herself. "It was all the things I was supposed to be, and I didn't really feel like that," she says.
With her parents' permission, she took a year off from college, first to spend three months in Arizona participating in the National Outdoor Leadership School's wilderness education program. After that, she returned to Charlotte to teach children's art classes at Spirit Square for three months. For the final third of the school year, she studied clay sculpture at Penland, the craft education center in the mountains near Spruce Pine. "I just kind of realigned my compass," she says. "I realized I'm myself."
That year, especially the time at Penland, reawakened her love for North Carolina. She didn't want to abandon her home state to live, as her boarding school peers did, in some big city far away. She reenrolled at UNC, this time as a studio art major, and began to think about coming home to Charlotte.
When she opened Capitol—the name was inspired by a department store called The Capitol in Perry Poole's hometown of Fayetteville—Poole sought to emulate the type of personal service shoppers found at iconic uptown Charlotte stores such as Ivey's and Montaldo's. She also thought her boutique could fill a void in the retail landscape, creating an option for women who wanted designer styles without the requisite shopping trips to New York, Atlanta, or Charleston.
"I never limited myself to Mecklenburg County, like 'I want to do the best store in Mecklenburg County,'" she says. "I always wanted to be the best store in the world."
***
AFTERNOON SUN HITS the blond wood floors and white walls of Tabor, the men's store Poole and her husband opened in a Myers Park bungalow in 2015, on a quiet November weekday. Racks of clothes line the walls in the adjacent rooms—a mix of high-end styles (a Saint Laurent peacoat) and more casual, accessible brands (fatigue-green Tellason pants).
Tabor is Poole's latest venture, which she runs with Perry, and surely the one they least expected to launch. "It's so opposite of what I thought it would be—in a great way," she says. "It's a whole different crowd of people I've never met before and have never heard of Capitol."
That we're here, in her third shop, about a decade after the recession that nearly broke her, is remarkable even to Poole, who rarely pauses for moments of nostalgia.
"I 100 percent almost went out of business," she says of the post-crash months when people in Banktown, USA, weren't buying four-figure outfits. "I had millions of dollars of things that I had to pay for that I'd never be able to sell."
The recession prompted her to do something she'd never done before: ask her dad to call in a favor. Richard Vinroot helped set up a meeting for his daughter with family friend Hugh McColl. The banking executive mentored Poole, helping her chart a course out of the economic uncertainty, a path that involved furloughs and layoffs, and goodwill from Capitol's vendors. "They all worked with me," she says. "A lot of them gave me years to pay them back. I was supposed to have 30 days, and some of them gave me three years."
That period roughly coincided with Capitol's move to a new shopping center at the corner of Sharon and Colony roads. The freestanding store—Perry Poole, a gifted architect, designed it—includes a stunning glass-walled courtyard with a lush wall of greenery created by a renowned French botanist, Patrick Blanc.
The new space propelled Capitol's growth and the eventual creation of Poole Shop, which is housed on the building's second floor. In 2009, Poole had her biggest coup, earning the right to carry Belgian designer Dries Van Noten's exclusive, eponymous line. Her Gucci sales soared; Capitol is one of only six or eight boutiques in America allowed to carry the brand, and the others are in places such as L.A. and Dallas. Yet even as Poole's client base grew, she managed to stay relatively unknown in Charlotte, eschewing local press while garnering attention from national fashion writers in Vogue and The New York Times.
All of that might have nudged Poole to abandon Charlotte for New York or Paris, somewhere she could find acclaim, more money, party invitations. As our conversation at Tabor stretches past an hour, I ask whether she's considered leaving her hometown.
"I really love where I'm from," she says, dismissing the suggestion. "I've believed in it. I'm not ashamed of it. I'm not too cool for it."
***
A WEEK LATER, Dutch designer Sander Lak is explaining how he walked the roughly four miles from his room at the Duke Mansion to Capitol. Poole recently started to carry Lak's Sies Marjan line, and he's in town for a private event, along with Marie-Hélène de Taillac, a French jewelry designer.
About two dozen people—all women save for Lak, Tabor creative director Scott Newkirk, and me—mingle throughout the store, clutching glasses of wine and white linen cocktail napkins embroidered with Poole's monogram. Delicate cheese wafers sit in silver bowls.
Poole hosts events like this one often. She's invited some of her best customers, especially women who buy from these designers' lines frequently, as well as a mix of others who are intriguing, artful conversationalists. The right crowd, Poole says as we sit on a couch upstairs, will tacitly sell Charlotte, leaving the designers charmed by the city and its people. Her guests range in age from 30s to 60s, all clothed in bright colors and bold prints.
Poole herself is in a flowy Gucci dress, patchwork panels of blue and yellow and lavender stretching to the floor. "I think if you had the same dinner party in New York, everyone would be in all black," she says. Poole is able to coax women out of their comfort zones and expose them to unfamiliar designers—but she doesn't want to homogenize Charlotte. "Atlanta, everyone looks the same. Raleigh, too. Charlotte people have always been individual.
"Southerners are beautiful. They dress. They dress to go to the grocery store."
Lak has noticed Charlotte's proclivity for color, too.
"This is a place where a lot of women have discovered the joy of what fashion should be," he tells me. That observation gets at a deeper characteristic he's gleaned from his conversations tonight: "Everybody is proud to be from here. There's this proud notion of this place being very special."
A long table in the courtyard is set for dinner with vintage china and vases of peonies, roses, and other flowers in shades of orange and pink. It's chilly; there's a gas patio heater and blankets are scattered on chair backs. The guests start to inch toward the table, introducing themselves to others, pouring another glass of wine.
Minutes later, Poole emerges from the stockroom, ever the gracious host, appetizer plates balanced on her Gucci-clad arms.
Adam Rhew is this magazine's senior editor.