Legion breaks brewery boundaries with new SouthPark location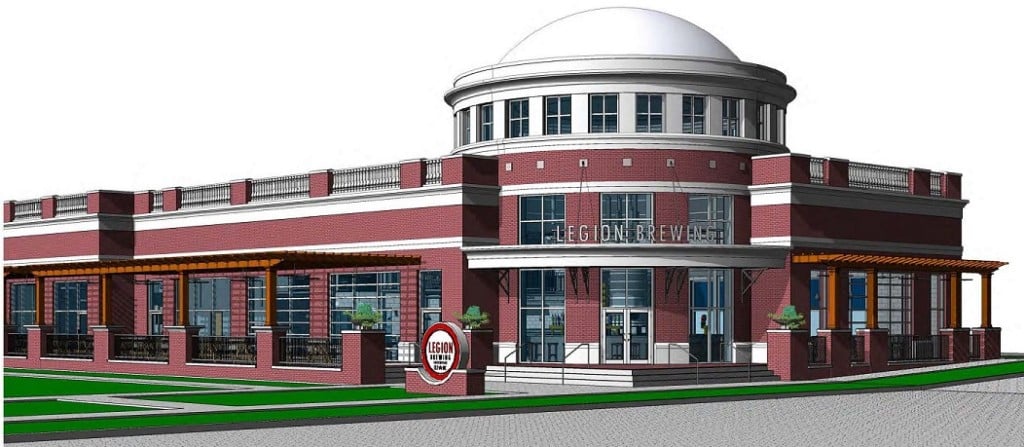 Since Charlotte's brewery boom began, the clusters have mainly been in two areas: NoDa (now reaching into the North End area) and South End (and what some are calling LoSo). It makes sense, as you want that walkability between breweries to gain more traffic, while also (at least during the time of construction) those areas had two desirable needs for the breweries: buildings with a lot of space, and low costs.
Plaza Midwood has upped its craft beer reputation in recent years, but as Charlotte and the brewery scene have progressed, there are an additional two areas that seemed prime for a brewery, given the population and growth: SouthPark and Ballantyne. As you well know however, those are also two of the more high-cost locations in the Queen City, which drove at least three prospective owners to either different sites or on a "still-looking" basis.
On Wednesday, one of those neighborhoods got a brewery breakthrough as Legion Brewing announced in a press release that it would open a second location on the ground floor of SouthPark's Capitol Towers building on Congress Street (caddy corner from Village Tavern and just across the street from the mall and Symphony Park. The 8,500-square-foot location has a scheduled opening for fall 2018.
Legion laid down its roots in Plaza Midwood and quickly gained a following thanks to standout beers such as Juicy Jay IPA, Carolina Sparkle Party (a Berliner Weisse) and a host of seasonals and small batches (including the current run of fantastically-done lactose "milkshake" double IPAs). All this has been done under the watchful eye of head brewer Alexa Long, who has made quite a name for herself as one of the top brewers in the city (Long also was the assistant brewer at Heist before taking the head job at Legion). I'm told that Long will oversee brewing operations at both sites, which is fantastic news.
Long and Legion bring a wealth of credibility into the new SouthPark location, which should have no problem drawing crowds, given the wealth of foot traffic opportunities. Picture a long day of Christmas shopping at the mall, then going over to the brewery for a well-deserved beer or two. Or in the spring/summer, I see many visiting Legion before heading over to Symphony Park for Pops in the Park. And with the incredible amount of office space/businesses surrounding Legion's new area, "lunch meetings" (the new taproom will also boast a restaurant) and after-work get-togethers are assured.
Charlotte Business Journal reports that Legion's investment into the new space will run a little over $2 million and, as it was pointed out to me on Twitter, this will be Charlotte's first "ground-up" brewery, meaning not using an existing building for space. With Legion's foray into SouthPark, you can bet others will be watching to see if the ROI is worth the cost of following suit with either a brewery or bottle shop. My guess is yes, but it's much easier for an established brewery to open a second space rather than a brand-new brewery – especially now with so many to choose from in Charlotte.
And will Ballantyne break through next, or will NoDa (Divine Barrel, Heist's second location) and South End (Fat Head's, Southern Tier/Victory) continue to spur Charlotte's brewery growth in 2018? Time will tell.