Legion Brewing's SouthPark Location Now Open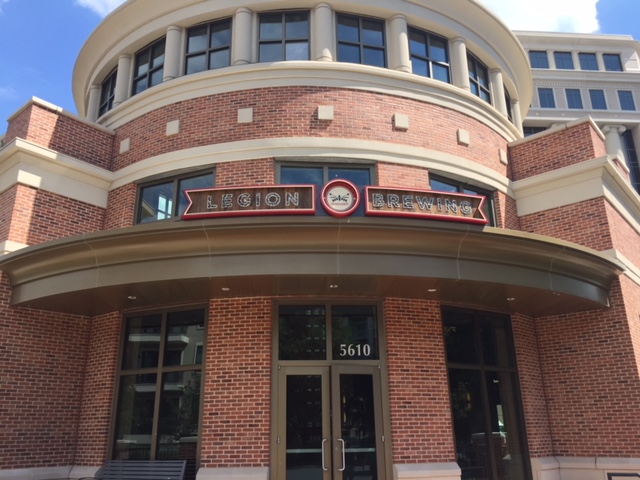 SouthPark's first brewery is open for business.
After the usual permitting holdups (seriously, there has to be a better way than making people drive to Raleigh as a final step), Legion Brewing has secured everything necessary to throw open its doors to the public at its second location in SouthPark beginning today (Sept. 13) at 11 a.m. This is the soft opening, as Legion has scheduled an "official" grand opening for Oct. 6.
The 12,0000-square foot finished product in the Capitol Towers development is nothing short of spectacular. Upon immediate entrance, you're greeted by the 360-degree circular 16-seat bar that features a total of 39 taps spread out over four sections. On the inside of the bar rises three 40-barrel wooden foeders, part of Legion's expanded sour program. Just below each of the foeders are oak barrels, and you'll be able to get sours and other aged beers poured straight out of said barrels. This location will also feature two stainless steel tanks for fruiting and blending.
Underneath each wooden foeder sits a barrel, where sour and aged beers will be poured directly from.
Of course, all of your favorite Legion beers – including the highly-popular Juicy Jay IPA – will be available. The brewery will be transporting kegs from the original Plaza Midwood location to be stored in a state-of-the-art beer cooler at SouthPark. You will be able to get crowlers filled at SouthPark, as an FYI. And the second Legion site will also be serving liquor (just the second local brewery to do so, joining Heist), with an emphasis on local distilleries for craft cocktails, as well as wine (including four taps) and several cider options.
The first level will have plenty of seating at the bar, wide family-style tables and high tabletops as well. When seated, you'll get a firsthand view of Legion's open kitchen, headed up by executive chef Gene Briggs (who was formerly the head chef at Blue). Briggs wowed invited guests over the weekend at Legion's preview nights, and will head up a menu (complete with gluten-free options) that is big on variety and flavor. (Personally, I have my eye on the duckfat chicken wings and the Chivito, a classic from Uruguay that features grilled steak, ham, bacon, pepper jack cheese and roasted peppers, all topped with a fried egg.) Briggs will also incorporate Legion beer into his dishes, such as the spiced grilled chicken sandwich topped with Juicy Jay slaw, and feature seasonal menu items too.
The menu at Legion Brewing's SouthPark location
Before heading upstairs, make a stop to browse Legion's merchandise area, which features T-shirts, hats, mugs, baby onesies and even specially-created candles.
Upon walking upstairs, you'll want to stop at what co-owner and managing partner Phil Buchy refers to as "the catbird seat," a drink rail that overlooks the bar and entire first floor. There is plentiful seating on the second level along with a bar featuring six taps and a shuffleboard table. (Also, TVs abound throughout the entire location, so this is a perfect time for opening being football season.)
The building is rounded out by a gigantic outside patio that should have furniture within the next week, and a backend private event space complete with abundant seating (140 total, with a private patio), three TVs and a top-end sound system. There are two other private event rooms on the second level as well.
Legion Brewing SouthPark, located at 5610 Carnegie Boulevard, will be open seven days a week, from 11 a.m. to 11 p.m. Note that the hours may vary a bit as the brewery gets a good gauge on the crowds for the first few months.