Lenny Boy's Winter Warmer Festival offers rare beers and more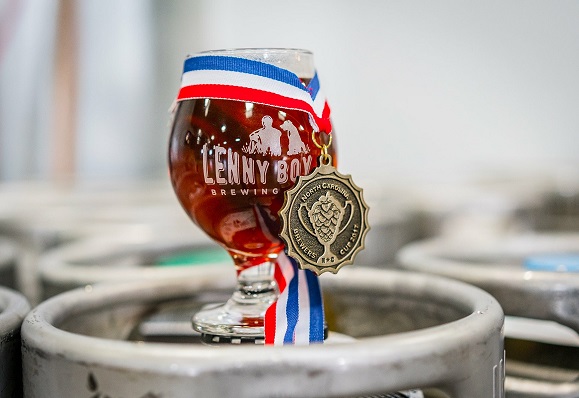 Despite the unseasonably (but certainly welcome) spring weather in February, Lenny Boy's Winter Warmer Festival will still take place Saturday. Tongue-in-cheek aside, there's no problem drinking winter beers in warm temperature, especially out on the patio.
"Obviously this was planned a while back, but I think we're going to move it up to January next year," founder Townes Mozer says with a laugh. "It's crazy; last year it was warm for the festival too but when we had the party to celebrate our new patio expansion March 11, it was 35 degrees. But that's Charlotte weather."
Many of the winter beers that will be offered were some of the first beers Lenny Boy put into barrels since moving to its new location in September 2016. They've had a bit of time to age and Mozer is excited for the public to try them.
"I think we've got a pretty strong lineup – from some new beers to the last kegs of some," he adds.
Let's start with the latter first. The Winter Warmer Festival will feature the final keg of Lenny Boy's Doppelbock, which won gold medals at the 2017 N.C. Brewers Cup and 2017 and '18 Beer Army Beer Wars. It's also your last chance to try Burn Down For What, named best organic sour at the 2015 National Organic Brewing Challenge.
Also on tap will be Chocolate Covered Raisins aged in Four Roses barrels, a keg of Breakfast in Heaven aged in Heaven Hills barrels, a vanilla variant of Ground Up Coffee Stout aged in oak barrels, a Russian Imperial Stout aged in Doc Porter's barrels and a quad (7.0) aged in Heaven Hills barrels.
You will have a chance to try all six beers as part of the "Winter Warmer" flight, or you can order them individually. Appalachian Cookie Company will be on site ("dark beers with cookies, how can you go wrong?" says Mozer), along with The Hunter's Wife, which recently became the dedicated food truck for Lenny Boy. And despite the 70-degree temperature, Lenny Boy's firepit will be available with free s'mores while supplies last.
There is no charge for the Winter Warmer Festival (just pay for the beer), and it will run from noon to 10 p.m. A few kegs will be tapped at certain times throughout the day, and the brewery will have its usual lineup complete with beer and kombucha as well.
Moving forward, Mozer says Lenny Boy will look to hold additional festivals throughout the year. The brewery has already started a monthly event, Q & Brew, the first Saturday of each month where The Hunter's Wife serves up barbecue and Lenny Boy releases either a new beer (sometimes in cans) or kombucha.
"Now that we're kind of settled with our new space and have everything where we want it, we want to grow with our events," Mozer says. "We have such a great space and are excited to put on events and festivals as the year progresses."