Life Lessons: Dianne Gallagher of CNN
Ex-WCNC reporter returns 'home' to establish the network's first Charlotte office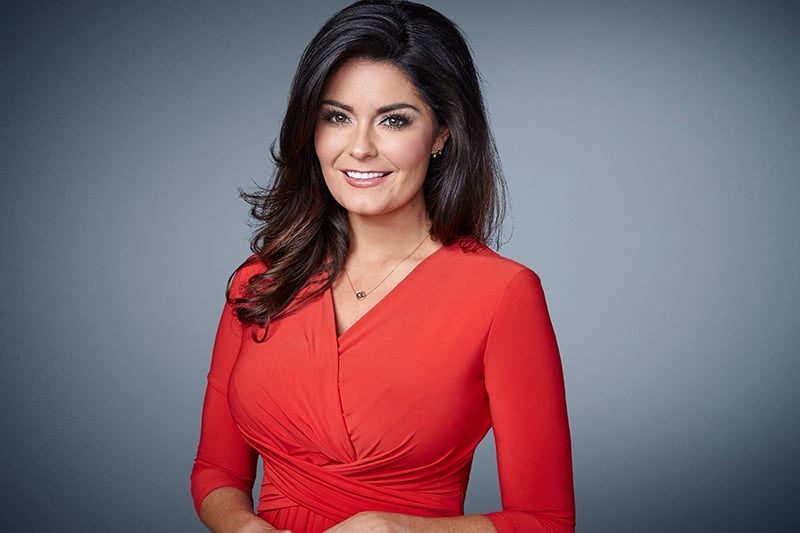 Dianne Gallagher left her job as a reporter for WCNC-TV for CNN in August 2015, newly engaged to Alan Cavanna, who covers NASCAR for Fox Sports. Cavanna remained in Charlotte. Gallagher hit the road and stayed there. She lived in apartments in Washington, D.C., then Atlanta, even after the wedding in 2017, and connected with her husband when she could. But Gallagher spent most of her days jetting from story to story as a national correspondent.
This year, her bosses at CNN arranged for her to move back to Charlotte as the cable news giant's first-ever permanent presence in the Queen City. The daughter of an Army officer, Gallagher had grown up moving from town to town before she attended the University of Tennessee, earned a degree from UNC Charlotte, and, in 2008, began working for tiny CN2 News in Rock Hill. She went to work for WCNC in 2012 and quickly distinguished herself as a skilled and tenacious reporter, which drew CNN's attention.
As a correspondent, Gallagher has covered major national news stories, from the Ninth Congressional District election fraud case in Bladen County to multiple appearances by President Trump, during which the president and his fans have often directed their contempt toward journalists in general and CNN in particular. Recently, she's reported on the effects of COVID on laborers in the meat-processing industry and on threats to election security, especially in North Carolina.
Although she maintains an apartment in Atlanta as of early September, she speaks to me from the NoDa home she'll soon share with Cavanna; they're looking to buy a house in the Charlotte area. Here she is in her own words, which have been edited for clarity and space:
Today was the first day I woke up after 5 a.m., and will go to bed before 11 or midnight, in quite a while. Unfortunately, the President had a tele-rally last night to North Carolina voters, where he again encouraged people to vote twice. So I got to bed about 1 a.m., after writing another story on that last night.
I'm tired, but I'm good. I'm always busy. But I'm also feeling really great because I'm getting to finally move back and live in the same house, city, state as my husband. There's a complication that was always there in my life for the past five years that has been resolved, which will reduce a lot of stress in my own life.
The simple answer is: I asked. But obviously they weren't going to put somebody just anywhere in the country. I had been at CNN for almost five years, and I'd been trying to plant that seed for, I'd say, four years. I had been living in a bi-city, bi-state marriage for all three years we've been married. But I've always said, "Hey, I think I can live and work out of Charlotte." Part of this is because we have learned a lot about remote work. We're not really at our home base a lot, especially for us at CNN. I'm a national correspondent. I'm out on the road constantly.
Besides, North Carolina has become part of this national narrative to a greater degree. And Charlotte, as it has grown, makes it easier for me to not just work here but travel out of here. Charlotte Douglas International Airport actually plays a huge role in this, because if I can't get to stories in other parts of the country, then I'm useless.
I was on the road a lot my first year because I worked with something called CNN Newsource, which is the affiliate service for CNN—we do reports for all of the local affiliates all over the country and also internationally, and so I traveled to all the big stories. So I tried to plan a wedding during that. I do not recommend that to anybody, ever. That was a rookie mistake.
We would kind of try to travel back and forth and, look, God bless my husband. He did 90 percent of that driving. I would try to fly back and forth, but that's expensive. The Washington, D.C.-to-Charlotte drive is not fun at all. Lucky for me, he works in NASCAR, so they have an offseason, and he would come up and live with me during that offseason, which is, what, two months? But we still had these whole separate lives.
It is weird, because in some ways, I never left Charlotte, and in other ways, I do feel like a visitor in my own home, if that makes sense. The city has changed drastically over the past five years. When I was a local reporter and anchor here at WCNC, the city looked almost nothing like it does now. Then, we thought Charlotte was growing so fast. But the growth factor from the end of 2015 to now is astonishing. There are areas of town that I drive through, and I feel like I have to pull out Waze: "Am I where I think I am?" It looks like a completely different city.
I can't put my finger on why I really loved living here. It was the longest I'd ever lived anywhere consecutively. I was a military brat and moved around from place to place, country to country, never anywhere more than, like, two years. So I had never really had what I would call "roots." It's going to be nice not to have all of the expenses that come with living in two different cities.
I've been working since the beginning of the year on voting integrity and election security and what that does to people's confidence in elections. On top of covering that, I and a colleague of mine, Pamela Kirkland, are basically the North Carolina 2020 election people. So it is our responsibility to know everything about every major election in this state and what's going on.
We're definitely not the enemy of the people, and we're not fake news, either. It's frustrating. Obviously, a mob of people turning around and shouting at you—nobody wants that. But I found often that when I talk to the people individually, even the people who may have just been shouting at me, their tone usually changes. They'll express, "I'm just angry. I'm just frustrated. I don't actually mean that about you." A lot of times, I'll ask them, "What have I done that you think is fake or bad?" And they usually don't have anything to say.
When people are angry at the, quote, "media" in general, they sort of just sub in CNN. Sometimes the President himself will do that. There are points in time where you do feel concerned for your safety. But I usually feel like I can discern whether or not a situation is good, and I'm not going to let somebody bully me out of doing my job. I'm just not.  
Our job on the road has changed immensely because of COVID—where we travel, how we travel—and once we're on the ground, every state has different restrictions. Understanding what those restrictions are is more challenging than I thought it was going to be. Every state looks different when it comes to what is open, what isn't open, what you are allowed to do, the level of mask-wearing in different places. All of that is different across the entire country.
I hadn't been into Charlotte in a little while, and I was a little surprised when I came in here. It just looked different. It was so empty—not in NoDa so much, but in uptown Charlotte, it was empty. It just felt very dystopian.
It's a wild time to be a journalist. And to move.
This will allow us to have a window into what's happening in this region that so many people are moving to, and I'm just really excited to be one of those people as well. I hope to live and work out of Charlotte and grow a family here and be a part of this community.