Life Lessons: Maureen O'Boyle
A television host, a rape survivor, a mother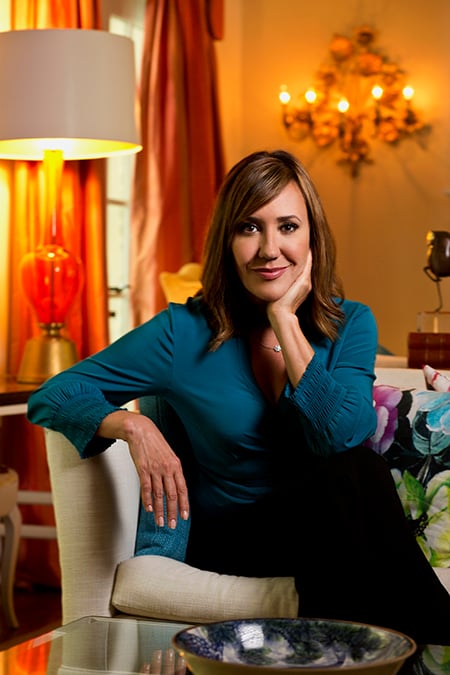 EARLIER THIS YEAR, WBTV evening news anchor Maureen O'Boyle made news herself after she learned that the man who raped her 30 years ago was up for parole. Stunned and moved to action, O'Boyle started a petition on change.org to keep the man, James Starling, in prison. For the first time, O'Boyle shared details of what happened to her on that April 1986 night in Macon, Georgia. The petition received more than 70,000 signatures, and on May 20, O'Boyle learned that Starling was denied parole. Since then, she's been looking for ways to improve systems to notify victims of when their attackers are up for parole.
O'Boyle, a mother of one, has had a distinguished television career, working as an anchor for A Current Affair and Extra before her time at WBTV. She talked with Charlotte magazine recently about what she's learned through the years—from being a child growing up here to her television career to the last few months. Here's what she said, in her words (edited for clarity and space).
---
I WAS BORN HERE in Charlotte, and I'm number 8 of 10 children, seven boys and three girls. That explains everything about me. I'm loud. I don't even realize that I'm loud and people in the newsroom will be like, "Yeah, you're really loud."
MY FATHER WANTED the dinner table to be a time in which everybody had an opportunity to speak about their day, and carry on a conversation in a very intelligent way. So, in order to be recognized, I would have to speak clearly and tell my stories. That was just my nature—to try to be a good storyteller, so that I could get his attention.
I GOT MY (TELEVISION) BREAK when I was with my mother. We were both asked to be on a special on WTVI. My mom was always enrolled in college courses at CPCC, even with all the kids. She met a woman there who was a producer for public television doing this show called "A Woman's World" or "A Woman's Place"—neither one of us can remember the name of the show. They were taking women in their 40s and their teen daughters and asking the women in their 40s, "When you were your daughter's age, what were your hopes and dreams?," and then asking the teen daughters, "What are your hopes and dreams?" When I got off the stage, the woman who was the producer, I can remember her very clearly, she pulled me aside and, wagging her finger, she said, "I don't know what you want to do with your life, but you need to go into television."
EARLIER THIS YEAR, I WAS OBSESSED with the song "Til It Happens To You," by Lady Gaga, and my daughter, Keegan, and I watched her perform it on the Oscars. She knew I had been raped when I was 22 years old and working in Macon, Georgia. Keegan said, "How old would that guy be, Mom?" I Googled his name, James Starling. It connected me to the Georgia Department of Corrections site. I start scrolling and I went, "Oh my God." It said, "Parole, April 2016." And this was February 28.
I JUST COMPLETELY LOST IT. I was so upset that nobody had told me. I needed to protect my family. I've always said, when he gets out, we're going to completely change the alarm system, we're going to build a fence, we're going to really fortify the house.
I WALKED AROUND for about 72 hours in a fog. I don't even know how I got through newscasts. Then I sat down and I thought, "Well, what can I do?" I'd seen petitions come across my Facebook page from change.org, and I thought, "Well, I'll see." I didn't know if I could write it; there's so much people didn't know about it. But one of the things I realized is I've been walking around saying, "I'm a survivor, I'm a survivor, this didn't mark me." … And yet I was in a fetal position every time I was at home after finding out he might be released.
SO I SAT DOWN, put my phone on speakerphone with my mother and I said, "Mom, I just need to tell the whole story." And she said, "Well, just talk it out, and as we're talking, just type." So I did.
I READ IT BACK to her several times, and she said, "Just hit post." I'm like, "I'm scared, I'm scared." And she said, "You can do it. Just hit post, just hit post." So, I hit post.
I STILL GET GOOSEBUMPS thinking about how people reacted. I had more than 70,000 signatures in the end. But what moved me more were the stories that they sent me, people who said, "It happened to me, I could never report it, I was too ashamed." If I ever get away from my mission, now, I just go back and read these stories.
I HAVE THE LETTER that says, "We rescinded our decision, and we are not going to release him." But it's only after I started a petition that they changed their mind.
IT REALLY HIT HOME when the first person to share my post was one of my former babysitters. She posted, "I always tried to figure out why Maureen was so overprotective of Keegan, why there was so many things we had to do every time we came in the house … check this door, check that closet, check that window, check that thing, look over here, look under the bed. I never understood until late one night she told me the whole thing that happened to her."
IT WAS THEN I REALIZED this is still in my life every single day. And I act like it's not, but it is impacting my life. Because I live in a certain amount of fear and I didn't realize that. And even though I've been in therapy off and on for 30 years, my fears were created by that experience.
IN THE NEWS BUSINESS we're constantly reading statistics on air, and we'll say, "One in four women are victims of sexual violence." But then you start getting the feedback from hundreds and thousands of people who are all identifying themselves as survivors of sexual violence. It's like, holy moly. It's real. It's attachable to people's souls, eyes, hearts, lives, children.
I THINK THIS WORK is as important as anything I could do. The best thing has been the community that I've found hiding behind the shadows that sexual violence creates. I can't tell you how many times I just start crying in a grocery store because somebody will come up and say, "Thank you for doing this."
I WISH I COULD personally thank every single person who has posted on my Facebook page, who wrote to me on change.org, who signed their name. This kid from Charlotte, North Carolina, just can't believe that people care so much.
If you are a victim of sexual abuse and need to talk to someone, O'Boyle recommends contacting Rape, Abuse and Incest National Network (RAINN) at 800-656-HOPE (4673), rainn.org.
JODIE VALADE is a freelance journalist based in Charlotte. Reach her at jovalade@gmail. com or on Twitter: @JodieValade.
---
This article appears in the September 2016 issue of Charlotte Magazine
Did you like what you read here? Subscribe to Charlotte Magazine »
---