Longtime YMCA Staffers Found Home—and Each Other—at Summer Camp
Life lessons from Kaye and Bill Carraway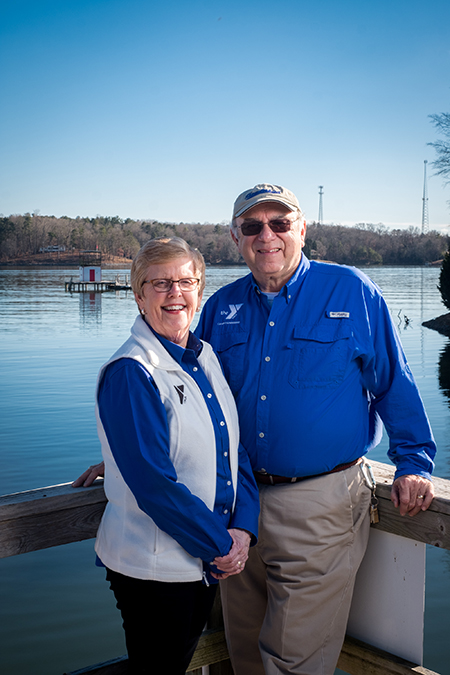 THE STORY of Kaye and Bill Carraway's courtship is wholly American, a specific and instantly recognizable tale of boy-meets-girl that wouldn't feel out of place projected through tattered, grainy film. The two met at YMCA of Greater Charlotte's Camp Thunderbird as staffers, and have been together since. In those 41 summers, Kaye worked her way up to resident director, and Bill to patrolling the waterfront.
Camp Thunderbird has been the backdrop for the seminal moments of the Carraways' lives. Bill and Kaye had their first date there. Bill proposed to Kaye at Chapel Point—the same spot where their daughter Katie married her husband Andy, himself once a camper.
This month, Kaye and Bill will step away from their jobs and the place they've called home year-round since 2011, when Kaye started as resident director.
With two grandchildren, another on the way, and a few things to check off their bucket list, Kaye and Bill are retiring to their Clemson home. But they've made one thing clear: They're never going to truly leave. Here they are, in their own words, edited for clarity and length.
---
Kaye: I was born in Fayetteville, Arkansas. Bill is from Georgetown, South Carolina.
We came to Camp Thunder­bird when I was 24 and Bill was 26. Bill Climer, the camp director at the time of our hiring for summer 1977, is responsible for recruiting both of us. It was an interview for me, but also sold me on the merit of camp experiences for children. I thought that would be a one-summer experience. We laugh when we tell our friends that we went to camp and never left.
Bill: One winter, in 1976, my roommate said, 'Bill Climer is in town, would you like to talk to him about working at Camp Thunderbird?' I was looking to do something different. I said, 'Sure.'
I had a little more camping experience than Kaye had growing up. I went to church camp, Boy Scout camp, and to YMCA camp. I had run a country club pool for several years; I had worked at the Clemson dining hall. I was working as a teacher in Clemson and very involved at the YMCA at Clemson. I worked at their day camp for three years. I haven't missed a Clemson home game since the 1968 season, except for two weddings of Camp Thunderbird staff members.
I had never been to Camp Thunderbird before. I remember driving up there and getting lost trying to get up to the camp. I was in the middle of nowhere. I remember getting there, I couldn't find anywhere to eat.
I was coming in on administrative staff. That first summer was a most interesting summer. I was a brand-new person here. A lot of the people who were in charge of my areas had wanted my job, and they got looked over. I had quite an interesting summer getting my feet on the ground, figuring out what was going on. Over the years, they offered me other positions, but I always came back and say, 'No, I'll stay in the program.'
Midweek of staff week in 1977, there was a little restaurant across the way from camp, and we all went over there that night. It was called Joyner's. The staffers at Kaye's table were playing spades, and they needed a fourth person. And I had just learned how to play spades during the year with some friends in Clemson. I sat down, and I think I was her partner. On the way back, I had a car, and she didn't. I asked if she needed a ride back to camp. Basically, from that point on, we dated.
Our first real date, I came back to camp to pick Kaye up. She was waiting there and I came driving in. Right about where she was standing, there was a mud puddle, and my car hit the mud puddle and splashed all over her. She had to go back and change. I thought, 'Oh, no, I'm in trouble here.'
Kaye: what was interesting was he worked on the waterfront and I worked on the land. He was part of leadership staff, and I was a cabin counselor. We coexisted within the same space, but we were two different worlds. It was kind of unlikely.
It was August 2nd, 1978. We had been to the residence of Bill Climer to celebrate his daughter's fourth birthday. We walked down to Chapel Point at camp. And Bill (Carraway) and I were talking, and he proposed then. We didn't have any hard core plans. Bill is not one of those elaborate planners. We married at my home church in Fayetteville.
The fact that I ever left and came to camp was a huge deal. I had this script. I was just finishing my master's degree. I had about six hours to finish when I came to camp. When Bill asked me to marry him, I hadn't finished. I said, 'Well, I've got to finish some things.'
We have two daughters, Chris and Katie. They experienced throughout their youth a life at camp. Chris went as a camper, but Katie never took the plunge. Katie is now the Thunderbird girl's camp director.
We have a longstanding relationship with Charlotte. The Charlotte YMCA is much like Camp Thunderbird. You feel part of a family. The directors that we've worked with, we all still get together. Every year, a big group of alums, the Saturday after Thanksgiving, have a big barbecue, and we go up there.
The YMCA of Greater Charlotte allows us to be innovative. They are a very progressive organization. They also provide us tools to share our story with families.
I want to be a part of my grandchildren's lives. In the pace and the roles that we're in currently, I didn't feel that I could have that active of a role. I love camp too much not to give it 100 percent. We feel like it's just time to take stock in our family. There's some great new leaders out there, and it's time to give them a chance.
We love Charlotte. We may relocate from Clemson. That's not out of the question. We'll look at it for about a year, and kind of just see how we feel. So many of our life friends are in that area.
We're retiring from our current roles, but we will still be working at camp. Bill will still be working with waterfront mentoring. I'm passionate about working with the alumni program. We have some things we'd like to do while we're still healthy. Our love and care for Camp Thunderbird is not going to end on March 1st.