Many Happy Returns at Vivace
The midtown favorite gets back to basics with the return of Chef Meredith Antunez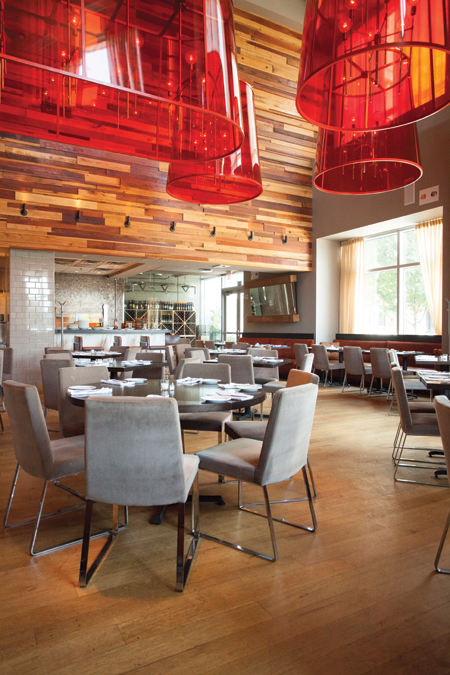 When Vivace opened in 2009, Meredith Antunez was in the kitchen, working as a sous chef. Eventually she leveraged her passion for the job and experience cooking Italian food (including a stint in the kitchen at celebrity chef Todd English's Olives in Boston) into a promotion to executive chef. Her influence—a focus on classic Italian ingredients and simple layers of flavor—plus the restaurant's great location, skyline views, and chic, contemporary décor helped make Vivace a trendy new destination for business dinners and birthday celebrations, and the downstairs bar a nightlife hotspot.
Then, last summer, Antunez left to start a family, just as the restaurant's novelty started to fade. The menu, which changes seasonally, drifted toward more elaborate dishes. And although the restaurant remained busy, Kevin and Stacey Jennings, owners of the restaurant's parent company, Urban Food Group, felt like something was missing. This summer, they asked Antunez to come back, and she happily agreed, returning to the kitchen in June.
"It was sort of like coming home, and yet there were definitely some changes," says Antunez. "God, I'm so happy to be back."
Antunez's first seasonal menu, which was updated in July (and will likely change again in October), reveals the return of a few favorites, including the smoked chicken ravioli ($18), served with sun-dried tomatoes, porcini mushrooms, and a Madeira crema. A few classics are here to stay, including Vivace's take on the caprese ($6), which uses oven-roasted tomatoes instead of the raw variety, and flavorful veal saltimbocca ($22), served on a bed of delicate fresh mozzarella ravioli, porcinis, and a tangy, decadent-yet-light brown-butter sauce.
Those favorites are balanced with a selection of tempting new dishes, including the gnocchi antipasto ($9), which pairs Vivace's airy, fluffy house-made gnocchi with shrimp, fatty pancetta, wilted arugula, and a corn crema; and the pan-roasted pork chop ($21), a large portion that arrives with slightly spicy grilled sausage, an al dente vegetable ciambotta, and Parmesan polenta, topped with fried capers. Antunez's focus on the details shows in smaller changes, too, such as the pre-meal bread basket, which now offers a thick, herby focaccia with a tender center.
Happily, the servers here are as knowledgeable—and unpretentious—as ever. They know their way around the exclusively Italian wine list, which is organized by categories and region. On a weeknight in August, the restaurant was bustling. A birthday party—complete with balloons and a sign—crowded around the tables in the upstairs dining room. The patios were full of people taking in sunset views of the city's skyline and the manicured midtown greenway below. Diners tapped their neighbors on the shoulders and asked, "What is that you're eating?" It was a spirited scene, and fitting for a restaurant named Vivace, Italian for "lively."
For an expansive restaurant that opened in the midst of a recession, it was also a hopeful scene. The je ne sais quoi the Jenningses felt their restaurant was missing? It's back.