Marriott Bets Big on Charlotte
The hotel chain will use an uptown hotel as a global test lab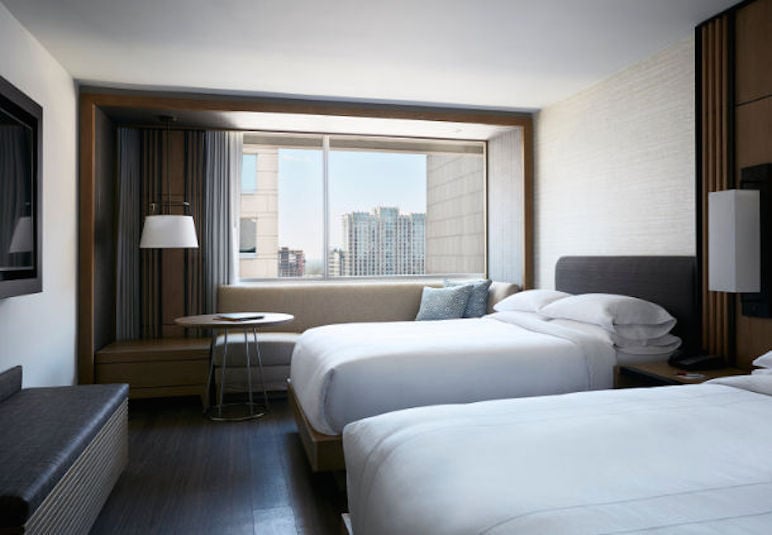 Marriott International—fresh off its acquisition of Starwood Hotels, making the combined company the largest hotel chain in the world—hopes a renovated hotel in uptown Charlotte will become a model for its properties in other cities.
Company executives were in town Tuesday to cut the ribbon on the facelift for the 446-room Marriott Charlotte City Center on West Trade Street.
"It is an extraordinary transformation," said Marriott CEO Arne Sorenson, who stood in the middle of Coco and the Director, the new coffee shop on the property, for a press conference with travel writers from across the country. Marriott calls the new concept "M Beta," and has built-in buttons throughout the hotel where guests can give real-time feedback on their experience.
Marriott spent more than $16 million—about $36,000 per room—on the project. Concepts that do well here could wind up in other hotel renovation projects across the company.
I've stayed, eaten, and had coffee in this hotel before its renovation and the changes are striking. Rooms are brighter and feel more elegant—gone are the awful, dark carpet and dankness that gave the hotel a seedy, transactional vibe. A new fitness center includes interactive workout video screens. And the hotel restaurant, Stoke, is, as we've already written, excellent.
Sorenson said the company looked for the right city to test new concepts and this property, which opened in 1984, was a good fit. "People want a local experience and they want to see that everywhere they look," he said, noting that the design team worked hard to "create a sense of place, a sense of locality strong enough that people want to eat there, not just because they have to eat there because they're staying in the hotel."
One interesting note: The hotel has added signs outside restrooms that read "All Genders Welcome Restroom." A reporter asked Sorenson if he was worried North Carolina's "bathroom bill" controversy could affect business at the hotel. "The HB2 law," he responded, "is bad for the business of North Carolina. Period."
Sorenson, who has spoken out about HB2 before, said Marriott is "eager to see political leaders from both parties" come up with a solution to the controversy.