Monday Night (and Maybe Tuesday) Football Viewing Party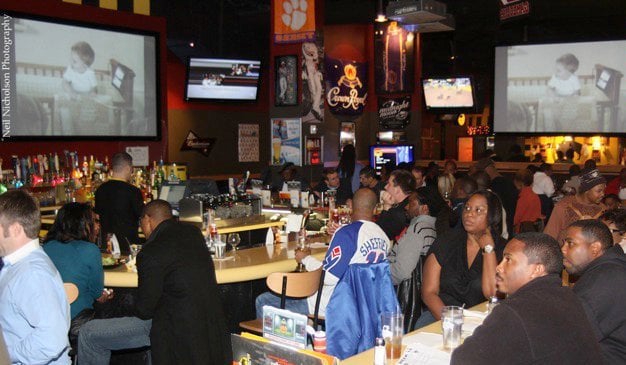 For 16 weeks, a variety of football fans have been packing into Buffalo Wild Wings at NASCAR Hall of Fame for Mainstream Mondays. The weekly event showcases the NFL's Monday Night Football game on dozens of TVs inside uptown Charlotte's newest sports bar. Event promotions company Eddietainment puts on the event, which usually draws a large crowd featuring a sea of jerseys and colors that varies from week to week depending on which two teams are playing.
Tonight's matchup, which is the last Monday Night Football game of the season, is between the Atlanta Falcons and New Orleans Saints. Look for large representation from both teams among the fans—ATL and N.O. transplants, as well as bandwagoners. Plus, people just like to come to watch the game here even if they aren't rooting for either team.
There are plenty of wings and beers on the menu, so that alone goes to the heart of football fans. In the back room, DJ Shogun spins the best in hip-hop and R&B throughout the entire night, which is also hosted by SG and her Inside Wire sports talk show crew. Although there is plenty of seating, it fills up fast. And a few of Charlotte's professional athletes have been known to drop by.
The event begins at 8 p.m., with free admission and free parking at the NASCAR HOF's parking deck. Buffalo Wild Wings at NASCAR Hall of Fame, 400 E. Martin Luther King Blvd. www.nascarhall.com.
P.S. As you know, yesterday's scheduled game between the Philadelphia Eagles and Minnesota Vikings has been rescheduled for Tuesday at 8 p.m. due to heavy snow in Philly. Eddie Towner, CEO of Eddietainment, says he might bring his crew back out for a second night viewing party if people in attendance tonight say they want it. If so, I'll update this blog post with the details. Either way, Buffalo Wild Wings will show the game.
Read more about the city's nightlife in Charlotte magazine's newest blog, Dusk Till Dawn.