Narratives Clash in Fatal Danquirs Franklin Shooting
What we know, don't know about CMPD shooting death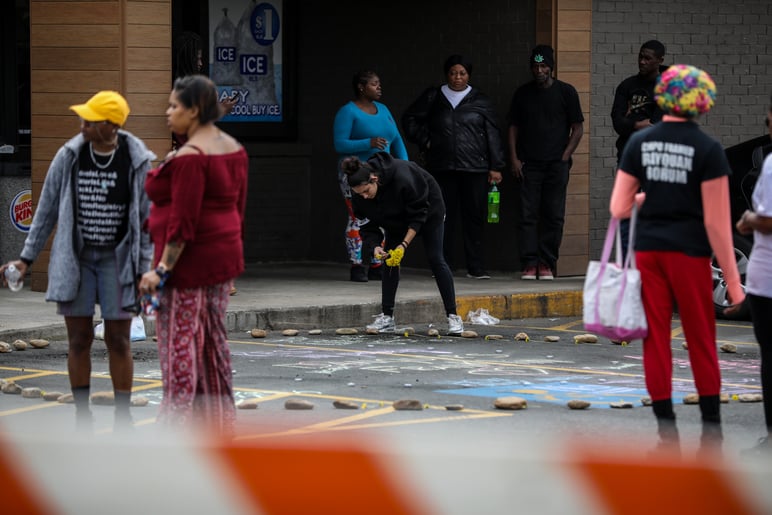 By the end of Monday, we knew a few things about the police shooting of a 27-year-old black man at a Burger King on Beatties Ford Road: It happened at about 9 a.m., and it resulted in an officer—whom Charlotte-Mecklenburg police later identified as Wende Kerl, a 24-year veteran—shooting Danquirs Napoleon Franklin, who was taken to a hospital and pronounced dead.
That's about all we knew. The police version, the skeleton of which Chief Kerr Putney related to reporters at the scene Monday morning: Officers, responding to two 911 calls about a black man with a gun at the Burger King, encountered the man in the parking lot and repeatedly ordered him to drop his gun; when "one of the officers perceived a lethal threat," according to a department release, she shot him.
A couple of other versions emerged throughout the day, passed on to reporters from people who said they saw what happened. One said a man with a gun in the Burger King was fighting with a woman, and the man police shot was unarmed and trying to help defend the woman. Yet another version, from WBTV, which quoted a police source: Franklin was upset because the mother of his children, who worked at the Burger King, was angry because she was dating a fellow employee.
"The source says the man pushed the woman, a female employee, to the ground and chased and pointed a gun at the male employee," the WBTV report says. "Witnesses told police the man was acting erratic, jumping on tables and the counter and slamming his arms and elbows on a glass door, the source says. The source says that Franklin reached into his pocket and pulled out a gun."
There doesn't seem to be any reason to suspend healthy skepticism about any of these accounts, from police or others. We saw just a couple of weeks ago, in the trial of Rayquan Borum, how wrong initial reports can be, and how false narratives pushed through social media can calcify and, worse, drive the actions of people who don't know better or don't care. (CMPD jumped into the social media game with their own tweets that urged witnesses to come forward.) That was the case after the September 2016 Keith Lamont Scott shooting and the demonstrations that followed, in which Borum shot and killed Justin Carr; it looked for a while as if the death of Danquirs Franklin might ignite something similar, although it didn't. About 20 people stood in a loose ring in the parking lot Monday afternoon and constructed a makeshift memorial, but by nightfall, only a handful of protesters held handwritten signs in the rain outside the Burger King.
But it's worth considering this, with the caveat that eyewitness accounts can be notoriously unreliable: In one of the two 911 calls CMPD released Monday, a woman said she had encountered a potentially armed man while she was in the drive-thru line, and that the man was 5 feet 8 or 9 inches tall. Franklin, we know from a 2010 Observer profile of him and a friend, was 6-foot-4. That's not conclusive, exactly, but it does lend some weight to the theory that police may have shot and killed the wrong man.
The Observer profile, written by former reporter Eric Frazier, is a particularly touching story about two 18-year-old black men who grew up in the same home, with the same exposure to crime and drug abuse, and the different lives they ended up leading as they reached adulthood. "Their diverging paths tell a deeper story about how fragile hope can be, and why one of every two African-American boys entering ninth grade in North Carolina won't graduate four years from now," Frazier wrote. "Danquirs is making peace with his past. He's a high school senior with hopes for college. Juwon? He's just hoping to survive."
It's wise to reserve judgment about the circumstances of Franklin's death but not his death. It's a tragedy, regardless of what the facts turn out to be.