New cans, bottles and a mobile taproom pop-up: Just another weekend in Charlotte craft beer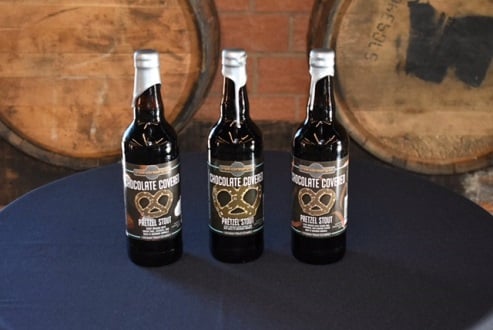 RIP to your paycheck, Charlotte craft beer fans. This weekend is a doozy. Here's a rundown; prepare accordingly:
FRIDAY
–NoDa Brewing's syrupy sensation is back for another run. Hop Cakes is an imperial IPA brewed with Vermont maple syrup, creating a perfect balance of sweetness and tropical citrus flavors. As in past years, NoDa will be selling 4-packs of Hop Cakes cans (it will also be on draft) beginning at 2 p.m. in the taproom. Cost is $15.99 plus tax for the cans, and there is no limit.
The TIN Kitchen will be on site for any food needs, and as part of the event, NoDa will also be tapping several special kegs, including Between the Berries and Me, 2015 barrel-aged Olde Voyager barleywine and 2017 Monstro. Look for Hop Cakes cans to hit local distribution within the next week.
SATURDAY
–Last year, Triple C added variants to its Chocolate Covered Pretzel Stout release, and the results were wildly successful. Head brewer Scott Kimball took mint off this year's table but has replaced it with an incredibly-sounding variant of cinnamon and cayenne peppers. The coconut version is also returning as well as the original CCPS base beer, a stout brewed with cacao nibs (the pretzel flavor comes from ingredients used in the grain bill, and Kimball adds in salt during the process as well) aged in bourbon barrels.
The price on each bottle is $14. There will be a limit per person of six regular Chocolate Covered Pretzel Stout bottles and three of each variant. All bottles will be released next to Triple C's brewhouse Saturday beginning at noon. Inside the taproom, the brewery is featuring an extensive draft list that includes the 2015-17 versions of Chocolate Covered Pretzel Stout, 2017 Coconut CCPS and all three 2018 CCPS beers. Triple C will also have 2017 Mint CCPS bottles ($14) for sale.
–Resident Culture and head brewer Chris Tropeano has wowed the local craft beer scene since opening in September. The brewery has also been the quickest to can its beers. Saturday marks three more cans rolling out (bringing RC to a total of seven can releases in just six months – impressive).
You may have heard about the accident where a car lost control a couple months back and ran into the front of Resident Culture's taproom. Fortunately, no one was injured and the damage was minimal enough that (thanks to incredible work from staff members) only delayed the brewery in opening an hour later. With a tongue-in-cheek homage to the incident comes Twisted Metal, an NE-style IPA double dry-hopped with Amarillo, Citra, Galaxy and Simcoe hops. For non-hoppy fans, the brewery is also releasing PJ Party, a pilsner dry-hopped with New Zealand Jade hops and Punch for Lunch, a Berliner Weisse brewed with mangoes, peaches and raspberries.
The brewery will begin handing out numbered tickets at noon, with the cans officially going on sale at 1 p.m. Four-packs of Twisted Metal will be $18.99 plus tax, Punch for Lunch $15.99 plus tax and PJ Party $12.99 plus tax. All three beers will carry a one-case limit (six 4-packs per person).
–Sycamore is continuing its small batch can release with Juice Willis beginning Saturday at noon. The name implies it all; this is a juicy IPA featuring Galaxy and Nelson hops. As always with Sycamore's cans, there will be a limited amount of 4-packs available. While at the brewery, you can also participate in the Bless Back Chili Cookoff. For just $10, you will get unlimited samples of chili between 12:30 and 3 p.m. and have a chance to cast your vote for the winner in numerous categories. This event benefits Bless Back Worldwide, a nonprofit organization that helps provides healthcare, education and other services to those who need it throughout the world.
–Finally, Salud Cerveceria is playing host to a mobile pop-up taproom from Burial Beer Co. in Asheville. A total of four cans will be for sale, along with eight different Burial beers on draft. The cans featured are The Savages of Ruminating Minds IPA; Pinnacle of Dreams, a rye lager brewed in collaboration with Fonta Flora Brewing; The Persistence of Memories Double IPA; and One for You, a lager brewed with coconut and pineapple in collaboration with Other Half Brewing in New York.
Burial's taps include three of the four mentioned above (minus One for You), two Skillet Stout variants (Mexican Hot Chocolate and Thai Tea), two sours (River to Hell Runs Red and River Bleeds Black and a saison.
Everything starts up at noon Saturday, and cans and drafts will be limited to what Burial is bringing. Farmhouse BBQ will also be on site with a special menu.