New Charlotte beers, anniversaries and a medal-winning duo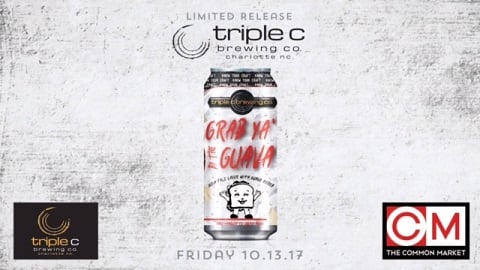 As always, there's a ton of different events tied to Charlotte craft beer this weekend, which actually gets started a little early this time around.
WEDNESDAY
–Even though we're experiencing a bit of a late summer, that isn't stopping Unknown Brewing from releasing its fall seasonal, Tele-Porter. This beer is brewed with cocoa nibs from French Broad Chocolate, milk sugar and local coffee from Enderly Coffee Company. The result is a full-bodied beer with a sweet and robust finish. Tele-Porter is only available on draft beginning Wednesday, so you'll have to visit Unknown's taproom. Perfect timing however, as the brewery is also hosting a pregame tailgate Thursday before the Eagles take on the Panthers.
THURSDAY
–Fans of Birdsong's Wake Up Porter will surely want to visit the brewery Thursday, as there will be different variants of the coffee vanilla porter. Two are barrel-aged in local barrels from Doc Porter's, with one a normal BA version and then one aged in bourbon barrels with maple. The third variant will see Wake Up infused with toasted coconut. You can get flights of all four versions at Birdsong when the taproom opens at 3 p.m.
FRIDAY
–Triple C has teamed up with Common Market for its latest beer release, Grab Ya' By the Guava. This India Pale Lager was brewed with Citra, Ekuanot and Mosaic hops then double dry-hopped, lagered for four weeks and finally, aged on 350 pounds of guava puree. The fine folks at Triple C were nice enough to give me an early taste of this beer, and it was outstanding.
The taproom release is this Friday, as Triple C will open at 4 p.m. You'll be able to get Grab Ya' By the Guava on draft or in cans, and cans will also be available beginning this weekend at the two Common Market locations in Plaza Midwood and Oakhurst.
— Fresh off its Great American Beer Festival medal, Olde Mecklenburg Brewery is celebrating that hardware along with the gold medal won at the European Beer Star competition. On Friday the brewery will offer a sample of either Hornet's Nest Hefeweizen (GABF-winning) or Fat Boy Baltic Porter (EBS-winning) to all customers.
While at OMB, you can also try the winning beer from the 2017 Rein Stein homebrewing competition, which is also being released Friday. Trey Lovelace's was the champion this year, and his Keller Pils is similar to Olde Meck's Captain Jack, according to the brewery, but unfiltered. Olde Mecklenburg will be open Friday from 11 a.m. to 11 p.m.
–Sugar Creek Brewing collaborated with Trackside Crafts to release the Trackside Farmhouse ale. This will be an exclusive beer only offered at the brewery and the Pineville bottle shop. This farmhouse ale dry-hopped with Citra hops comes in at 6.7 percent ABV and there are limited quantities that also include bottles. Trackside Crafts opens Friday at 5 p.m., or you can try it the same day at Sugar Creek's taproom at 2 p.m.
SATURDAY
Sycamore Brewing is pulling out all the stops for its three-year anniversary, including the construction of a special pop-up bar to pour what's become one of the most popular styles in craft beer lately – yep, we're talking about NE IPAs. So be on the lookout for "The Juice Bar," which will have the following incredibly named beers on tap: Citropica, Dank Williams, Juice Willis, Patrick Hazy and The Big Fat Juicy.
Of course, all other Sycamore beers will be on tap, including the recent GABF medalist Sun Grown Fresh Craft Lager. Also part of the anniversary events will be five bands playing live music throughout the day spread over two stages. Four food trucks will be onsite, and look for special T-shirt and koozie giveaways to the early birds that get to the brewery first. Doors open for Sycamore's third anniversary party at noon, and the festivities will last until 10 p.m.
–Also celebrating three years on Saturday is Sugar Creek Brewing. Leading up to its party, the brewery has been releasing one beer a day all week, including Brett Saison, Biere de Garde, and Galaxy Dry-Hopped Brett Saison. Today (Thursday) and tomorrow's releases are Oud Bruin and Citra Dry-Hopped Saison.
Everything culminates Saturday with Sugar Creek's special anniversary flights that will feature some of the brewery's top and popular beers: Father Franklin's Patersbier, Sugar Creek Dubbel, Atmosphera Tripel and Sugar Creek XV.
The three-year anniversary will also feature live music, a kids zone with a bounce house and face painting and other surprises. Everything gets started Saturday at 11 a.m.