New Charlotte craft beer bottles and cans this week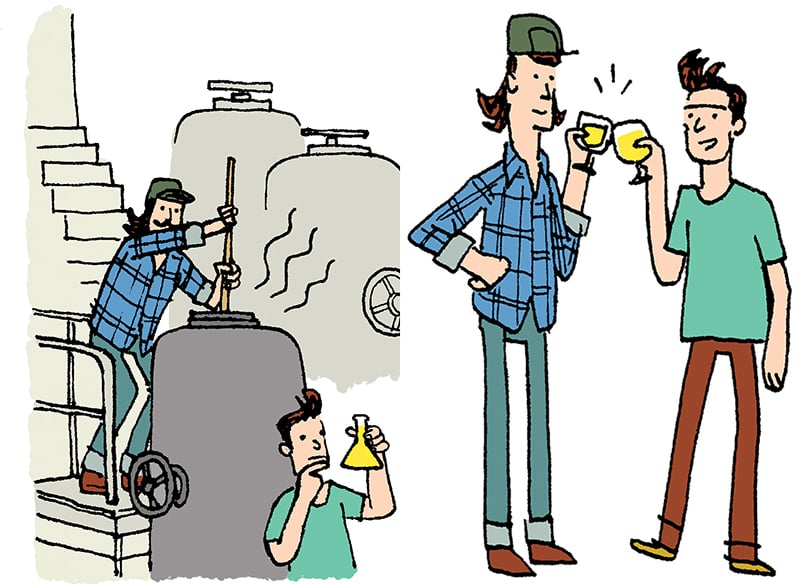 THIS IS A GREAT WEEK for local craft beer releases, including a few that have been anticipated for some time now. Here's the rundown:
* We'll start by reaching back into last weekend, as two breweries, Sycamore Brewing and Lenny Boy Brewing, released their latest cans. Lenny Boy's Life in the South is a lager brewed with stone ground grits. You can try it on tap at the brewery and also get 4-packs to go. Sycamore's new can (and one of my favorites) is Mountain Candy, an IPA that has an abundance of hops and also provides a sweet aftertaste on the back end. Try it at the brewery or take home a 4-pack.
* It's time for the latest in Birdsong's "Take Flight" series, which means a fantastic beer under a peculiar name. Weasels on Woodpeckers will be released this Thursday, both on draft and in bottles. This is a Belgian saison that was aged in white wine barrels with fresh peaches added in. Weasels on Woodpeckers follows Birdsong's other barrel-aged beers, including Turtles on Pterodayctls. Squirrels on Geese and Mongeese on Monkeys. Birdsong's taproom opens Thursday at 3 p.m., with bottles for sale for $10 each (there are a limited number and it will be first come, first serve). You'll also be able to purchase WOW on draft.
* NoDa Brewing is bringing back one of its most popular specialty beers, Sticky When Wet. The name harkens to the brew process, as this beer is brewed only 24 hours after the hops have been harvested. A plethora of Citra and Mosaic hops are prevalent in this wet-hopped IPA, which is by far best enjoyed fresh upon purchase to get the full taste profile. NoDa's taproom opens at noon on Friday for the release, and you'll be able to buy cans to go of Sticky When Wet as well as try it onsite.
* Wake up Friday to find out that you'll want to get to Triple C for the return of Eyes of the World (perhaps some of you will get that sentence). The brewery's bourbon barrel-aged smoked porter named for the classic Grateful Dead tune (got it yet?) is back on draft and in 22-ounce bombers. And to celebrate the release, Triple C is hosting a concert featuring Josh Daniel, who'll be covering Dead songs throughout the evening. The brewery will also have a limited amount of special Teku glasses (seen below, and wow) for sale for $12 as well as EOTW-themed koozies. Eyes of the World will be released when Triple C's taproom opens Friday at 4 p.m.
* Finally, expect a big crowd at Wooden Robot Saturday, as the South End brewery is set to release two bottles from its barrel-aged Réserve Series. These two were some of the first beers Wooden Robot brewed when it first opened a couple of years ago, and have been aging for a while and are finally ready.
Réserve Dorée is a sour golden ale that has been aging in french oak chardonnay barrels for more than 20 months. Réserve de Cerises, meanwhile, is a sour red ale that has been aging in red wine barrels for almost two years, then was pulled out and refermented on tart cherries (more than a pound per gallon).
Both Réserve Series bottles will be $20 each (plus tax), with a limit of 4 Réserve de Cerises and 2 Réserve Dorée. The bottle sale will take place on the side of Wooden Robot's brewhouse beginning at 11 a.m. Inside the taproom, Wooden Robot will also have a couple of special beers on tap: Strawberry Vanilla Sour and Godless Killing Machine Imperial Stout.