New Concord brewery announced with familiar Charlotte names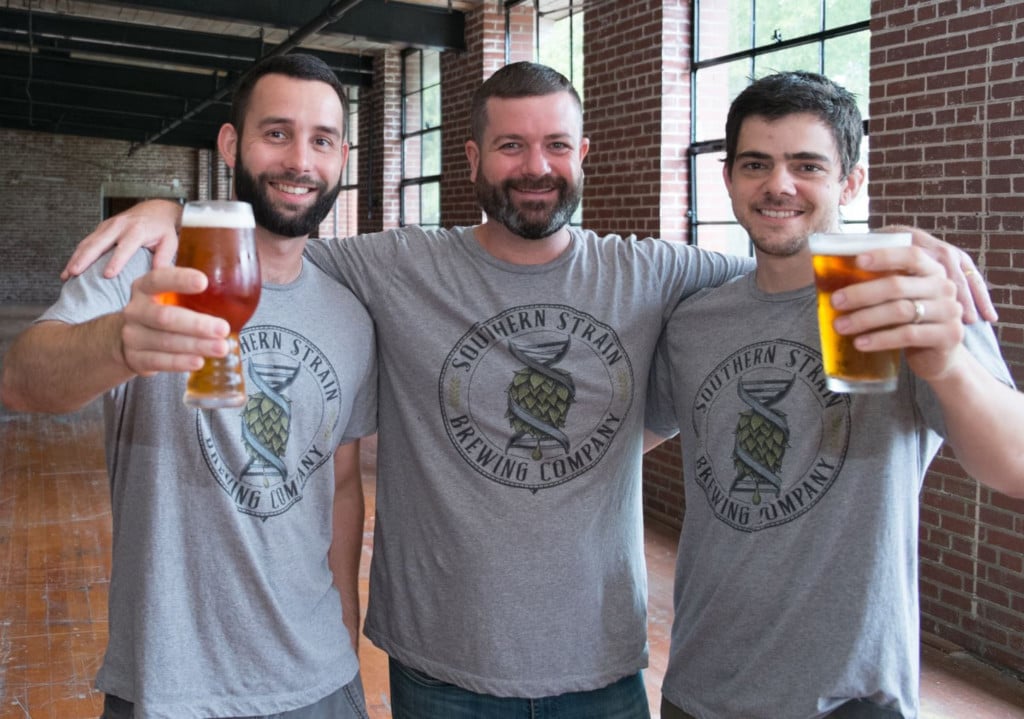 Many college dreams die upon graduation.
Plans change, you get a job different from your major, the work can be too tough – there are myriad reasons.
For Jake Allen and Bart Roberts though, they always held true to a business plan written when they met in an entrepreneur class at Western Carolina University – open a brewery.
Through several jobs after college and a third partner now onboard, their dream is soon to be a reality with Southern Strain Brewing Company in Concord. Plans are for now to open by Thanksgiving weekend.
"Basically my whole adult life this is what I wanted to do, and now it's happening," Roberts says. "It's really hard to put into words."
Southern Strain will be located at 165 Brumley Street, formerly a Cannon Mills plant. Roberts, currently the assistant brewer at NoDa Brewing Company will be the head brewer and is a co-owner along with Allen and Ford Craven, who has a strong presence in local craft beer as one of the hosts of the Cheers Charlotte podcast.
Both Allen and Craven will be assistant brewers, with Craven also the sales and marketing manager and Allen working with the numbers and accounting. The three all call Concord home and are excited to bring a new brewery to a (until recently) relatively untapped area.
"When everything exploded craft beer-wise, it was everywhere except Concord for some reason," Craven says. "Up north through University City, it just never clicked and Concord lagged severely. Finally just recently, we are now getting connected here with five breweries (Concord is currently home to Cabarrus Brewing, Commoners Brewing, High Branch Brewing, Red Hill Brewery and Twenty-Six Acres Brewing).
"Downtown is being revitalized so we feel finally word is getting out that Concord is a great town. So the timing is great. Our brewery is located three blocks away from the center of downtown, and we feel like this is the new generation of Concord."
Southern Strain will start with a 5-barrel brewhouse, along with a taproom. Right now the owners have an area of 15,000 square feet but also access to the entire 40,000 square-foot building for the future.
"Our plan is to never have to move; we just wanted to go ahead and lock in a place," Craven says. "Fingers crossed, if everything works out we get to grow through the years. We're trying to do something for Concord that is deserving of respect and the patronage of people who live here."
The name Southern Strain (which was coined by Craven's wife, Crystal) comes from a love of the South (the brewery wants to use as many locally sourced ingredients as possible for their beer) and a bit of play on words for the second part.
"Strain is reference to yeast strains, hop strains, even malt strains," Craven says. "We were trying to figure out how to take a scientific element because that's what beer brewing is, but not come across without being too nerdy about it. But then we thought that some might ask, and it opens up that education of what beer is …
"So the more we thought about it, the more it became multi-level. And from a marketing standpoint, I love when things can do that."
Roberts has mainly been working out of NoDa's original taproom, where he was dubbed "The Funkmaster" and was a huge part in the brewery rolling out its sour program highlighted by the Boba Brett series. Expect the sours to continue in his head job, along with other styles to appease all crowds.
"We're a neighborhood brewery first, so you want to satisfy the people who come in," says Roberts, whose last day at NoDa will be August 31. "So I think there are three or four staple options you should have, and everything out of that I'm going to be pretty experimental.
"I love growing my own yeast strains and seeing what I can change about fermentation to get different flavor profiles. I'm also a huge lager guy so you can expect that; not a lot of breweries here are doing that right now. And I'm always excited about what's new – whether it's the hazy and juicy IPA or the brut IPA that's getting popular. Clean, crisp, drinkable beers – that's what I'm about."
Expect eight taps when Southern Strain opens, and possibly more down the road. The owners will have a crowler machine to start, with cans and bottles to come in the future.
"Our plan is to slow-grow it when we open," Craven says. "We'll have preferred vendors and accounts who will get kegs at the beginning but most will be taproom-only. As far as what we'll carry, if it's good and people want it, we'll make more of it. That's our simple plan."