New Owners Aim to Remake the EpiCentre's Image
Late-night crowd magnet the EpiCentre is getting a family-friendly makeover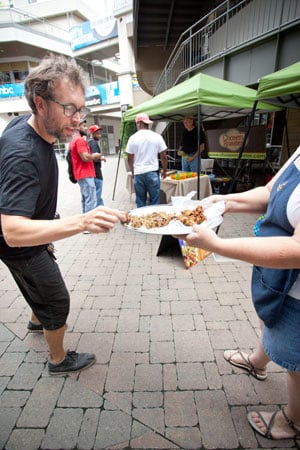 When Charlotte's big banks stumbled during the recession, the EpiCentre kept partying hard. Dale Earnhardt Jr.'s Whisky River bar opened in 2008, bowling alley StrikeCity followed the next year, and Enso's Silk lounge arrived last fall. Saturday nights found the young, tanned, and tipsy traipsing between nearly two dozen restaurants, bars, and nightclubs on the corner of Trade and College streets uptown.
Behind the scenes, the EpiCentre's developer defaulted on its loans. The Ghazi Company suffered through an arduous process of foreclosures, bankruptcies, and settlements. Last June new owners took over. Three Charlotte investors—Douglas Stephan and Paul Picarazzi of Vision Ventures, and Geoffrey Curme of Mount Vernon Asset Management—lead the new management team Blue Air 2010 LLC. They reportedly spent about $140 million acquiring the EpiCentre's debt and property, and are now devoting another $15 million to upgrades and renovations. Their goal is attract more daytime customers, but it's not an easy task. Many people still see EpiCentre as a mecca for Red Bull, vodka, and Rihanna.
"We don't want to alienate the nightlife, because that's a great part of the business and it's been very successful," says Stephan. "But we want to find a good balance so that it can offer a more wide range of activities to a larger demographic."
The team began by hiring new managers and tripling the size of its staff, Picarazzi says. Then they spruced up the visuals: three large outdoor video screens tout the complex's name, sponsors, and tenants. And new benches, a touch of greenery, and a beefed up security system aim to add a level of comfort to the brick-and-cement complex.
Meanwhile, Blue Air 2010 began to seek new tenants that are "family friendly and more approachable," Stephan says. The Charlotte Checkers hockey team offices and store relocated to the complex, along with Gold's Gym Elite—a far cry from whiskey joints with mechanical bulls. And on Wednesdays and Fridays, an outdoor market takes over the EpiCentre's courtyard, targeting the coveted uptown professional crowd.
On a Wednesday afternoon in August, an acoustic guitarist strums near the CVS Pharmacy, entertaining diners at surrounding restaurants. Three market vendors display their wares—a local bakery, a stand selling roasted nuts, and a radio station raffling off prizes. The courtyard is not overrun with customers, but vendors hope they're off to a good start.
"I think it's hard to understand what the EpiCentre is until you're here," says Karen Sundlie of Great Harvest Bread Company. "We need people—if they like this and want this—to come out."