Ninth Time's the Charm?
Pat McCrory aims to break the "Charlotte Curse"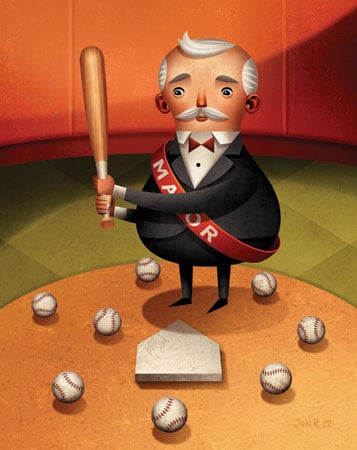 If you are a recent mayor of Charlotte, you know the drill. First, get elected and be the face of a booming Southern city. Second, run for statewide office. Third, lose.
This would be funny if it weren't so true. Somewhere along U.S. 74 heading east of the great state of Mecklenburg, the city's mayors encounter the political tractor beam known as the "Charlotte Curse."
Each of the city's previous five mayors—Eddie Knox, Harvey Gantt, Sue Myrick, Richard Vinroot, and Pat McCrory—has run for governor or the U.S. Senate, some more than once, and they are collectively zero for eight. They've lost to the iconic (Sen. Jesse Helms) as well as the underwhelming (Sen. Lauch Faircloth). Of course, one person's curse is another's coincidence. But zero for eight?
To lose a race means you first have to run, and Charlotte's mayors like to run. They have ambition in spades. Being mayor guarantees constant attention here, and it's easy to believe that recognition travels the 170 miles to the political hothouse of Raleigh.
Then, there's the job. Charlotte mayors have little formal power. It's technically a part-time gig that pays $22,000 a year. They preside over meetings, but most of the work of government is done by the City Council and the city manager. Mayors have a bully pulpit and a busy schedule of ribbon cuttings and all that, but getting their agenda through requires working closely with council members who are often of a different party. That means compromise, which is good governance but not always good politics. Republican primaries in particular have been brutal to former mayors Sue Myrick, Richard Vinroot, and Pat McCrory. "To the extent you cooperate with the other party, you are persona non grata [with primary voters]," says Vinroot, who ran for governor in 1996, 2000, and 2004.
Vinroot says the Charlotte curse is really just a fluky losing streak given a nickname by the media. People elsewhere really do like Charlotte, he insists, if for no other reason than it's where their kids are working.
"Outside of here, voters respond to someone who's more humble, courtly, one of the guys."
Others aren't so sure. Maybe, they think, there is a little hubris at play, reflected in the candidates the city sends forth to their Waterloo in the Sandhills and Coastal Plains. Knox lost his primary for governor in 1984 by 26,000 votes, beaten, he says, for not being mean enough. "I do think that people from Charlotte take a lot of credit for being from Charlotte," he says. "People from elsewhere really don't care about that."
Mary Newsom, associate director of the UNC Charlotte Urban Institute, says elections turn on many things, but Charlotte's corporate culture favors one kind of politician, and that kind may not be looked on with much fondness in a state where many people still prefer Mayberry over Manhattan. "There's a style difference in how you present in Charlotte versus how you present around the state. We want our mayors to sound aggressive, sound energetic, sound on top of the world. Outside of here, voters respond to someone who's more humble, courtly, one of the guys."
That brings us to McCrory, who lost to Gov. Beverly Perdue in 2008. He's back for a second run, and as of early August, polls showed him ahead of his Democratic opponent, Lt. Gov. Walter Dalton, with a good chance of putting the curse to rest. Even Gantt says McCrory might break the streak, benefiting from timing and the state's increasingly urban demographics. "They [voters] don't hate Charlotte," Gantt says. "They've just liked the other candidate better."
McCrory says when it comes to statewide elections, the trouble for Charlotte's mayors—at least the Republican ones—starts at home. Four years ago, in what was the nation's closest governor's race, McCrory didn't even win the city's vote. "Frankly," he says, "it's up to Charlotte whether someone from Charlotte wins."