Nobody panic: Pumpkin beers are back in Charlotte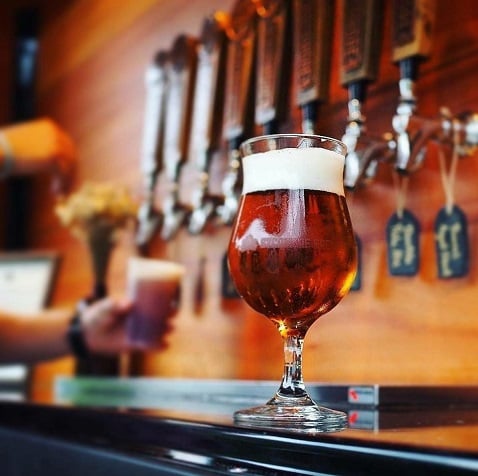 OK kids, let's get this one out of the way up front. Pumpkin beers are being released and yes, it's August. I first wrote about what's known as "seasonal creep" five years ago. (Related: RIP, Four Friends!) If nothing has changed since then, it surely won't start now. The good news is if you feel it's too hot to buy/drink a pumpkin beer, simply wait until you feel the time is right. The economics here have obviously shown there's a need to put these beers out earlier (if they weren't selling, certainly these releases would have cut back).
So for those who don't mind a little spice mixed with the heat, read ahead for this week's two local releases:
–Sycamore Brewing is releasing its pumpkin amber Gourd Have Mercy Thursday at 4 p.m. This amber ale is brewed with pumpkin and various spices, coming in at 6.2 percent ABV. You can pick up 4-packs of cans at the taproom until 9 p.m. and as part of the event, Papi Queso food truck is serving its "Harvest Melt" grilled cheese featuring spiced pumpkin, roasted mushrooms, kale, fontina and sage-brown butter.
This week also marks Sycamore's official rollout of its Wild Blossom cider in cans. You can get Rosé cider (featuring apples, cranberries and peaches) and Brut cider (a sparkling apple cider) in 4-packs at Sycamore's taproom, and these will also be carried by local Harris Teeter grocery stores as well.
–Friday marks NoDa Brewing's pumpkin beer release. Gordgeous is brewed with a copious amount of pumpkin, brown sugar, allspice, cardamom, cloves and shaved ginger root. It's one of NoDa's most popular seasonal beers and a harmonious ale in terms of balanced spice. The brewery opens Friday at 2 p.m., and will have 4-packs of Gordgeous for sale and the beer will also be on tap. Look for Gordgeous cans to hit local accounts in the coming weeks.
–For those who want to wait on their pumpkin beer, look no further than Free Range Brewing this Saturday, as the brewery is releasing its first-ever bottles, Corn Bred and Jeff's Breaktime Surprise. Corn Bred is a collaboration with Fonta Flora Brewery as a Carolina farmhouse ale brewed with two types of corn (Bloody Butcher and Cherokee White Eagle) and fermented with mixed cultures from both breweries. The beer was then blended in both Fonta Flora's and Free Range's house cream ales before being bottle conditioned. Bottles of Corn Bred (5.4 percent ABV) will be $12 each with a limit of four per person.
Jeff's Breaktime Surprise is a barrel-aged sour porter with local blackberries used in the brewing process. On Free Range's Facebook page, it's described as "a very easy-drinking dark sour, balanced by notes of chocolate and berry." Bottles of Jeff's Breaktime Surprise (6.5 percent ABV) will be $16 each with a two-bottle limit per person.
Free Range opens at noon Saturday, with a limited amount of both beers on tap and the event will also have Milk Glass Pie and Verdant Bread onsite.