NoDa Brewing hosting first big outdoor concert – with more to come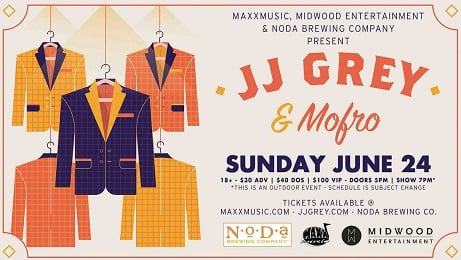 Live music and local breweries have become synonymous with one another. Almost every weekend (and even some weekdays), you'll find a musician or band playing at one of the many breweries and taprooms in Charlotte.
NoDa Brewing is now set to take the concert experience to the next level. This Sunday, the North End brewery will be shut down to the public and open as a live music venue, with popular Southern band JJ Grey and Mofro performing.
With all due respect to local acts, this is by far the biggest band that has performed at a brewery, and an emerging trend that has seen the likes of Moe, Nathaniel Rateliff & the Night Sweats, Bruce Hornsby, Primus and Band of Horses at Pisgah Brewing and Highland Brewing in Asheville.
NoDa co-owner Suzie Ford said the brewery was approached earlier in the year by Midwood Entertainment, a regional talent and booking agency that is putting on the show along with MaxxMusic. Ford and her husband, Todd, have had a relationship with Midwood owner Micah Davidson for some time now, including when he formerly was one of the organizers of the popular N.C. Brews and Music Festival in Huntersville.
"Micah came and spoke with us and noted that there wasn't really something similar to what Pisgah is doing in Charlotte," Suzie says. "So they walked around the property and mapped it all and told us, 'We think you could be a premier music venue in Charlotte.'"
The brewery's outside area will serve as the venue, with the lots completely empty and the VIP area where the patio and grass portion are. Capacity will be 2,000 people, which would put NoDa bigger than Visulite or Neighborhood Theatre but smaller than the Uptown Ampitheatre at the N.C. Music Factory.
The idea for NoDa is to be in that sweet spot with bands that fit in the middle of all of that. Around 20 to 25 bands were initially presented to Suzie and Todd, who also leaned on their staff for recommendations ("We're old," Suzie says with a laugh).
"When we got together with our staff, we wanted to find out who do you know, what do you like, etc.," she says. "And then Todd and I listened to all of them too and honestly, out of them all, we were blown away by JJ Grey and Mofro. They are so good."
If you've never heard them, JJ Grey and Mofro can best be described as a Southern rock band that packs blues, soul and even a bit of gospel into the seven-member group led by Grey. They've been a mainstay on many of the popular music festivals and in the past have toured with Widespread Panic, Tedeschi Trucks Band, The Revivalists and more.
Tickets are currently on sale and can be purchased here. Only general admission tickets remain, which cost $30 in advance or $40 the day of show. Great Peacock will be the first act, with doors opening at 5 p.m. and showtime at 7 p.m. NoDa will have two beer trailers, and four food trucks will be onsite as well. With the brewery closed all day, NoDa is having an "OG Open House" at its original location on North Davidson Street Sunday, where the brewery's first taproom will reopen for one day.
Ford says as of now, there are no other concerts lined up for the rest of the year, but expects more in 2019.
"We have a lot of asks out to bands right now where we have certain dates available," she says. "And before they get into any negotiations, Midwood comes to us and says, 'Hey, is this a band that you would want? We think they would be a perfect fit for you – do you all agree?'
"So ideally we'd want three big acts as part of a NoDa summer concert series, leaving the possibility open of having one in the fall too. We started just a little bit too late where a lot of the bands already have their set schedule, but next year is going to be a whole new ballgame."